Arsenal v Bristol City, 1976
In the record-breaking summer temperatures of 1976, the Football League resumed on 21 August. Arsenal v Bristol City was one of the most intriguing First Division fixtures on the opening day of the 1976-77 season. It was the Bristol club's first game in the top division for 65 years. In charge since 1967, manager Alan Dicks had built a successful side around locally-born players (five started this game, plus two more from the youth system).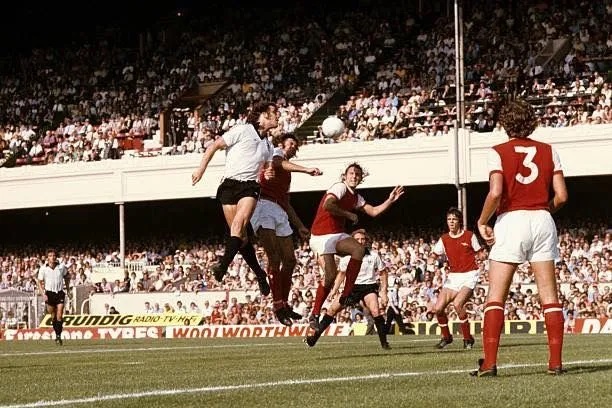 The First Division newcomers visited Arsenal, who had recently recruited 34-year-old manager Terry Neill from Tottenham, replacing long-serving Bertie Mee. Their star signing, England's feared striker Malcolm MacDonald ('Supermac'), was making his debut at Highbury. Bought from Newcastle for the unusual fee of £333,333.34, MacDonald went on to be the First Division's joint-top scorer that season. Like many professional footballers of his era, he appeared on the popular TV show Superstars, where he demonstrated his speed by running the 100 metres in an impressive 10.9 seconds.
First Division results, 21 August 1976: Aston Villa 4 West Ham 0; Ipswich 3 Tottenham 1; Leeds 2 West Brom 2; Leicester 2 Man City 2; Liverpool 1 Norwich 0; Manchester United 2 Birmingham 2; Middlesbrough 1 Coventry 0; Newcastle 2 Derby 2; QPR 0 Everton 4; Stoke 0 Sunderland 0
Match details for Arsenal – Bristol City; Highbury, Football League Division One, Saturday 21 August 1976:
Arsenal: 1 Jimmy Rimmer, 2 Pat Rice, 3 Sammy Nelson, 4 Trevor Ross, 5 David O'Leary, 6 Peter Simpson, 7 Alan Ball, 8 George Armstrong, 9 Malcolm MacDonald, 10 John Radford, 11 Alex Cropley (sub Peter Storey). Manager: Terry Neill.
Bristol City: 1 Ray Cashley, 2 Gerry Sweeney, 3 Brian Drysdale, 4 Gerry Gow, 5 Gary Collier, 6 Geoff Merrick, 7 Trevor Tainton, 8 Tom Ritchie, 9 Gerry Mann, 10 Paul Cheesley, 11 Clive Whitehead. Manager: Alan Dicks. Scorer: Cheesley
Attendance: 41,082
A rebuilding Arsenal finished the season in 8th place, MacDonald netting 25 league goals to justify Neill's investment. The manager moved Ball, Cropley, Radford and Storey out before the end of the season. Bristol City meanwhile struggled after a promising start. Their match-winner at Highbury, home-town striker Paul Cheesley, suffered a catastrophic knee injury only days later in a collision with Peter Shilton against Stoke City, which ultimately ended his career. Dicks bolstered his squad during the season with the signings of experienced internationals Norman Hunter and Peter Cormack, from Leeds and Liverpool respectively. Striker Chris Garland returned to Ashton Gate from Chelsea as a replacement for Cheesley but the side remained in a relegation battle.
Bristol City were bottom of the First Division table at the beginning of May 1977 and seemingly destined for relegation. Their five remaining fixtures included Leeds United, Manchester United and Liverpool. With two games left, they were still at the foot of the table but managed to beat Champions Liverpool 2-1 at Ashton Gate and set up a dramatic to the season.
Spurs were relegated with 33 points having completed their fixtures, as had Stoke City on 34 points – the same total as Bristol City, Coventry and Sunderland. All three played their last game on Thursday 19 May, 1977. After a delayed kick-off at Highfield Road, Bristol City came from two goals down to secure a controversial 2-2 draw with Coventry. The result meant both sides stayed up at the expense of Sunderland (who lost at Everton), an outcome which still stokes resentment on Wearside. Bristol City remained in the top flight until 1980, and have yet to return.
The state of the Football League in the 1970s is one of the topics in my book Before the Premier League: A History of the Football League's Last Decades.