England v Uruguay, 1966 World Cup
After the excitement of the preparations and build-up, the 1966 World Cup Finals kicked off at 7.30 p.m. on Monday 11 July 1966 at Wembley. After the low-key opening ceremony, described as "colourful but simple", the Finals were officially declared open by the Queen. Hosts England took on Uruguay, twice winners of the tournament, in front of an expectant crowd at Wembley and a nationwide television audience.
Hungarian referee István Zsolt was officiating at his third World Cup, while one of the linesmen was Tofiq Bakhramov, who would feature again in the final. The Times predicted the Uruguayans "will be strong but ponderous" – they were noted for being a tough, well-organised side with an outstanding goalkeeper in Ladislao Mazurkiewicz. Captain Horacio Troche was the defensive lynchpin, and Pedro Rocha the playmaker. Uruguay fielded six players from Peñarol, recent winners of the Copa Libertadores who would go on to beat Real Madrid in the Intercontinental Cup later in the year. They were expected to provide a difficult first challenge for the host nation, which was not yet in the grip of 'World Cup fever'. The reported attendance of over 87,000 was based on advance ticket sales, but there were many empty seats and the actual crowd is believed to be around 75,000.
Contemporary match reports confirmed England's struggle to break their opponents down, with Ramsey playing only one recognised winger in Manchester United's John Connelly. The Daily Telegraph's Donald Saunders was among those to praise the "superbly disciplined, highly skilled Uruguayan defence". The Daily Mirror reflected on "the dourest of defensive battles", while for The Guardian it was a "night of disappointment and frustration". Norman Giller reported that: "A dull and uninspiring start to the World Cup left neutrals wondering on what Alf Ramsey based his confidence that England would win the tournament. Uruguay played with nine men back in defence and defied all England's attempts to break them down… The Uruguayans celebrated at the final whistle as if they had won. They had squeezed exactly what they wanted from the game with their stifling defensive tactics. It was not a pretty sight."
Jimmy Greaves, England's top striker going into the tournament, had a frustrating evening, complaining that "Uruguay's negative tactics soon choked the life out of the game."  Bobby Charlton also observed that the home team were "bashing our heads against a strong defensive wall", but acknowledged the Uruguayans as "superb technicians and singled out Rocha in particular. Jimmy Hill, then Coventry City manager making an early appearance as a television pundit, insisted "England will not win the World Cup, but don't blame Alf. No one could win with this lot."
Uruguay manager Ondino Viera declared himself "proud of his players" after the game, while Ramsey's confidence was unshaken despite this disappointment. It was the first time England had failed to score at Wembley since before the Second World War. Ramsey continued to make minor adjustments to his side during the group stage; of the starting line-up for this opening game, nine retained their places for the final. The unlucky pair to miss out were Connolly (this was his last cap) and Greaves, replaced by the inexperienced West Ham duo of Martin Peters and Geoff Hurst.
Uruguay finished second behind England in Group One, conceding just a single goal when beating France 2-1 in the only World Cup game played at the White City Stadium. They were beaten 4-0 by West Germany in the quarter-finals at Hillsborough, with two men sent off (Troche and Silva). They confirmed their pedigree by winning the following year's Copa America on home soil, before reaching the semi-finals of the 1970 World Cup in Mexico, where England lost a two-goal lead in the quarter-finals against West Germany to surrender their trophy.
Match details for England – Uruguay; Wembley Stadium, World Cup Group One, Monday 11 July 1966:
England: 1 Gordon Banks (Leicester City), 2 George Cohen (Fulham), 3 Ray Wilson (Everton), 4 Nobby Stiles (Manchester United), 5 Jack Charlton (Leeds United), 6 Bobby Moore (West Ham United), 7 Alan Ball (Blackpool), 8 Jimmy Greaves (Tottenham Hotspur), 9 Bobby Charlton (Manchester United), 21 Roger Hunt (Liverpool), 11 John Connelly (Manchester United). Manager: Alf Ramsey.
Uruguay: 1 Ladislao Mazurkiewicz (Peñarol), 2 Horacio Troche (Cerro), 3 Jorge Manicera (Nacional), 15 Luis Ubiña (Rampla Juniors), 5 Néstor Gonçalves (Peñarol), 6 Omar Caetano (Peñarol), 7 Julio César Cortés (Peñarol), 18 Milton Viera (Nacional), 19 Héctor Silva (Peñarol), 10 Pedro Rocha (Peñarol), 11 Domingo Pérez (Nacional). Manager: Ondino Viera.
Attendance: 87,148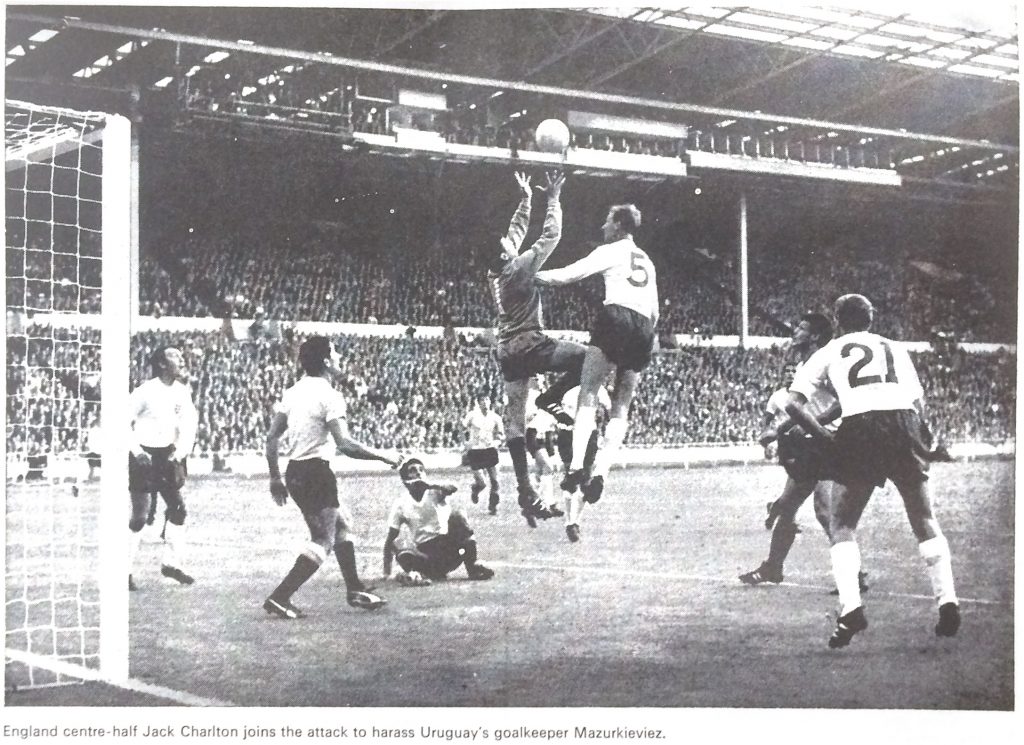 The nations first met in 1953 at Montevideo's historic Estadio Centenario, a game in which Alf Ramsey played – it was won 2-1 by the hosts, then World Champions. They had only met once before 1966 at a World Cup, when Uruguay won 4-2 in 1954, and once since, when Luis Suárez scored twice to knock England out of the 2014 competition. That was the last meeting to date – overall, Uruguay have won five of the eleven matches between the countries, and England three.