Liverpool v Tottenham Hotspur, 1982
Liverpool clinched another Football League title, their fifth in seven seasons, with a win over Tottenham Hotspur at Anfield on the 15th May 1982. It had taken a phenomenal run in the second half of the season for them to reclaim the title from Aston Villa, confirming their status as the First Division's dominant team of the era.
As European Cup holders, in December 1981 Liverpool travelled to Tokyo for the Intercontinental Cup, where they lost 3-0 to Flamengo . They were also struggling for league form. A 3-1 home defeat to Manchester City on Boxing Day 1981 left them languishing in 12th place, nine points behind surprise league leaders Swansea City. They then took 63 points out of a possible 75 (in the first season of three points for a win) from their last 25 games. In the end, this Anfield victory secured a four-point lead over second-placed Ipswich Town, led by Bobby Robson.
1981-82 was the first League Championship for six Liverpool players: Bruce Grobbelaar, Craig Johnston, Mark Lawrenson, Sammy Lee, Ian Rush and Ronnie Whelan. England full-back Phil Neal picked up his fifth League Championship medal, on his way to a record eight by the end of his career at Anfield, in addition to four European Cups. Neal symbolised the consistency and continuity of Liverpool's greatest era; between October 24, 1976 and September 23, 1983 he didn't miss a single game in a run of 417 consecutive appearances.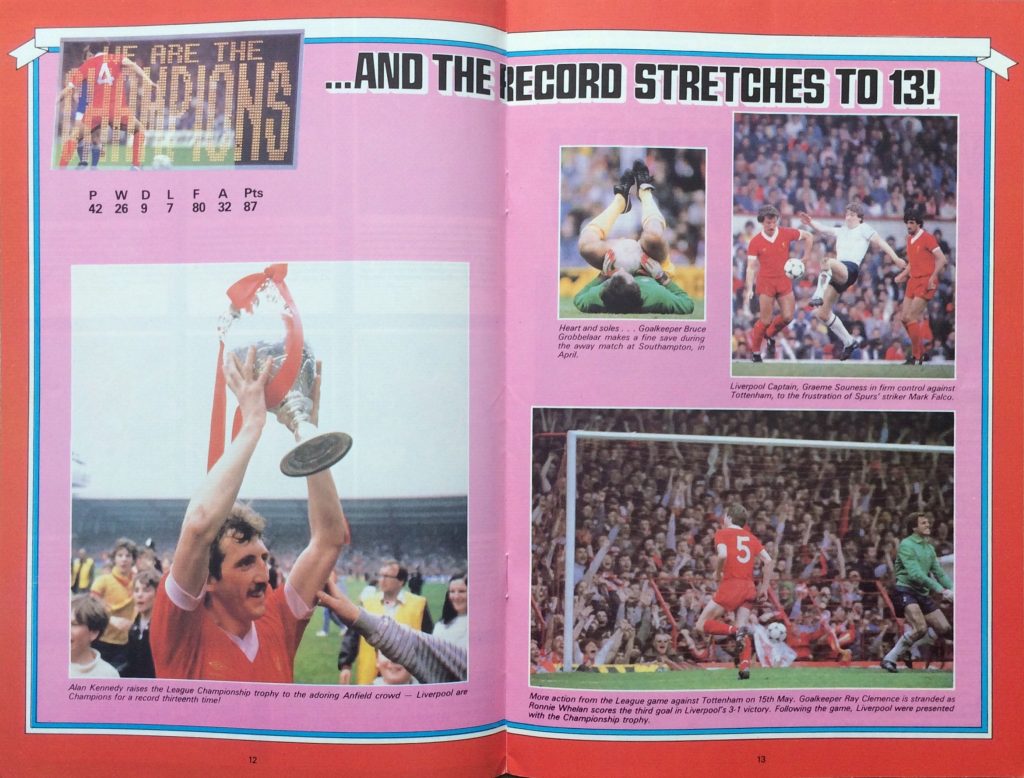 Unsurprisingly, manager Bob Paisley was voted Manager of the Year for 1981-82, his fifth such accolade in seven years. Born in Hetton-le-Hole, County Durham, in 1919, Paisley joined Liverpool as a player in 1939 from amateur side Bishop Auckland, and remained at the club for 44 years. After serving with distinction in the Second World War, he was part of the League Championship-winning team in 1947 and moved into the backroom staff at the end of his playing career in 1954, assisting Bill Shankly during Liverpool's resurgence from the late 1950s.
Between succeeding Shankly in July 1974 and his retirement at the end of the 1982-83 season, Paisley became British football's most successful manager. The 20 major trophies he won in those nine years included six League Championships (the first manager to achieve that total) and three European Cups, paving the way for Liverpool's dominance of the 1980s. Though the FA Cup eluded him, only once did the club finish lower than runners-up in the First Division during his tenure. He was succeeded by another long-serving member of Anfield's 'Boot Room', Joe Fagan. Paisley died in 1996. His legendary predecessor Shankly had died at the start of this season, on the 29th September 1981.
Aside from their Tokyo trip, Liverpool's travels were restricted to the quarter-finals of the European Cup, where their defence of the trophy ended against CSKA Sofia in March. They also surprisingly went out of the FA Cup in the Fifth Round with a 2-0 defeat at Chelsea. In contrast, opponents Tottenham Hotspur had challenged in three cup competitions, although this was to cause serious fixture congestion at the end of the season. While Liverpool were to play six league fixtures in May 1982, Spurs had to play eight, plus the FA Cup Final. The return fixture at White Hart Lane had only been played on the 3rd May, ending in a 2-2 draw. Tottenham played 66 games in total in 1981-82.
They travelled to Anfield with former Liverpool favourite Ray Clemence in goal, and Glenn Hoddle demonstrating his ability with a spectacular long-range strike in front of the Kop. Against the backdrop of the Falklands War, Argentine 1978 World Cup winner (and hero of the 1981 FA Cup Final) Ricky Villa surprisingly remained in the Spurs line-up. His compatriot Ossie Ardiles had meanwhile returned to Argentina to prepare for the 1982 World Cup in Spain that summer. Given the difficult political situation even after the end of the conflict, Ardiles was loaned to Paris St. Germain for the 1982-83 season – later returning for several more successful years at Spurs – while Villa left for the NASL in 1983.
Match details for Liverpool – Tottenham Hotspur; Anfield, Football League Division One, Saturday 15 May 1982:
Liverpool: 1 Bruce Grobbelaar, 2 Phil Neal, 3 Mark Lawrenson, 4 Alan Kennedy, 5 Ronnie Whelan, 6 Phil Thompson, 7 Kenny Dalglish, 8 Sammy Lee, 9 Ian Rush, 10 Alan Hansen, 11 Graeme Souness. Manager: Bob Paisley. Scorers: Lawrenson, Dalglish, Whelan
Tottenham Hotspur: 1 Ray Clemence, 2 Chris Hughton, 3 Paul Miller, 4 Graham Roberts, 5 Mike Hazard, 6 Steve Perryman, 7 Garry Brooke, 8 Mark Falco, 9 Ricky Villa, 10 Glenn Hoddle, 11 Garth Crooks (sub Paul Price). Manager: Keith Burkinshaw. Scorer: Hoddle
Attendance: 48, 122
The final scoreline at Anfield was a repeat of the 1982 League Cup Final between the teams at Wembley, which Liverpool won in extra-time after a late equaliser from Ronnie Whelan. Spurs had the consolation of going on to win their second consecutive FA Cup against QPR later that month. The Final went to a replay, Hoddle scoring for Spurs in both games, including the winning penalty. Also at the end of May 1982, Aston Villa gained a consolation for losing their League title by lifting the European Cup in Rotterdam. When Peter Withe scored Villa's winner against Bayern Munich, it was the sixth year in a row that English clubs had become Champions of Europe.
Several players from both sides were selected for the World Cup in Spain – as well as Ardiles, Clemence and Hoddle were in the England squad alongside Neal, Phil Thompson, and Terry McDermott. Liverpool provided a strong spine to Scotland's squad in Alan Hansen, Graeme Souness, and Kenny Dalglish, joined by Spurs' Steve Archibald.
Liverpool's successes from the 1960s through to the 1980s feature in my book Before the Premier League: A History of the Football League's Last Decades.