Andy Leeder: Roots to the 92 Interview, Part Two
Andy Leeder continues our conversation around his book Roots to the 92, and the changes in English football that it documents – Part One is here.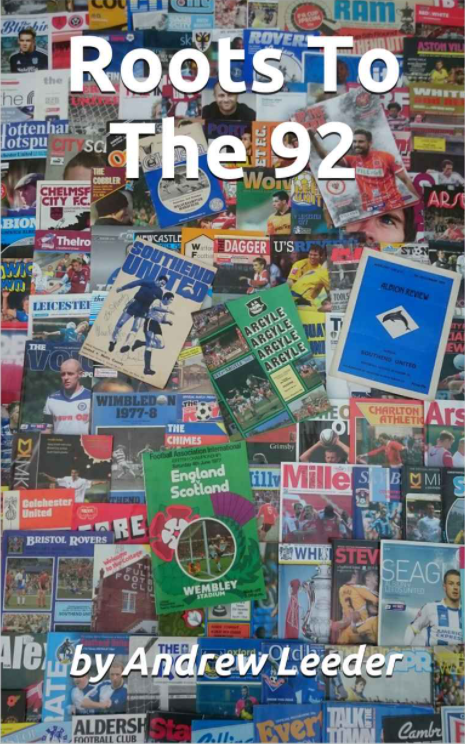 Part Two
You saw the first hospitality boxes and corporate entertainment coming into football grounds – is this at the expense of so-called 'legacy fans'?
I don't mind the corporate hospitality, it is easy to slate that but clubs do have to look at ways of attracting people and bringing in money. I use corporate hospitality through my work with the ex-players' association, hosting the players at Southend, and they are good. I haven't seen any ground that looks horrendous as a result of corporate hospitality, perhaps the only thing that did look silly in days gone by was Kenilworth Road [Luton], which had all those stupid boxes on one side, like a row of double-glazing showrooms. I don't see any ground being unduly disfigured; the problem is that a lot of fans are priced out of games. If they pay, because loyalty is everything, they're spending £100 to go to a game with their ticket and travel, programme and food. The cost of going to game now is astronomical – in my book, when I went to Southampton in '88, the old Dell, I rolled forward the price of entry from then until when I wrote the book in 2016, and it should have been £8.50 – but it was a lot more than that!
Prices have gone up far too much, and that's solely to pay the players' wages, which are killing the game. Much as Southend will spiral down until something drastic happens, wages will spiral up until, again, something drastic happens. It's ruining the game. You can't blame players for wanting more money, if a player leaves Southend or Plymouth because they want to earn more money, why not? The extent to which clubs at the top level entertain this, because TV money pours in, you can't see where it's going to end at the moment. I don't think it's hospitality, it's players wages that are the problem.
You seem to be quite fond of Eastville [Bristol Rovers' former home]. Are there any other of the 'lost grounds' that you would love to be able to revisit?
Eastville, first of all, was a mess, but it was a memorable mess! I used to like going there because it catered for several sports, and all of them quite badly – it had a running track going round the outside with flower-beds, because the groundsman was a gardener – football, speedway, dog racing. All the stands were just a mish-mash, trying to cope with that, it had a horrible open terrace which was miles away from the pitch. It shouldn't have been a good ground, but it just was, the way it sat next to the M32, you only had 2 or 3,000 at Eastville in the mid-80s, you could hear the traffic more than the crowd sometimes.
Colchester I suppose are Southend's big rivals, but Layer Road was just fabulous, because again it was a mess, they didn't seem to know what to call certain bits of the ground, so they always called it Terrace 1, Terrace 2, etc, they couldn't find a sponsor. The away end was fantastic because it had these wooden boards in a covered stand, so you could get the atmosphere going – but these were thick boards, almost sleepers, over years and years they got a bit of give in them and you could bounce up and down and they never seemed to snap! The fact that we usually won at Colchester makes it a better memory than most, but that was a lovely ground.
Port Vale was a ground I went to before it got sanitised, and I think it was the Lorne Street Stand, that had seven different types of box on top of the stand – a lot of them weren't used, but it just looked odd. I would have liked to have gone, but never made it to, Wigan's Springfield Park, from all accounts that was a dump of the highest order! I was quite sad to have missed that one. I've been to Wigan's new ground [DW Stadium], although that's four big stands without the corners covered in, it does seem to create quite a good atmosphere there.
That leads us in to the next question, that many of the 'new grounds' tend to look very similar – which do you think has been the most successful in creating its own identity?
This might answer your question, because I couldn't actually think off the top of my head which ones – too many look the same. Looking at my list, I suppose Huddersfield, which is one of the older 'newer' grounds [opened 1994 and currently known as the John Smith's Stadium], looks quite stylish with its bowed roofs – the corners aren't covered in so you lose a bit there. Hull [currently MKM Stadium] I remember looking decent. There are some grounds like Arsenal with fabulous corporate hospitality, but not a patch on Highbury. I don't think there are too many which have thought about style, but then again these new grounds cost a lot so they have to be built in an efficient way, as per Southampton, as per Leicester, etc, they all look the same.
It was quite interesting when I was researching the book, Morecambe's ground, which is appalling, seems to have cost a phenomenal amount of money and almost the same price as Chesterfield's, which is quite a basic new ground but far superior in terms of what it can offer. There's not too many, an awful example is Colchester (it's always easy for a Southend fan to have a pop at them), that's just four cheap stands lobbed together in a Lego-type way with the ends completely open to the elements. I suppose Hull and Huddersfield – a fairly short list! I think someone doing the 92 now might be jealous of those who did it before, because you are going to identikit places.
Have you ever been tempted by international groundhopping?
With the cost and time, I'd say no, though I have been to a couple of international grounds. The main examples are in the book, I went to the Nou Camp as a treat for my dad – he was 70, and I was 40 – I got a bonus which I used to pay for that. It's a good experience, and certainly when I went to Poland for Euro 2012, I could see why fans follow their teams in tournaments. We were going to go to Ukraine, that's where England were based, the four of us got in the car but in the end it was just too long a trip. Poland was quite easy to get to, we booked ourselves into a fan camp with the Irish, and going to the ground there in Poznań was a great atmosphere. That's appealing, and one thing I'm thinking about doing now with my eldest son, I've got a contact there who goes to lower-league games in Poland, the atmosphere's something else with flares and stuff – we might take in a couple of those one day, when life gets back to normal.
When did you decide to turn your football travels into a book?
My mum always said that common phrase, 'everyone's got a book in them', I quite liked writing and always had the ambition but never thought seriously of doing one. Suddenly, when Jim (my eldest) and I decided to finish the 92, I thought I'd use one ambition to sort another out. I started writing the book as we set out for the remaining eight or nine grounds, and it was a thoroughly enjoyable experience. I was writing about something I loved, it was a good trip down memory lane, once I'd sorted out the format.
I couldn't remember what had happened in the game at Chelsea v Leeds in 1971 – apart from the fact they kicked lumps out of each other – but I could remember bits of the experience. Then researching was fascinating, enabled me to jog a few memories, and I could go off at tangents if I didn't remember too much about a game. For example at Filbert Street, Leicester, I didn't remember the game but I thought about a Keith Weller goal for Leicester, a superb volley, so in that section I started writing about great goals, and the commentaries of them.
How have you found the whole experience of book writing/promotion/self-publishing – and what sort of reception has your book had?
It took me about six months to write, I enjoyed the process. I've a friend, David Watkins, who's a Leeds fan, and when he retired he decided to do every game, home and away, and he wrote a book about it, then another the following season. I got talking to him, he helped me with self-publishing, and the marketing of it is fun. It was meant to be a book for any football fan, not just Southend, but obviously has that theme going through it, so they let me sell it at the club shop – I got to meet lots of fans that I would never have met, and some I'd seen at away games in the 80s when there weren't many of us there. I've made some really good friends out of doing the book.
I sold a lot through the Internet with a Facebook page, I started putting on photos of old football scenes, different grounds, people would like and share them, it built up and in fairly quick time I got 3,500 page likes. I then had an audience to sell to. When I got good reviews on Amazon, I'd put those up, and the sales gradually edged up, I think it's around 1,700, the book's about five years old now but it still sells. I wanted it to pay for my season ticket in the first year, but thereafter all the money has gone to various charity causes. Through that as well, I got to meet and get to know people, so that's been good. It's been a huge social thing and great fun to market! I haven't done Instagram yet – I've got Roots to the 92, the retro shirts and the ex-players' association, I do too much social media as it is.
There are some new grounds and new teams in the League since you finished the book – are you actively continuing the 92 and updating it?
Yes, eventually – Southend's relegation [to the National League in 2021] hasn't helped with that plan! Soon after I'd done the 92, I finished the book, and the first game the next season I saw West Ham in the ground we've all paid for, with David Watkins. He's kept the 92 going but I haven't, I've lapsed. Life gets in the way, and much as having children in the 90s curtailed a lot of my football at the time, going from a secure office job to a self-employed gardener had a big impact. I have done Forest Green, but it's finding excuses – I've lost the ability of having work pay me to do a presentation somewhere that just happens to coincide with a game. I haven't quite got it in me to go and see Barrow versus Sutton, say, just to get the ground in. There are more than you mentioned – there's Spurs and Brentford as well, so maybe one day. No immediate ambition, but when the opportunity arises…
I quite like the possibilities of doing the route to Wembley thing – picking an FA Cup game and following the winner through to the next round – doing the local Dorset grounds and maybe one or two overseas experiences.
Finally, where has writing the book led you?
Through writing and selling the book, I got Derek Spence [former Southend and Northern Ireland player] involved – he wrote the foreword, and that led to me inviting Derek back to Roots Hall, and he brought along Keith Mercer, a Southend player from the 80s. They had a fabulous time, they were on the pitch with maybe 10,000 in the stadium, they met one or two colleagues. We got talking about Alan Moody, who not many people have heard of, but he played 507 times for Southend, he's our record appearances holder, played in the 70s and early 80s. Just at the time when Derek and Keith came down, we learned that Alan had to have both of his legs amputated – he was in his mid-60s and had always been fit, but he had deep vein thrombosis. Terrible situation, he was living up in the north-east and his daughter had posted about this on the Southend chat forum – it got a bit of interest, but the club had done nothing.
I wrote to the Chairman, suggesting we do something about it, and to my amazement he handed the letter to the Commercial Department and the Chair of the Supporters Club. The Head of Commercial embraced it, so we organised a collection at a game (which coincidentally was against Plymouth), and before it I got in touch with Alan's daughter. Alan's quite a private person but I explained we wanted to do this as a tribute, and asked what he needed, so she said we could put some money towards a car which was adapted for his needs. The average St. John's Ambulance collection at Roots Hall will get around £500, tops, but we had a fantastic day, got loads of people involved from the Shrimpers' Trust, the Plymouth fans gave loads as well. The guy who does the accounts for the Trust rang me up and said "Andy, we've got around three grand already, and I'm still counting!" We had auctions, I gave money from the book, a cricket match, big raffle, and we had a bit of support from Alan's former club, Middlesbrough. In the end we raised £11,500 so we not only contributed to the car, we bought it.
We got Alan back to Roots Hall, and arranged for him to meet some of his old team-mates. It went so well that we decided to do a bit more of this, and we formed the ex-players' association a couple of months later. Nearly four years later, we've got well over 300 ex-players on board, which makes us the biggest former players' association in the UK – bigger than Liverpool, Man United – as far as we know. These are ex-players who are still alive, who we are in contact with and who agree to become a member (one or two have refused). We've turned it into something quite special, we do Facebook and Twitter pages, we've helped one or two people out. I looked at some of the older players, and where I could find the programme of their debut on eBay, I bought it and sent it to them, which has been really nice. We do matchday reunion events, and seeing players that haven't met for 40 years greet each other, getting them on the pitch and meeting fans, is lovely.
Roots to the 92 on Amazon
Andy online: Twitter & Facebook @RootsToThe92 @SUEPAssoc (Southend United Ex-Players' Association)
David Watkins' latest book, Leeds United: A Wonderful Mishmash!: The Story Of Leeds United's 2020/2021 Season on Amazon