Bologna v Blackpool, 1971 Anglo-Italian Cup Final
Blackpool prepared for the 1971 Anglo-Italian Cup Final in Bologna's Stadio Comunale six weeks after finishing bottom of the First Division. Their opponents had just finished 5th in Serie A and qualified for the following season's UEFA Cup.
1971 was the second year of the Anglo-Italian Cup, played post-season, which lasted until 1973 in its first incarnation. The competition continued for semi-professional clubs through the later 1970s and 80s, before being revived for second-tier teams of both nations between 1992 and 1996, with a Wembley final. Italian clubs won three of those four competitions, with Genoa the last winners in 1996 when beating Port Vale.
The tournament was originally founded by Italian agent Luigi 'Gigi' Peronace – a fluent English speaker who had interpreted for Juventus' British managers William Chalmers and Jesse Carver before assisting in a number of high-profile transfers to Italy, including those of John Charles, Jimmy Greaves and Denis Law. After experimenting with the Anglo-Italian League Cup, between the winners of the Coppa Italia and the League Cup in 1969, the following year Peronace initiated the Anglo-Italian Cup. Football League Secretary Alan Hardaker explained that:
"The long close season caused by the [1970] World Cup competition has placed a heavy wage burden on clubs. It is hoped that this competition will ease this burden while providing clubs and supporters with a taste of competition against the best sides in Italy."
For the first tournaments, twelve teams, six from each country, were divided into three groups and the team from each nation with the best record went straight through to a one-off final. Matches played in England were officiated by Italian referees and linesmen, and vice versa in Italy. Additional points were given for each goal scored. Swindon Town won the first edition, leading 3-0 in Naples when the game was abandoned after the furious home fans rioted. In the summer of 1971, wins at Verona and Roma in their home-and-away fixtures helped Blackpool to top the English section. Meanwhile Bologna overcame Huddersfield and holders Swindon to become the Italian finalists. With home advantage and a top-five Serie A finish behind them, they were heavy favourites to lift the trophy.
Blackpool had been promoted to the First Division in 1969-70 under manager Les Shannon, only to be relegated a year later. Long-serving club captain Jimmy Armfield retired after the final game of the season, on 1st May 1971 against Manchester United. By then Bob Stokoe had replaced Shannon as manager. Finishing 6th in the Second Division in 1971-72, Stokoe again took Blackpool to the Anglo-Italian Cup Final, where they were runners-up to Roma. Along the way they registered a record win, 10-0 over Lanerossi Vicenza. Eventually the club was relegated to the Third Division in 1978, only returning to the second tier in 2007 and spending a single season (2010-11) in the Premier League before falling back down the divisions.
In 1970-71, John Burridge and Tommy Hutchison were near the start of their long Football League careers. Goalkeeper Burridge was at 29 clubs between 1967 and 1997, and remains the oldest Premier League player with an appearance for Manchester City at the age of 43 years, four months and 26 days. Winger Hutchison remained at Blackpool until 1972, became a Scottish international while at Coventry and famously scored for both sides in the 1981 FA Cup Final, by then a Manchester City player. His final Football League appearance (of 863, and over 1,000 in total) came in March 1991 for Swansea at 43 years, five months and 19 days, though he continued in non-league with Merthyr Tydfil for another three years before retiring.
Alan Ainscow and match-winner Micky Burns both enjoyed top-flight careers. Ainscow was only 17 and still an apprentice, without a league appearance, when he made his debut in the 1971 Anglo-Italian competition. He later played for Birmingham, Everton, Wolves and Blackburn. Burns left Blackpool for Newcastle in 1974, spending four years with the Tyneside club and ending his career at Middlesbrough. Manager Bob Stokoe moved on to Sunderland in November 1972, and achieved lasting fame when his side shocked Leeds United to lift the FA Cup at the end of his first season in 1973.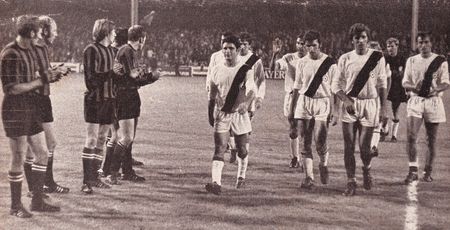 Seven-times Italian Champions, Bologna remained a force in Serie A, with their last title coming in 1964. They were regulars in European competition, lifting the Coppa Italia in 1970 (and again in 1974) and then winning the Anglo-Italian League Cup against Manchester City over two legs. Their star player Giuseppe Savoldi was sold to Napoli in 1975 as the world's first £1millon footballer, while defender Tazio Roversi won a single Italy cap in November 1971. Edmondo Fabbri, in charge of Bologna between 1969 and 72, had previously been the Italian national team manager from 1962 until 1966, a stint ended by the disastrous performance at the 1966 World Cup.
Match details for Bologna – Blackpool; Stadio Comunale, Anglo-Italian Cup Final, Saturday 12 June 1971:
Bologna: 1. Giuseppe Vavassori, 2. Tazio Roversi, 3. Adriano Fedele, 4. Franco Cresci, 5. Franco Janich, 6. Ivan Gregori, 7. Marino Perani (sub Pierino Ghezzi), 8. Francesco Rizzo, 9. Giuseppe Savoldi, 10. Augusto Scala (sub Mauro Pasqualini), 11. Bruno Pace. Manager: Edmondo Fabbri. Scorer: Pace
Blackpool: 1. John Burridge, 2. Bill Bentley, 3. Dave Hatton, 4. Alan Ainscow (sub Dennis Wann), 5. Terry Alcock, 6. Peter Suddaby, 7. Micky Burns, 8. Tony Green, 9. John Craven (sub Johnny Johnston), 10. Alan Suddick, 11. Tommy Hutchinson. Manager: Bob Stokoe. Scorers: Craven, Burns
Attendance: 42,000
The venue for the final, the Stadio Comunale, had been built in 1927 and was originally named the Stadio Littoriale. In 1983 it was again re-named, as the Stadio Renato Dall'Ara. Having hosted fixtures during the 1934 World Cup, the stadium was again used for four games in 1990, the last of which was England's last-minute Second Round win over Belgium. England were to return to Bologna once more, for what proved to be Graham Taylor's final match in charge, the last World Cup qualifier against San Marino in November 1993. Taylor's chaotic reign came to an end at the Stadio Renato Dall'Ara with a 7-1 win, but only after Davide Gualtieri had managed to score after 8.3 seconds.