Bristol Rovers v Cardiff City, 1983
Bristol Rovers welcomed Cardiff City to Eastville for the final game of the 1982-83 season. The fixture included many famous football names of the past, and future.
Cardiff were already promoted and a point secured second place behind Portsmouth, and an immediate return to the Second Division. Bristol Rovers finished in 7th place. There was a shock on the eve of the game as Rovers manager (and former player) Bobby Gould resigned to take charge of First Division Coventry City. His replacement was Welsh midfielder David Williams, as player-manager. Cardiff boss Len Ashurst left the following season, taking over at Sunderland in March 1984 when Alan Durban was sacked.
Both Ashurst and Gould took players from their former clubs with them to the First Division. Gould returned to Bristol Rovers to sign Nick Platnauer and Graham Withey (both later to play for Cardiff). Gary Bennett followed Ashurst to Sunderland in July 1984, while his brother Dave joined Gould at Coventry in the summer of 1983. Dave Bennett had been on the losing team for Manchester City in the 1981 FA Cup Final but returned to Wembley as part of Coventry's 1987 Cup-winning side – both against Spurs. Meanwhile, after two years in charge of Rovers, Williams moved to Norwich in 1987, where he was capped five times for Wales.
Apart from both managers, several of the other players on view were to reach the First Division (and international level). These included Paul Bodin, Andy Dibble, Neil Slatter and Geraint Williams, all Welsh internationals. Rovers' Keith Curle was part of England's dismal Euro 92 campaign and Manchester City captain. In their squad but not featuring in this game were future top-flight managers Ian Holloway – who also managed Rovers between 1996 and 2001 – and Tony Pulis.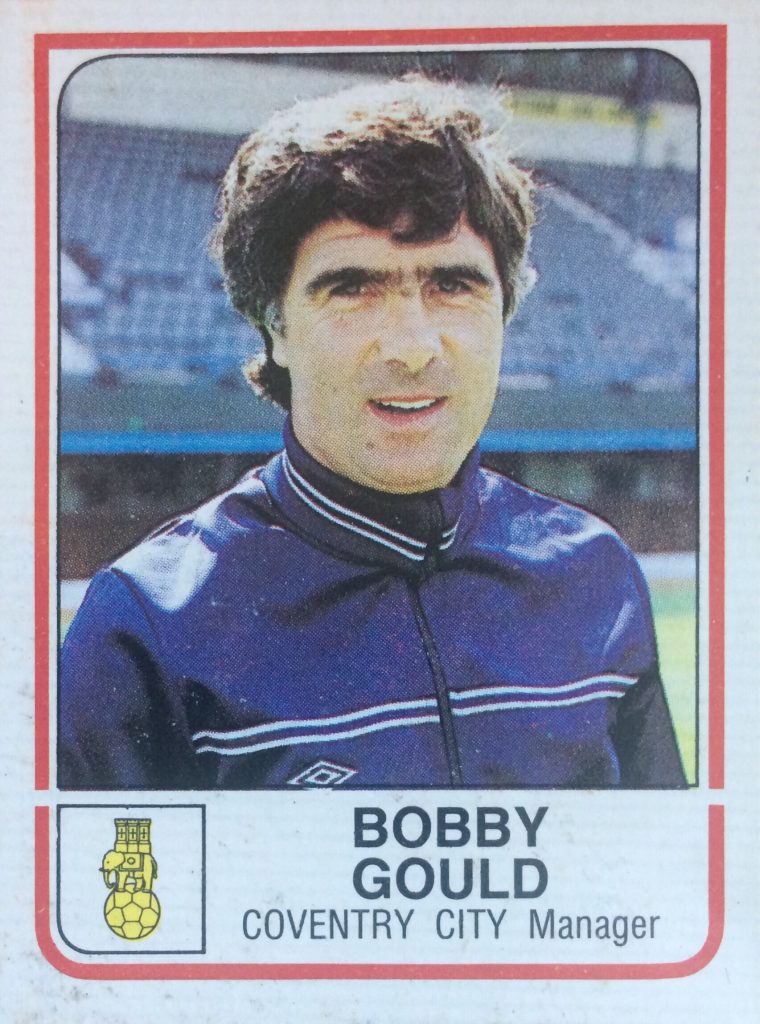 At the other end of their careers, several veterans featured, notably 1966 World Cup winner Alan Ball in his final Football League appearance. Ball had made his League debut for Blackpool over twenty years earlier, in August 1962. Team-mate Paul Randall was in his second spell at Eastville, where he was the club's top scorer for five seasons in total. Also at Bristol Rovers was another former England international, Mike Channon, for a brief stay before his swansong at Norwich. Cardiff's Phil Dwyer had already been at Ninian Park for over a decade on his way to setting a new record for club appearances, during which time he also won ten Welsh caps. Well-travelled striker Bob Hatton had, like Ball, made his debut in the 1960s, and was also playing the last League game of a long career. Alongside Hatton was Cardiff's top scorer in 1982-83, Jeff Hemmerman, who sadly suffered a career-ending knee injury in this game.
Match details for Bristol Rovers – Cardiff City; Eastville, Football League Division Three, Saturday 14 May 1983:
Bristol Rovers: 1. Phil Kite, 2. Neil Slatter, 3. Brian Williams, 4. Keith Curle, 5. Tim Parkin, 6. Aidan McCaffery, 7. Alan Ball, 8. Geraint Williams, 9. Paul Randall (sub. Mike Adams), 10. Archie Stephens, 11. Nicky Platnauer. Manager: David Williams. Scorer: Platnauer
Cardiff City: 1. Andy Dibble, 2. Linden Jones, 3. Jimmy Mullen, 4. David Tong, 5. Phil Dwyer, 6. Gary Bennett, 7. Dave Bennett, 8. Roger Gibbins, 9. Bob Hatton, 10. Jeff Hemmerman (sub. Paul Bodin), 11. John Lewis. Manager: Len Ashurst. Scorer: Gibbins
Attendance: 10,731
Gould later returned for another spell in charge at Bristol Rovers (1985-87) and managed Cardiff among a number of clubs – most famously winning the FA Cup in 1988 with Wimbledon. Rovers were only to spend three more years at Eastville, their home since 1897. They spent a decade at Bath's Twerton Park, before returning to Bristol and the Memorial Stadium in 1996. Ashurst's spell at Sunderland was an unhappy one, despite reaching the 1985 League Cup Final the club were relegated and he was sacked at the end of the season. He returned to manage Cardiff between 1989 and 1991. The man Ashurst replaced at Sunderland, Alan Durban, took over at Ninian Park in the following 1984-85 season but was unable to prevent successive relegations.
In a turbulent decade, Cardiff moved between the Second and the Fourth Division during the 1980s, promoted again in 1987-88 only to drop back to the bottom division in 1989-90. They eventually left their historic home at Ninian Park in 2009 and reached the Premier League in 2013, returning to the top flight after a 51-year absence. Rovers had been relegated from the Second Division in 1980-81 and spent the rest of the decade in the third tier until promotion as Champions in 1989-90. To date they have never played in the top division of English football.
Match programme images courtesy of Miles McClagan (Flickr & twitter @TheSkyStrikers)
The fluctuating fortunes of league clubs is one of the topics in my book Before the Premier League: A History of the Football League's Last Decades.