1992 European Championship finals
The 1992 European Championship finals took place in Sweden between 10 and 26 June. This was the last of the eight-team Euro tournaments which began in 1980 as England was to host an expanded edition with sixteen teams in 1996. It was Sweden's first major tournament since the 1958 World Cup – all four venues in Gothenburg, Malmö, Norrköping and Stockholm had been used 34 years earlier.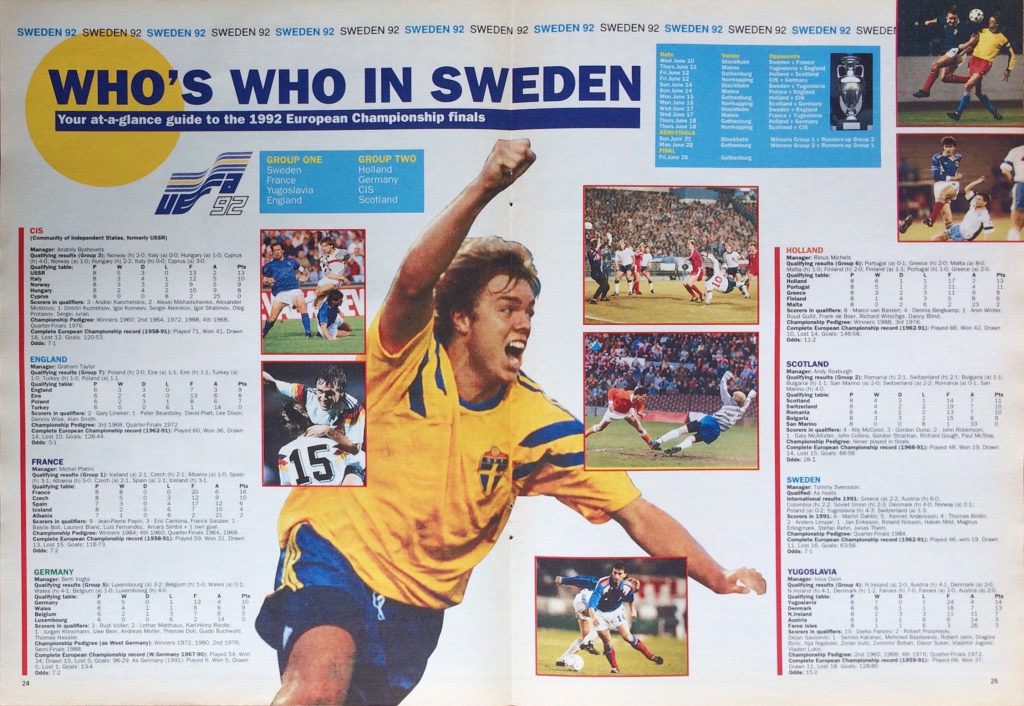 Qualification began even before Italia 90 kicked off, with Iceland beating Albania on 30 May 1990. The qualifying campaign was heavily affected by events in Eastern Europe: the fall of the Berlin Wall (leading to a unified Germany), conflict in the republics of Yugoslavia and the dissolution of the Soviet Union. East Germany were drawn alongside West Germany in Group 5 but with the reunification process well underway, their opening game in Belgium was played as a friendly in September 1990. In their final fixture as a nation, Matthias Sammer scored twice in a 2-0 win before becoming the first East German to represent the unified Germany in December 1990. Meanwhile the final qualifier between Albania and Spain was cancelled due to Albania's political instability, with both nations already eliminated.
Yugoslavia qualified in impressive fashion, with Darko Pančev the leading scorer with ten goals, but were denied their place in the finals when suspended from international competition by FIFA and UEFA on 31 May 1992. With the country breaking up as its constituent republics declared independence, Yugoslavia's descent into civil war inevitably affected its national team. Quarter-finalists at the previous World Cup, the squad would have been competing as the Federal Republic of Yugoslavia (essentially Serbia and Montenegro) without such talents as Pančev, a Macedonian, or Croatian duo Boban and Prosinečki. However a side overseen by legendary manager Miljan Miljanić, and including Jugović, Mihajlović, Mijatović, Savićević and Stojković, would still have been strong contenders in Sweden.
Yugoslavia were replaced by group runners-up Denmark, making a dramatic late entry to the tournament. Their chances were boosted by the inclusion of Brian Laudrup, who only agreed to return to international football earlier in the year, though his older brother Michael remained unavailable – the brothers were in dispute with coach Richard Møller Nielsen. However the team was not regarded as being of the same quality as Sepp Piontek's 'Danish Dynamite' of the 1980s, and arrived in Sweden with low expectations.
The USSR's final qualifier against Cyprus in November 1991, which ensured they topped the group above Italy, proved to be their last international fixture. The Italians were also at one point on standby, should the Soviet Union (1988 runners-up) be unable to compete after the collapse of that country, which formally ceased to exist on 26 December 1991. In the end, a team managed by Anatoly Byshovets took part in the tournament as the CIS (Commonwealth of Independent States), a federation of former Soviet states. The bulk of the squad was Russian, but included Ukrainians such as Andrei Kanchelskis, Oleg Kuznetsov and Alexei Mikhailichenko alongside the Belarussian Sergei Aleinikov and Georgian Kakhaber Tskhadadze.
England under Graham Taylor were unbeaten, if unspectacular, in qualifying by edging out Jack Charlton's Republic of Ireland. Scotland reached their first European Championship finals ahead of Switzerland, Romania and Bulgaria. Wales agonisingly finished a point behind newly-unified Germany, while Northern Ireland were well adrift of Yugoslavia and Denmark in their group.
After reaching the semi-finals of Italia 90 in Bobby Robson's last tournament, Taylor took a very different, workmanlike England to Sweden. Of the team that played West Germany in Turin, none of Shilton, Parker, Butcher, Beardsley or, crucially, Gascoigne and Waddle, were part of the 1992 squad. While Gazza was still recovering from his self-inflicted injury in the 1991 FA Cup final, Waddle had just completed another impressive season with Marseille but was overlooked by Taylor. John Barnes was then injured in the last warm-up fixture, a friendly in Finland, along with Gary Stevens. After successive injuries to Rob Jones and Lee Dixon, without Stevens England went to Sweden lacking a recognised right-back. Keith Curle and Andy Sinton were last-minute additions to the squad.
England's Group 1 rivals were France – the first nation to qualify for a European Championship with a 100% record, helped by nine goals from Waddle's team-mate and 1991 Ballon d'Or winner Jean-Pierre Papin – Denmark and Sweden. The French had lost 2-0 in a February 1992 friendly at Wembley, when Alan Shearer scored on his international debut. Southampton's young striker Shearer was in the England squad for his first international tournament, ahead of a British record transfer to Blackburn that summer for £3.6 million.
In Group 2, World Champions Germany were now managed by Berti Vogts, and as well as Sammer, included former East German internationals Thomas Doll and Andreas Thom in an already powerful squad. However World Cup-winning captain and midfield inspiration Lothar Matthäus was ruled out through injury ahead of the tournament (to be followed by Rudi Völler during the first game). Arguably favourites alongside France and Germany were the Netherlands, with veteran coach Rinus Michels back in charge and looking to repeat their triumph of four years earlier. They too had added new faces to a squad featuring 1988 winners Ruud Gullit, Ronald Koeman, Frank Rijkaard and Marco Van Basten, fresh from his best-ever season in Serie A, where he had scored 25 goals in Milan's scudetto win.
Euro 1992 kicked off on 10 June at the Råsunda Stadium in Stockholm's Solna district, where the 1958 World Cup Final had been played. Sweden's Jan Eriksson scored the opening goal before Papin equalised in the second half. That set the stage for caution in the group stages, with England lacking any creativity in two goalless draws before their defeat to the hosts, who topped Group 1 with Tomas Brolin in fine form. It was another dismal European Championship campaign and a sad end to Gary Lineker's illustrious international career, as he was substituted in that final game still one goal short of Bobby Charlton's national team scoring record. Denmark qualified alongside Sweden, scoring their first goals of the tournament to beat France 2-1 in the final group fixture.
Scotland opened with a narrow defeat to the defending champions, the Netherlands, Dennis Bergkamp scoring a late goal in his first major tournament appearance. Meanwhile Germany needed a last-minute free-kick from Thomas Hässler to secure a 1-1 draw with the CIS, before going on to beat Scotland 2-0. The form of striker Karl-Heinz Riedle lessened the blow of losing Völler. After opening with two spirited displays which ended in defeats, the Scots at least went home with an emphatic 3-0 victory against the CIS. The Netherlands repeated their 1988 victory against Germany with perhaps the most impressive performance of the opening stage to top Group 2, winning 3-1 as their opponents finished as runners-up.
The semi-finals produced a 3-2 win for Germany over Sweden and the competition's most dramatic game as Denmark held the Netherlands 2-2 after extra time, before beating them on penalties. Van Basten, 1988's top goalscorer, missed the vital kick to cap a difficult tournament in which he failed to score (though he had a perfectly good goal ruled out against the CIS). The stage was then set for one of the biggest upsets in the competition's history, as Denmark beat Germany 2-0 at Gothenberg's Ullevi stadium – their first major trophy at a tournament they didn't expect to compete in.
The dramatic final outcome compensated for the low-scoring group stages, but while not as dull as 1980 in Italy, it never reached the heights of France 1984 or the previous edition in West Germany. With the political changes ongoing in Europe, the 1992 Championships marked the end of an era in many ways. This was the last major international tournament before the introduction of three points for a win, the abolition of the backpass law, and the arrival of the Premier League in England.
Several players emerged with enhanced reputations, notably Denmark's goalkeeper Peter Schmeichel, recognised as the best player of Euro 92. Team-mate Brian Laudrup was the Danes' creative inspiration, Brolin for the hosts, while Stefan Effenberg and Hässler impressed for the Germans. Scottish defender Richard Gough earned the highest ratings in 'Match Facts'; the English magazine's verdict was endorsed by the Italian Guerin Sportivo with a place in their team of the tournament, and praise for his "faultless performances" in World Soccer.
Other stars were fading; with Lineker bowing out, Taylor's reign only lasted another year as England failed to reach the 1994 World Cup. Bergkamp announced the start of a brilliant international career just as Van Basten's neared a premature end, though his exploits at Milan were enough to win a third Ballon d'Or and be voted FIFA's 1992 World Player of the Year. However Van Basten was to be plagued by injury for the remainder of his career, and only made three more international appearances after Euro 92, winning his last cap in October 1992 against Poland. His 24th and final goal for the Oranje was in a pre-tournament friendly in May 1992 against Wales.
The official UEFA 'Team of the Tournament' selection: Schmeichel (Denmark); Angloma, Blanc (France), Kohler, Brehme (Germany); Effenberg, Hässler (Germany), Gullit (Netherlands), Laudrup (Denmark); Bergkamp, Van Basten (Netherlands).
Journalist and author Harry Harris discusses England's involvement and the 1992 tournament on the When Shorts Were Short podcast.
Images from the official Panini sticker album courtesy of Peter Lythe.