Italia 90: Background & Qualification
Italy won the bid to host the 1990 World Cup at a FIFA vote in 1984, comfortably ahead of the Soviet Union. This meant they hosted the tournament for the second time after their victory in 1934, and only a decade after the European Championship finals were held in Italy. Twelve cities were chosen to host the Italia 90 World Cup fixtures, including four – Bologna, Florence, Genoa and Milan – whose stadiums had been used in 1934. Many venues were expensively refurbished, and two new stadia were built, in Bari (the Stadio San Nicola) and Turin (the Stadio Delle Alpi).
Alongside the hosts and holders Argentina, 22 places were available in qualifying. Among the nations who failed to reach the finals were France, European Champions in 1984 and World Cup semi-finalists two years later. 1986 hosts Mexico, together with Denmark, Hungary, Northern Ireland, Poland (missing their first World Cup since 1970, not to return until 2002) and Portugal, were also absent from Italy. England and West Germany qualified only as the best of the European group runners-up. Costa Rica made their finals debut, alongside the Republic of Ireland and the United Arab Emirates in their only World Cup to date. 1990 was to be the last World Cup for Czechoslovakia, USSR and Yugoslavia (as a unified nation) before the break-up of those countries, and for West Germany before reunification.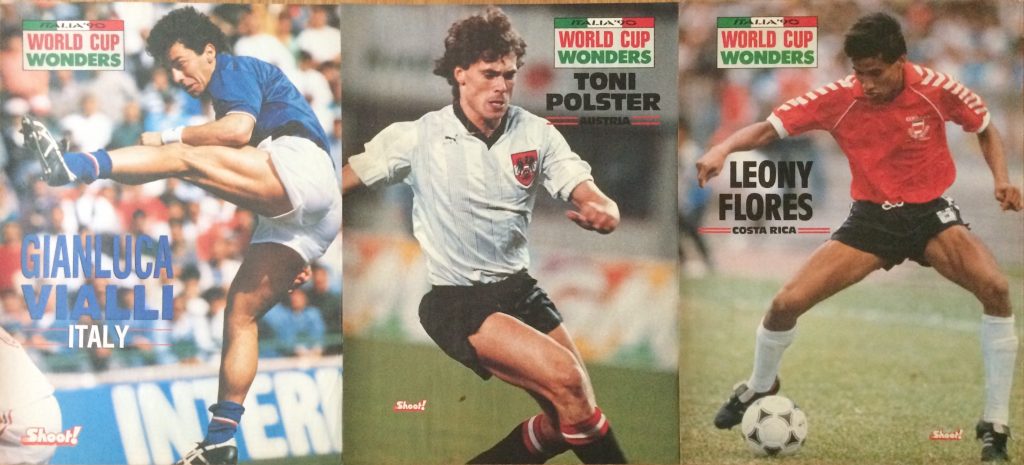 There were returns to the tournament for Egypt and USA after long absences, since 1934 and 1950 respectively. Colombia edged out Israel in the Intercontinental play-off, having made their only previous World Cup appearance in 1962. The South American qualification campaign saw controversy as Chile left the pitch in Rio de Janeiro, claiming injury to their goalkeeper Roberto Rojas from a firework thrown by a Brazilian fan. After photos and video footage proved that Rojas had fabricated the incident, Brazil were awarded the match and Chile banned from the following tournament.
The Germans were among the favourites for Italia 90, together with Argentina, Brazil and Italy, World Champions in 1982. Of the home nations, England travelled hopefully under Bobby Robson, preparing for his last tournament as national team manager. They progressed from their qualifying group behind Sweden, without conceding a goal. After a 17-match unbeaten run was ended by Uruguay at Wembley, England only narrowly avoided defeat in their final warm-up in Tunisia. Expectations were tempered by memories of the disastrous European Championship of 1988. Fears of hooliganism meant all England's Group F games were to be played in Cagliari, where they were paired with the Dutch and Irish, two of the nations which had beaten them in 1988.
Andy Roxburgh, in charge since 1986, oversaw Scotland's successful qualification. They reached their fifth consecutive World Cup Finals, impressively finishing ahead of 1982 and 86 semi-finalists France in the group with striker Mo Johnston in prolific form. Meanwhile Northern Ireland had failed to qualify after appearances in 1982 and 1986, but neighbours the Republic of Ireland, managed by England's 1966 winner Jack Charlton, were looking forward to their first-ever finals. After their creditable performance at the European Championships two years earlier, Charlton and his squad were quietly confident of making a good impression.
The World Cup was by now big business, and its return to Europe saw a marked increase in promotional activity with commemorative coins, kit, and sticker albums, most of them featuring the figure of Ciao, the official Italia 90 mascot. The musical accompaniment was by now an established tradition – the tournament had its own soundtrack in 'Nessun Dorma', a Puccini aria sung by Luciano Pavarotti which the BBC selected to open their coverage. Also in the UK, 'World in Motion' by New Order with the England World Cup squad became, like 'Back Home' in 1970, a number one record. Other countries chipped in with musical offerings, including Scotland's 'Say it with Pride' and the Republic of Ireland contributing 'Put 'em under Pressure'.