Memories of Italia 90: Thirty Years Ago
The 1990 World Cup, which took place between the 8th June and the 8th July in Italy, brings back a lot of memories. I was 16 and able to give my full attention to four weeks of football, a luxury I appreciate even more at this distance. I was an England fan but keen to see all the teams in action – hard to believe now, but international football still wasn't really covered on television unless the home nations were involved.
Looking back, it seems a tournament of great moments rather than sustained quality, with many teams adopting a defensive attitude which resulted in an all-time low of 2.21 goals per game. Italia 90 was the last World Cup with only two points per win at the group stage, and before the change to the back-pass rule; the early and later stages reflected a cautious approach.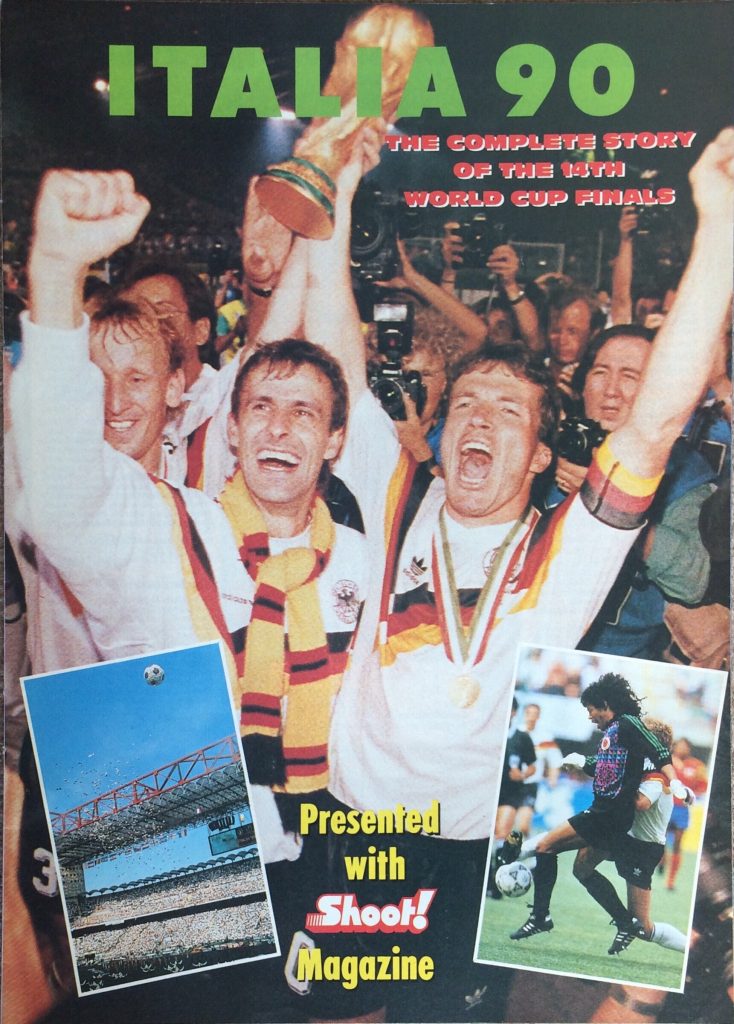 As ever, 1990 had its share of penalty shoot-out drama and memorable matches. After stunning Argentina in the opening game, Cameroon progressed further than any African team previously, with Roger Milla, a striker who had appeared in the 1982 World Cup, making a name for himself at the age of 38. Milla was one of several major players and personalities to emerge onto the world stage during the tournament, alongside Italy's previously little-known Salvatore 'Toto' Schillaci and England's Paul 'Gazza' Gascoigne. A host of playmakers impressed, among them Gheorghe Hagi, Enzo Scifo, Dragan Stojković and Carlos Valderrama, while West German captain Lothar Matthäus was a dominating figure in midfield.
Juventus striker Schillaci made his international debut earlier in the year, and began Italia 90 on the bench. After two substitute appearances, he established himself in the starting line-up and, with six goals, ended up winning both the Golden Boot and Golden Ball as best player. However Schillaci only scored once more for his country. Robert Prosinečki was the young player of the tournament (and later part of the Croatia side which earned third place in 1998), fulfilling the promise he had shown as part of the talented squad which won the 1987 World Youth Cup for Yugoslavia.
Costa Rica and the Republic of Ireland qualified for the second round in their first appearance – Scotland's opening defeat to newcomers Costa Rica meant they didn't advance beyond the group stage. The Republic of Ireland made a memorable World Cup debut, only defeated by hosts Italy in the quarter-finals. Colombia celebrated their first-ever World Cup win before goalkeeper René Higuita's eccentric style cost them against Cameroon. West Germany and the Netherlands renewed their rivalry in the Second Round, but the Dutch, European Championship winners two years earlier, disappointed under coach Leo Beenhakker as the Germans progressed. England hardly impressed in the opening group, going through with the Dutch and Irish as all three shared a series of hard-fought and low-scoring draws.
With Argentina and Italy, England and West Germany progressing, old rivals made it through to the semi-finals which were both settled on penalties for the first time. Though Diego Maradona, the hero of 1986, was not fully fit, Argentina recovered from their opening defeat. Maradona produced one piece of magic to set up Claudio Caniggia for the goal which settled their Second Round tie with Brazil. This Brazilian team was a shadow of the flamboyant sides of 1982 and 86, disappointingly pragmatic under Sebastião Lazaroni. Argentina's progress to the final was far from pretty, and increasingly physical, requiring heroics from goalkeeper Sergio Goycochea in successive penalty shoot-out wins against Yugoslavia and hosts Italy. Meanwhile England's improving performances peaked in a classic semi-final with West Germany; Gazza's tears in Turin took the headlines as Pearce and Waddle missed the crucial penalties.
The final itself was a dour game marked by cynical fouls and over-acting – notably Klinsmann's cartwheel which resulted in a straight red card for Pedro Monzón, who became the first player sent off in a World Cup Final. Even the penalty which settled the game was debatable, awarded for a foul on Rudi Völler and converted by Andreas Brehme. For the first time the World Cup Final saw only a single goal (though worse was to follow at USA '94). With a second sending-off for Argentina when Gustavo Dezotti was dismissed late on, the tournament ended on a sour note with a then-record 16 red cards. As West Germany's inspirational captain Lothar Matthäus lifted the trophy, Franz Beckenbauer made history, now a World Cup winner and runner-up as both player and coach.
West Germany's triumph was reflected in the official selection for the teams of the tournament – Brehme, Matthäus and Klinsmann all appeared in the line-ups chosen by FIFA and the accredited press. Italy's Franco Baresi and Schillaci were the only other players picked for both. There was a broad consensus around these choices, and much debate about the best of Italia 90. The English magazines Match and Shoot! unsurprisingly included several England players, Jimmy Greaves adding Peter Shilton and Mark Wright to Gascoigne in his XI for Shoot! Match also went for Gazza and Wright, as well as finding room for Paul Parker. Scifo featured in each of the magazine selections alongside the player of the tournament, Schillaci.
FIFA's official 'All-Star' team of the tournament selection: Goycochea (Argentina); Baresi, Maldini (Italy), Brehme (West Germany); Maradona (Argentina), Matthäus (West Germany), Stojković (Yugoslavia), Gascoigne (England); Klinsmann (West Germany), Schillaci (Italy), Milla (Cameroon).
Accredited Press team of the tournament selection: Taffarel (Brazil); Jorginho (Brazil), Baresi, Bergomi (Italy), Buchwald, Brehme (West Germany); Donadoni (Italy), Matthäus (West Germany), Scifo (Belgium); Klinsmann (West Germany), Schillaci (Italy). Reserves: Conejo (Costa Rica), Walker (England), Branco (Brazil), Stojković (Yugoslavia), Milla (Cameroon)
In England, the national team's unexpected success after a dire opening stage contributed to the game's upsurge in popularity and commercial impetus. After Hillsborough and the dark days of the 1980s, the performance of Bobby Robson's squad helped to rebuild the game's image domestically and heralded a new era for English football, cemented by the creation of the Premier League two years later. The feel-good factor was symbolised by 'World in Motion', the England-New Order record which seemed to be heard everywhere that summer. After capitalising on his new-found celebrity with hit singles 'Fog on the Tyne' and 'Geordie Boys', Gazza was to return to Italy when he left Tottenham for Lazio in 1992.
The 1990 World Cup lacked the classic matches of 1982 or the individual brilliance of Maradona at his peak in 1986. Though hampered by poor discipline, lack of goals and a brutal final, the fond memories of Italia 90 have lingered. More significantly, the tournament more than any other helped to usher in a new era of football as a global product with huge commercial potential. To quote my own book Before the Premier League, "The spectacle of the finals indicated a future for football watched in modern stadia and broadcast worldwide to a global audience." The thirtieth anniversary saw a legacy of sites exhaustively documenting the tournament, nostalgic blog posts and even its own dedicated podcast.