Brazil v Italy, 1982 World Cup
This classic encounter was a re-match of the 1970 final, in which Brazil, inspired by Pelé in his last international, swept aside the Italians and were acclaimed as the greatest team the world had seen. That claim can still be defended today, but had the 1982 Brazilians won the trophy, it would be a close argument between them.
For fans of a certain age, like myself, watching their first World Cup and never having seen or even heard of many of these players before – pre-Internet, when international football coverage in the UK was limited to the home nations and major tournament finals – this match remains a touchstone for the thrills of the beautiful game. Brazil v Italy, 1982, was undoubtedly one of the World Cup's most dramatic 90 minutes…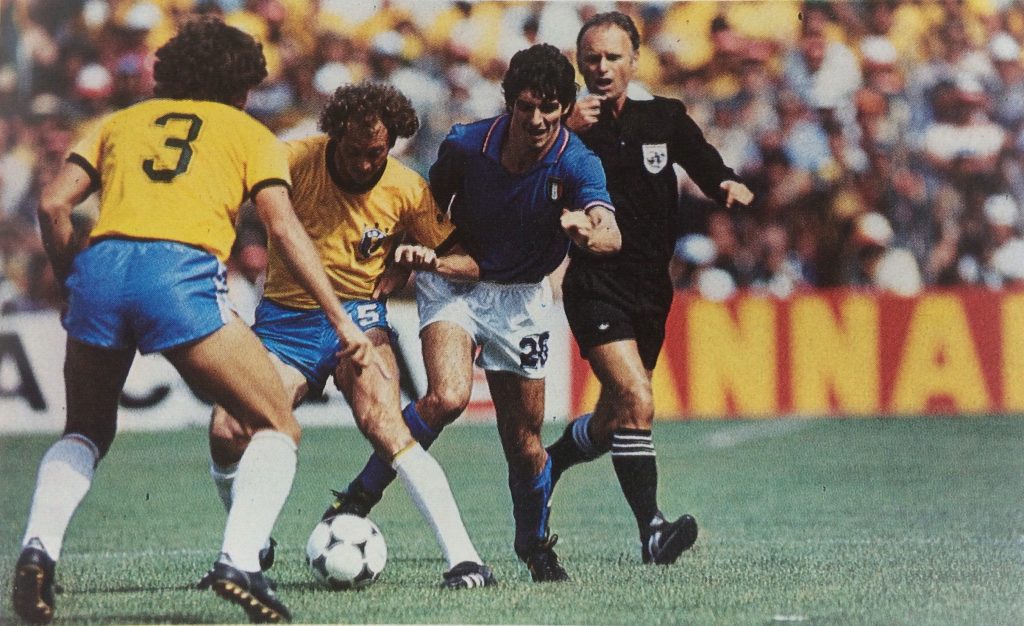 With an impressive record over the previous two years under coach Telê Santana, including wins against major European opposition, Brazil were among the favourites in 1982. From the start of the tournament in Spain, it was apparent that Brazil's array of flamboyant talents – Júnior, Sócrates, Falcão, Éder, Zico – was prepared to simply out-score the opposition. Having defeated the Soviet Union with two spectacular goals, they swept aside Scotland and New Zealand before dismantling their arch-rivals Argentina in the second group stage (infuriating a young Diego Maradona into getting himself sent off).
Despite fielding the lumbering Serginho at centre-forward, they had scored thirteen goals in the process of winning those four games – comparing more than favourably to Spain's champions of 2010 (eight goals in seven matches), or the long-awaited Brazilian triumph in 1994 (eleven in seven). Their Achilles heel was the lack of defensive organisation and the shortcomings of goalkeeper Waldir Peres behind them. Their Achilles heel was the lack of defensive organisation and the shortcomings of goalkeeper Waldir Peres behind them, which was eventually exploited at the expense of their sublime midfield.
Italy's progress in 1982 had been unimpressive, drawing each game at the first group stage, including with first-time finalists Cameroon. Finishing as runners-up behind Poland, they joined under-performing holders Argentina and formidable Brazil in the toughest group of the second round. These ties had been designated for Barcelona's second stadium, Sarrià, home of RCD Espanyol. The ground was packed to its 44,000 capacity for each group game, while the clashes between Belgium, Poland the USSR failed to fill the Nou Camp across town.
Under-pressure coach Enzo Bearzot was heavily criticised for persisting with star striker Paolo Rossi, banned from the 1980 Euro Finals for his part in a match-fixing scandal and lacking match practice since his return. With Rossi misfiring and short on creative options, Bearzot relied on an experienced defence, in which Juventus stopper Claudio Gentile excelled as a man-marker. Behind them, 40-year-old goalkeeper and captain Dino Zoff was a calming influence in his fourth World Cup. Gentile had stifled Maradona in Italy's previous game, and was now designated to follow Brazil's gifted no. 10, Zico.
The much-maligned second group stage was abandoned after these finals but on this occasion the format set up the ideal fixture, with the Italians needing a win and the Brazilians knowing they only needed to avoid defeat to reach the semi-finals. They had no intention of playing for a draw however…
Match Details for Brazil – Italy; Sarrià Stadium, Barcelona; World Cup Group C (Second Phase); Monday 5 July 1982
Brazil: 1 Waldir Peres, 2 Leandro, 3 Oscar, 4 Luizinho, 5 Toninho Cerezo, 6 Júnior, 15 Falcão, 8 Sócrates, 10 Zico, 11 Éder, 9 Serginho (sub 7 Paulo Isidoro). Manager: Telê Santana. Scorers: Sócrates, Falcão
Italy: 1 Dino Zoff, 4 Antonio Cabrini, 5 Fulvio Collovati (sub 3 Giuseppe Bergomi), 6 Claudio Gentile, 7 Gaetano Scirea, 9 Giancarlo Antognoni, 13 Gabriele Oriali, 14 Marco Tardelli (sub 11 Giampiero Marini), 16 Bruno Conti, 19 Francesco Graziani, 20 Paolo Rossi. Manager: Enzo Bearzot. Scorers: Rossi (3)
Attendance: 44,000
England went out of the tournament on the same day as Brazil, in less dramatic fashion with a goalless draw against Spain, and the English players were full of praise for the beaten Brazilians. Bryan Robson gave "credit to Italy for beating Brazil, but in my book Brazil were still the best side in the World Cup Finals." Phil Thompson also praised Italy's "magnificent result", but felt "it would have been better for world football had Brazil gone all the way." Kevin Keegan was another Brazil admirer alongside Glenn Hoddle, who picked the "marvellous match between Italy and Brazil" as his highlight of the tournament. Scotland's Graeme Souness, who had faced the Brazilians in the initial group phase, echoed the feelings of many: "The World Cup lost a lot of its appeal for the neutral spectator when they were beaten by Italy."
Though losers on the day, the Brazil team of 1982 has an enduring place in the hearts of a generation of football fans across the world, prompting books and blog posts like this one decades later. The match itself has rightly gone down in World Cup folklore, played in an incredible atmosphere, ebbing and flowing with the outcome in doubt until the last moment. Rossi's ruthless finishing, Falcão's spectacular goal (and celebration), Zoff's unflappable goalkeeping, the joy of the Italians and the despair of the Brazilians at the final whistle remain as indelible images from the summer of 1982.