England v Brazil, 1981 friendly
England and Brazil met in a May 1981 friendly, with the hosts still not sure of World Cup qualification for Spain 1982 at the time. They had drawn 0-0 with Romania at Wembley two weeks before this game, and had Home International visits from Wales and Scotland coming up. Before the season was out, they also had to travel to Switzerland and Hungary in their World Cup qualifying group. With Ipswich Town and Liverpool both reaching – and winning – European finals after a long domestic season, national team manager Ron Greenwood had some difficult selection decisions to make ahead of this prestigious friendly.
Alvin Martin and Peter Withe made their England debuts. West Ham defender Martin had just enjoyed promotion to the First Division, while Withe had been a key player in Aston Villa's League Championship campaign. The experienced centre-forward had added to a previous league title won with Nottingham Forest in 1977-78, and was the First Division's top scorer alongside Spurs' Steve Archibald in 1980-81. Having waited for international recognition until the age of 29, Withe made the World Cup squad the next year after scoring the winning goal in the 1982 European Cup Final.
Arsenal's Graham Rix was selected ahead of Glenn Hoddle, who was to play in the FA Cup Final replay for Tottenham against Manchester City two days later. Goalkeeper Ray Clemence, soon to leave Liverpool for Tottenham after 14 years at Anfield, captained the side. Greenwood had several options on the flanks, but wingers Peter Barnes, Laurie Cunningham of Real Madrid and Tony Morley, another of Villa's title-winners, were all to miss out on the World Cup. In fact, Barnes and Martin were the only members of the England starting line-up against Brazil not to go to Spain the following year.
In contrast to England, Brazil had already reached the 1982 World Cup, easing past Bolivia and Venezuela in their CONMEBOL qualifying group. This game formed part of their tournament preparations, as the start of a successful European tour. Brazil went on to win in France and West Germany in the week after this game, fielding the bulk of the side who would thrill the world in Spain under Telê Santana. The manager, delighted with his team's performances in Europe, commented that "it really is a pity that the World Cup Finals aren't being played this summer!"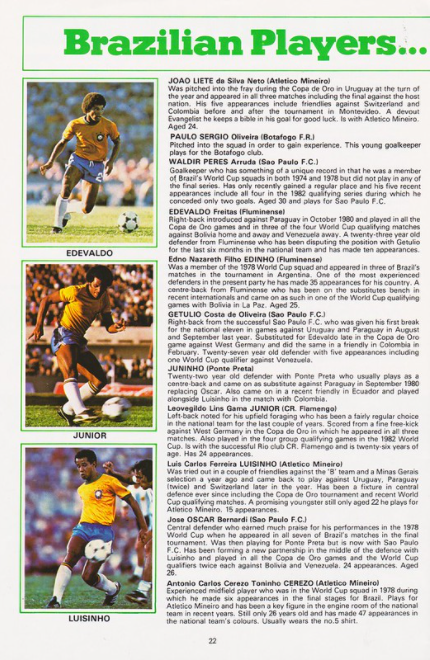 Captain Sócrates, playmaker Zico and winger Éder all gave a taste of the skills which would later be seen in full flow during the World Cup. The only players missing at Wembley were right-back Leandro, yet to break into the squad, midfielder Falcão, not released by Roma, and centre-forward Serginho, at this stage not a first choice. Brazil's preferred striker Reinaldo didn't go to Spain, and with Careca also injured, it was Serginho who was controversially selected by Santana, starting every World Cup game ahead of Roberto Dinamite.
Match details for England – Brazil; Wembley Stadium, International Friendly, Tuesday 12 May 1981:
England: 1 Ray Clemence (Liverpool), 2 Phil Neal (Liverpool), 3 Kenny Sansom (Arsenal), 4 Bryan Robson (West Bromwich Albion), 5 Alvin Martin (West Ham United), 6 Ray Wilkins (Manchester United), 7 Steve Coppell (Manchester United), 8 Terry McDermott (Liverpool), 9 Peter Withe (Aston Villa), 10 Graham Rix (Arsenal), 11 Peter Barnes (West Bromwich Albion). Manager: Ron Greenwood.
Brazil: 1 Waldir Peres (São Paulo), 2 Edevaldo (Fluminense), 3 Oscar (São Paulo), 4 Luizinho (Atlético Mineiro), 5 Toninho Cerezo (Atlético Mineiro), 6 Júnior (Flamengo), 7 Paulo Isidoro (Grêmio), 8 Sócrates (Corinthians), 9 Reinaldo (Atlético Mineiro), 10 Zico (Flamengo), 11 Éder (Atlético Mineiro). Manager: Telê Santana. Scorer: Zico
Attendance: 75,000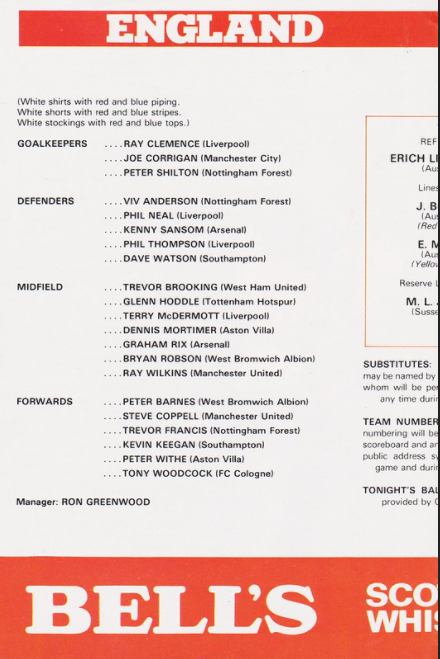 England's performance was well received by the Wembley crowd, who also gave a generous ovation to the Brazilian winners. Reinaldo's disallowed goal looked harsh after Zico's early effort gave Brazil the lead, while Éder showed his shooting power with the swerving second-half strike which hit the bar. Though unable to repeat the previous year's win over Argentina, England came closest when Withe nearly marked his debut with a last-minute equaliser, and was unlucky to hit the post. Despite the encouraging signs, this was a second game without a goal – two more were to follow, both at Wembley in the Home Championship, before Terry McDermott finally scored in a disappointing 2-1 defeat in Switzerland.
England's players were suitably impressed with their opponents. Writing in Match Weekly, Steve Coppell commented that "It was like playing against 11 Pelés in the first 20 minutes," admitting "they frightened us with their skill." He singled out Sócrates and Zico ("what a fabulous player he is") of the Brazilians and praised Peter Withe on his debut appearance, picking Bryan Robson as England's "outstanding player." The other debutant Alvin Martin confessed his selection was "a great surprise" and felt the home team turned in "a performance full of old fashioned grit."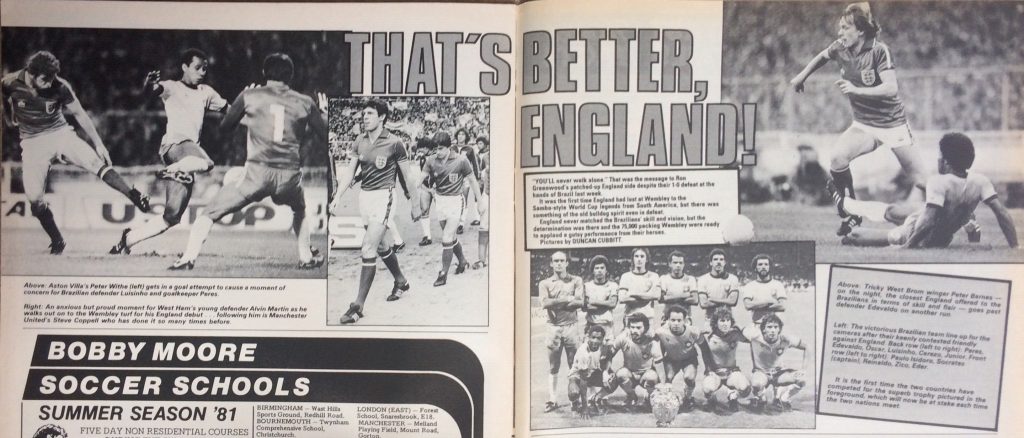 England and Brazil had now met twelve times – since losing their very first meeting 4-2 in May 1956, also at Wembley, this was Brazil's eleventh consecutive match without defeat. After ending that sequence in a surprise 2-0 win at Rio's Maracana stadium on a 1984 summer tour, it took until 1990 for England to again beat Brazil at Wembley. It is notable that no substitutions at all were made in this game, in contrast to the multiple changes made as standard in today's international friendlies. By the time of the countries' next meeting at Wembley, a 1-1 draw in May 1987, Bryan Robson was the only survivor on either team.
1981 match programme scans courtesy of Miles McClagan @TheSkyStrikers twitter and Flickr: https://www.flickr.com/photos/114058793@N05/with/50636736501/