Cologne v Ipswich Town, 1981 UEFA Cup
Ipswich Town became a major force in English football during the 1970s, and by the early 80s the club were challenging for European honours. 1980-81 promised to be their best-ever season – by the start of April 1981, they remained in contention for a potential treble of league, FA Cup and UEFA Cup. Neck-and-neck with Aston Villa at the top of the First Division, they had reached the semi-finals in both cups where they faced Manchester City and the powerful German side Cologne.
Ipswich had won their only league title in 1961-62 under Alf Ramsey, qualifying for the European Cup. They returned to Europe eleven years later with Bobby Robson as manager, having taken charge in January 1969. Under Robson, the Suffolk club gradually established themselves at home and abroad during the 1970s. Wins over such names as Real Madrid, Lazio and Feyenoord earned Robson's side a reputation which was only enhanced when they lifted the FA Cup in 1978. Twice they beat Barcelona at Portman Road, only to be knocked out after ties which ended level on aggregate.
By 1980-81 Ipswich were ready to challenge on all fronts. The squad was packed with quality, from Dutch midfielders Arnold Muhren and Frans Thijssen to England players in the experienced Mick Mills and Paul Mariner and the emerging central defensive duo of Terry Butcher and Russell Osman. Alan Brazil, George Burley and John Wark were all Scottish internationals, with Wark in the goalscoring form of his life from midfield. He finished the season with 36 goals, 14 of them as the UEFA Cup's top scorer, and was recognised as the PFA Player of the Year.
Ipswich had been free-scoring in earlier rounds, and particularly impressive when sweeping aside Saint Etienne in the quarter-final, but the UEFA Cup semi-final was much tighter. Wark's goal at Portman Road gave them a narrow first-leg lead to take to West Germany. Shortly after, they were beaten 1-0 by Manchester City in the FA Cup semi-final. By the time of the second leg, Ipswich had fallen four points behind Aston Villa in the league, with only three games to play. The UEFA Cup became their only realistic chance of a trophy after a long and arduous season, in which they were to play 66 matches in total. They travelled to Cologne without key players in Burley and Gates, putting further pressure on an already small squad stretched by so many competitive fixtures.
Cologne were also in the midst of a golden era, with a star-studded squad managed by Dutchman Rinus Michels. Cologne had been 1977-78 Bundesliga champions – their second and last title to date – before reaching the European Cup semi-finals in 1979, where they lost narrowly to Nottingham Forest. Though finishing 1980-81 a disappointing 8th in the Bundesliga, they had beaten Barcelona and Standard Liège in earlier rounds to reach this semi-final. With players such as Rainer Bonhof, Harald Konopka, Pierre Littbarski, Dieter Müller, Yasuhiko Okudera, Harald Schumacher and Tony Woodcock to call on, this was set to be Ipswich's toughest test yet. After impressing in the 1979 semi-final, England striker Woodcock had followed Kevin Keegan to West Germany when he left Nottingham Forest for £600,000 in the summer of 1979. He spent three seasons with Cologne and later returned to the club after four years with Arsenal.
Match details for Cologne – Ipswich Town; Mungersdorfer Stadium, UEFA Cup Semi-Final Second Leg, Wednesday 22 April 1981:
Cologne: 1. Harald Schumacher, 2. Dieter Prestin, 3. Harald Konopka, 4. Herbert Zimmermann (sub Holger Willmer), 5. Rainer Bonhof, 6. Bernd Cullmann, 7. Pierre Littbarski, 8. René Botteron, 9. Dieter Müller, 10. Stefan Engels, 11. Tony Woodcock. Manager: Rinus Michels.
Ipswich Town: 1. Paul Cooper, 2. Kevin Steggles, 3. Steve McCall, 4. Frans Thijssen, 5. Russell Osman, 6. Terry Butcher, 7. John Wark, 8. Arnold Muhren, 9. Paul Mariner, 10. Alan Brazil, 11. Mick Mills. Manager: Bobby Robson. Scorer: Butcher
Attendance: 55,000
Beating AZ Alkmaar to lift the trophy in May 1981 was Robson's final triumph at Ipswich Town. Disappointed at being pipped to the league title by Villa, he secured another runners-up spot in 1981-82, before taking over as England manager after the 1982 World Cup. Assistant Bobby Ferguson replaced Robson at Portman Road, but was unable to prevent a decline as the UEFA Cup-winning squad gradually broke up over the following years. The club never regained their status as contenders for honours after relegation in 1985-86, though they have enjoyed brief returns to the top division. Their UEFA Cup defence ended with a first-round exit to Aberdeen in 1981-82, and another early defeat to Roma the following year was Ipswich's last foray into Europe until 2001-02 – which is also their last top-flight season to date. However they retain an impressive unbeaten home record in European competition of 31 games.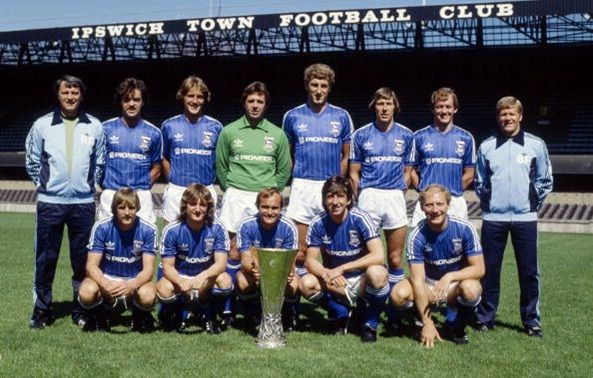 Founder members of the Bundesliga, Cologne remained a force in West Germany during the 1980s and were regular qualifiers for the UEFA Cup. Their best campaign came in 1985-86, where they were defeated in the final by Real Madrid. Cologne's fortunes fell in the 1990s until they suffered a first relegation in 1997-98. In the twenty-first century they have fluctuated between the top two divisions, while their Europa League campaign of 2017-18 was a return to European competition after 25 years. Like Ipswich, they have struggled to recapture the glories of the late 1970s and early 80s.