West Ham United v Ipswich Town, 1986
West Ham United remained in contention for the First Division title going into the final week of the 1985-86 season, ahead of their last home game against relegation-threatened Ipswich Town. The clubs were meeting for the fifth time that season, after their FA Cup Fourth Round tie needed two replays. The biggest crowd of the season, 31,121, was attracted to Upton Park to see if the home side could maintain their challenge for a historic first Football League Championship.
One of the most exciting top-flight seasons in years had started with a TV blackout, which was only lifted in January 1986. Flamboyant striker Frank McAvennie, signed from St Mirren the previous summer, led West Ham's surprise challenge at the top of the table. In the end, West Ham finished four points behind champions Liverpool and were only overhauled by Everton after a 3-1 defeat at Goodison Park in the last game of the season. Their third-placed finish remains their highest-ever league position.
McAvennie's tally of 26 First Division goals was second only to Gary Lineker, as he formed a deadly partnership with Tony Cottee, a product of the club's famous Academy. Alongside Cottee were fellow graduates in Alan Dickens, George Parris, and long-serving defender Alvin Martin, who had just been named in Bobby Robson's England World Cup squad. The winner in this game was just one of right-back Ray Stewart's many successful penalties during a twelve-year stay at West Ham, and one of ten goals he scored in 1985-86. Stewart reached double figures four times in his Hammers career largely thanks to his penalty-taking prowess.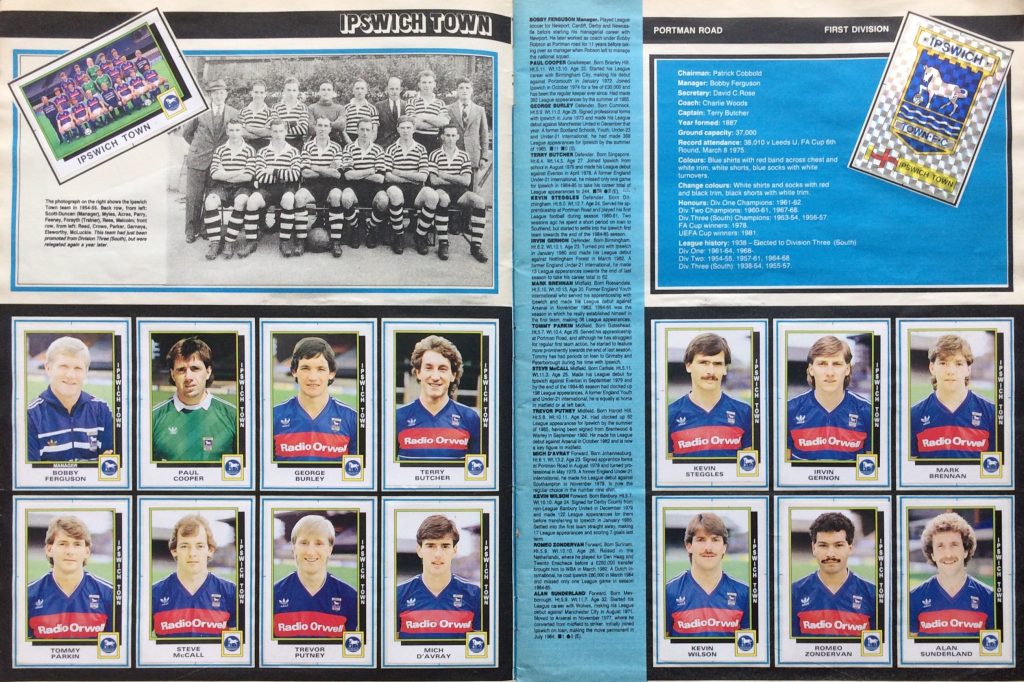 Ipswich were relegated, ending an 18-year stay in the First Division during which they won the 1978 FA Cup, the 1981 UEFA Cup and twice finished as First Division runners-up, in 1980-81 and 1981-82. Those achievements were all under the management of Bobby Robson, who had left to take the England job in 1982. Several of their key players had moved on to bigger clubs by 1986 – John Wark to Liverpool, Alan Brazil (Tottenham), Paul Mariner (Arsenal) and Arnold Mühren (Manchester United). Younger players had emerged in Mark Brennan, Ian Cranson, Jason Dozzell and Nigel Gleghorn, but the squad lacked top-flight experience. Of this starting line-up, only Paul Cooper, Steve McCall and Terry Butcher remained from the UEFA Cup-winning side of five years earlier. After playing for England in that summer's Mexico World Cup, Butcher was transferred to Rangers, where he enjoyed several successful seasons.
West Ham were themselves relegated at the end of the 1988-89 season, having sold McAvennie to Celtic in 1987 and Cottee to Everton a year later. John Lyall was harshly sacked by West Ham following their relegation, ending a 34-year association with the club. His fifteen years as manager included FA Cup wins in 1975 and 1980. Appointed as Ipswich manager in 1990, Lyall guided them to promotion to the Premier League in 1992, as champions of the old Second Division. West Ham's substitute in this game, Paul Goddard, had been the club's record signing in 1980 when Lyall bought him from QPR for £800,000. The two were re-united at Portman Road over a decade later, where Goddard was part of the promoted Ipswich squad.
Match details for West Ham United – Ipswich Town; Upton Park, Football League Division One, Wednesday 30 April 1986:
West Ham United: 1 Phil Parkes, 2 Ray Stewart, 3 George Parris, 4 Tony Gale, 5 Alvin Martin, 6 Alan Devonshire, 7 Mark Ward, 8 Frank McAvennie, 9 Alan Dickens, 10 Tony Cottee, 11 Neil Orr (sub Paul Goddard). Manager: John Lyall. Scorers: Dickens, Stewart (penalty)
Ipswich Town: 1 Paul Cooper, 2 Ian Atkins (sub Frank Yallop), 3 Steve McCall, 4 Tommy Parkin, 5 Ian Cranson, 6 Terry Butcher, 7 Nigel Gleghorn, 8 Mark Brennan, 9 Jason Dozzell, 10 Kevin Wilson, 11 Mike Cole. Manager: Bobby Ferguson. Scorer: Wilson.
Attendance: 31,121