Trevor Brooking and One-Club Men
On May 14, 1984, Trevor Brooking played his final game for West Ham United, the club he represented for his entire Football League career. Signed as an apprentice by manager Ron Greenwood on the recommendation of legendary scout Wally St Pier, he made his debut in August 1967 and ended up with a total of 647 appearances. Brooking won the FA Cup twice with West Ham, in 1975 and 1980, when he scored the winner against Arsenal, and played in the losing 1976 European Cup Winners' Cup Final to Anderlecht at Wembley. He made five consecutive appearances in the PFA Team of the Year between 1977 and 1981, having stayed loyal to West Ham after their relegation at the end of the 1977-78 season. His contribution was also recognised by being voted 'Hammer of the Year' on five occasions between 1972 and 1984, his final season, surpassing fellow club legends Billy Bonds and Bobby Moore.
Trevor Brooking of England in London, circa September 1980. (Photo by Bob Thomas/Getty Images.)
In an era of heavy pitches and tough tackling, Brooking established himself as an elegant play-maker, and went on to make 47 England appearances. Unfortunately the national team failed to qualify for the 1974 and 1978 World Cup Finals, when he was arguably in his prime. His only World Cup appearance came as a substitute as England exited the 1982 competition against hosts Spain, having been hampered by injury. Almost a year after his final appearance in the First Division, Brooking turned out in a Wearside League fixture as a 'guest' player for Blue Star, before short stints in New Zealand and Australia either side of two games for Cork City at the age of 37. He was knighted in 2004.
Brooking's long career was very much in keeping with West Ham's history; his team-mate Bonds, the club's record appearance holder, was signed from Charlton Athletic in 1967 and remained in the first team for over 20 years. The only other players to have made more appearances than Brooking, Frank Lampard (Senior) and Moore, were both fellow Academy graduates. Many more of the club's most famous players came through the youth system: Alvin Martin, Jimmy Ruffell, Steve Potts, Geoff Hurst and Ken Brown, all with over 450 total appearances to their name. The current club captain, Mark Noble, is carrying on the tradition, having recently passed the milestone of over 400 League games, having come through the youth ranks and played his whole career at West Ham, barring early loan spells at Hull and Ipswich. The East London club was also known for the long tenures of its managers; at the time of Brooking's retirement, only five men had held the post – Syd King (1902-32), Charlie Paynter (1932-50), Ted Fenton (1950-61), Greenwood (1961-74), and John Lyall (1974-89).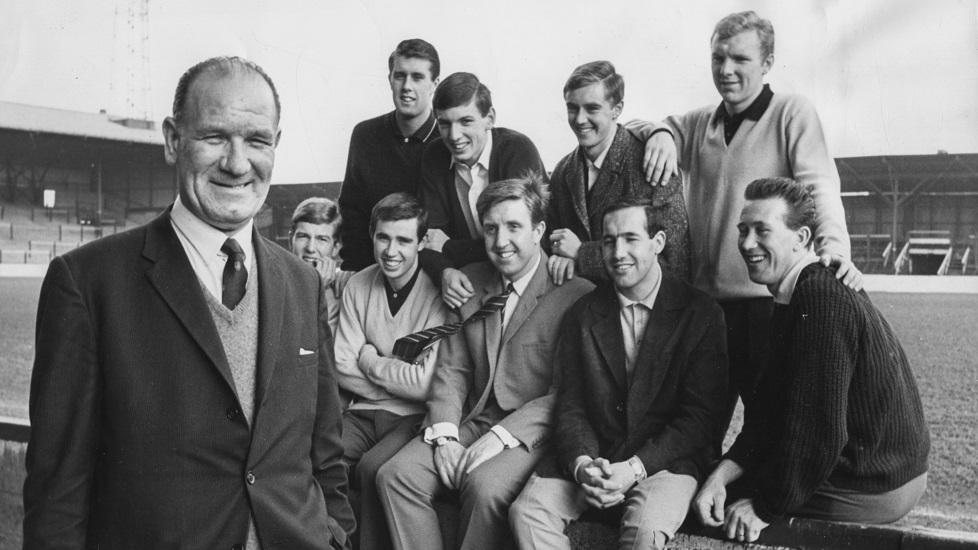 One-club men are a rarity today, typically found at the bigger clubs of the top level where they are less likely to be tempted by a better contract offer. In the Premier League era, such players include Jamie Carragher at Liverpool, Tony Hibbert of Everton, Ryan Giggs, Gary Neville and Paul Scholes at Manchester United. The traditional reward for loyalty was a testimonial after ten years of service, a rare occurrence in the modern game. There are few current examples in the lower divisions, where there is constant player (and manager) turnover, an active loan market, and short-term contracts are the norm. Long-serving players were much more prevalent in the years before freedom of contract in the early 60s, when clubs rather than players held the upper hand in contract negotiations. In tandem with the maximum wage, there was more financial parity, and less incentive for players to move on; its abolition in 1961 gave rise to greater movement, and increased the spending power of big-city clubs. Once full freedom of contract was established in 1978, players were free to negotiate their own deals, and the involvement of agents further undermined the traditions of long service and loyalty to a single club.
John Trollope, Swindon Town (Photo by S&G/PA Images via Getty Images)

Jimmy Dickinson, Portsmouth

Roy Sproson, Port Vale
The Football League is unlikely to see the record of John Trollope broken – he made 770 appearances for Swindon Town between 1960 and 1980. While Giggs reached an impressive 672 League appearances for Manchester United before his retirement in 2014, he is some way behind Portsmouth's title-winning England player Jimmy Dickinson (764, 1946-65) and Port Vale stalwart Roy Sproson (760, 1950-72). Other notable one-club men include Grimsby Town's John McDermott (647, 1987-2007), Joe Shaw of Sheffield United (632, 1945-66), and Leeds United's World Cup winner Jack Charlton (629, 1952-73). A less celebrated name is Harold Bell of Tranmere Rovers, whose 633 appearances between 1946 and 1960 saw him clock up a record 401 consecutive League games, playing every game after the Second World War until he was dropped from the side on the 30th August 1955. The War delayed Bell's debut, and interrupted the careers of such long-serving players as Charlton goalkeeper Sam Bartram, Scot Billy Liddell of Liverpool and Billy Wright, captain of Wolves and England, who was the first footballer to reach 100 caps for his national team and led his club to three league titles in the course of his 490 appearances.