England v Argentina, 1980
England welcomed Argentina to Wembley for a prestigious friendly in May 1980. The home team were preparing for the summer's European Championships, their first international tournament finals since the Mexico World Cup a decade earlier. The visitors were the reigning World Champions, having triumphed on home soil two years earlier. Manager César Luis Menotti had since added the 19-year-old prodigy Diego Armando Maradona to Argentina's powerful team.
Deemed too young for the 1978 World Cup squad, Maradona had emerged onto the international stage as the star of the following year's World Youth Cup in Japan. His dazzling skills had helped Argentina to win the trophy, together with the goals of Ramón Díaz, also now promoted to the senior squad. The English football public was eagerly awaiting its first sight of Maradona, who had shone against Scotland at Hampden Park a year earlier, scoring his first goal for his country. Scottish fans and pundits had immediately recognised his outstanding talent, and his return to Europe was a major factor in attracting a 92,000 crowd to this friendly.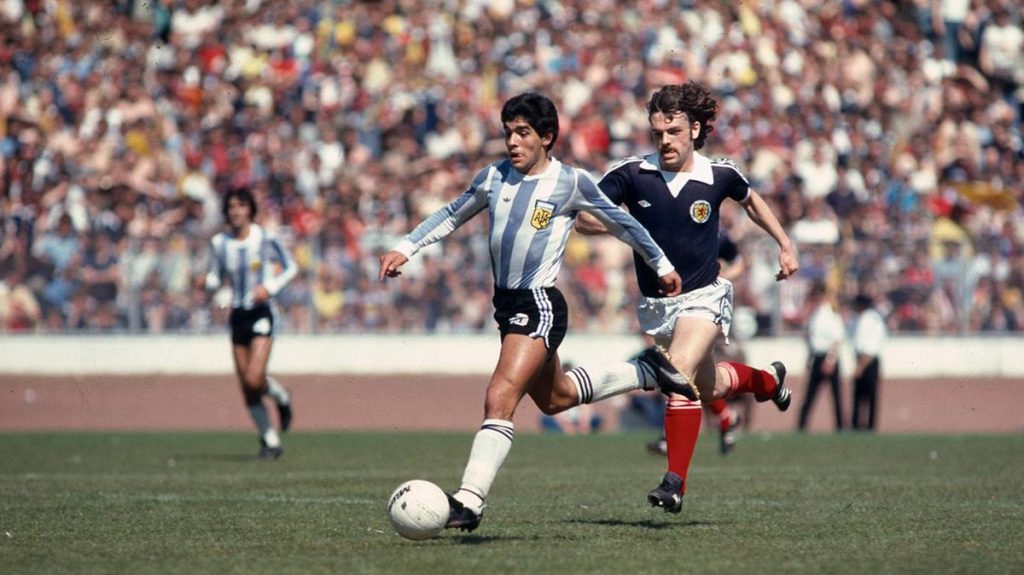 Argentina's 1978 Golden Boot winner Mario Kempes was unavailable, needed by his Spanish club side Valencia to face Arsenal in the European Cup Winners' Cup final that week. While several Argentinians had moved to England after their World Cup triumph, none featured in this game. The most successful pair, Tottenham's Ossie Ardiles and Ricky Villa, were not selected by Menotti. However Alberto Tarantini, back in Argentina after an unhappy spell at Birmingham City, played at left-back.
England manager Ron Greenwood was still searching for his strongest side, giving Liverpool striker David Johnson an opportunity in this game. He also introduced Nottingham Forest's European Cup-winning forward Garry Birtles, making his international debut as substitute. England unveiled their new Admiral home kit for this fixture. The home team were confident after five consecutive wins ahead of the game, topping their European Championship qualifying group before travelling to Barcelona and beating Spain 2-0 in a March 1980 friendly.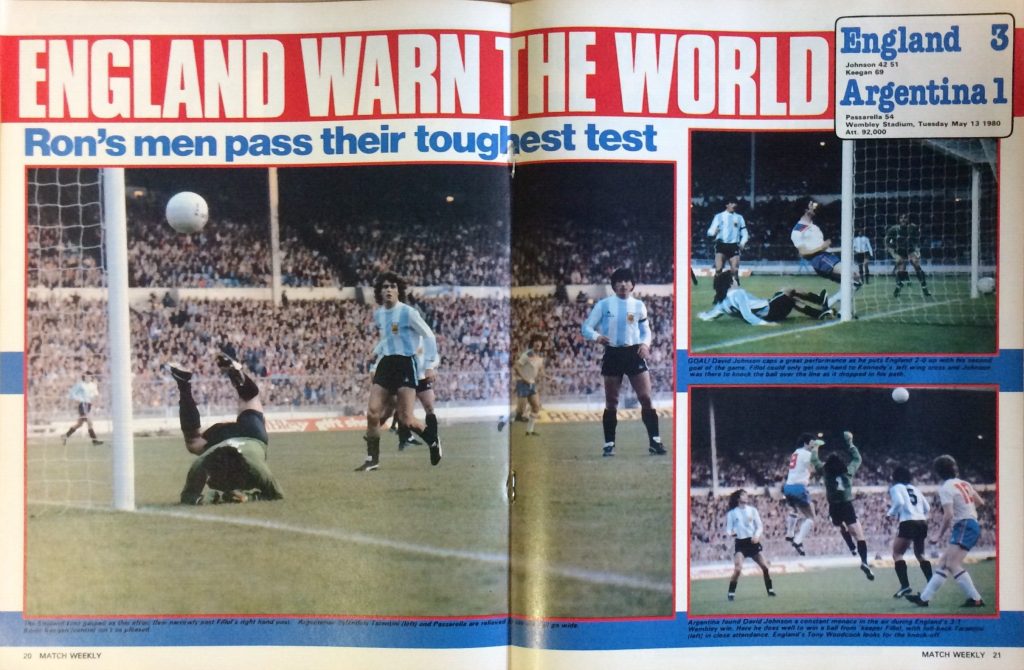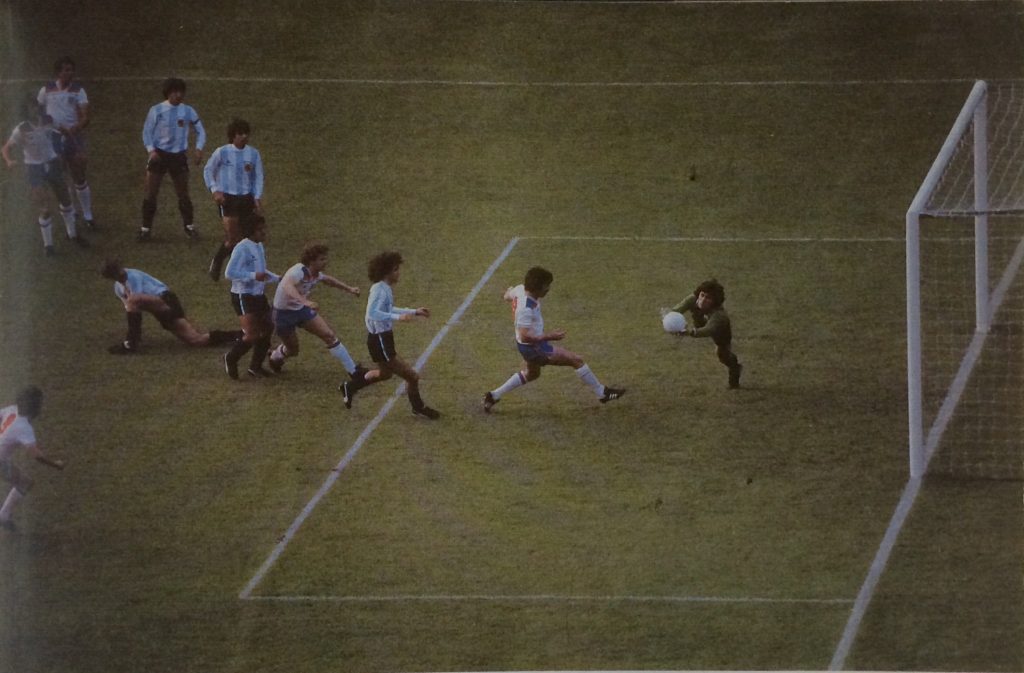 The performance against Argentina drew a standing ovation from the Wembley crowd, who also showed their appreciation of Maradona's skills. England's fine form came to an abrupt end only four days after this victory, as they lost 4-1 to Wales in their opening Home Championship fixture. They had a disappointing European Championship campaign that summer, finishing third in their group. Argentina meanwhile went on to win 1-0 in Dublin against the Republic of Ireland before concluding their European mini-tour in Vienna the following week. The 5-1 drubbing of Austria was notable for a Maradona hat-trick, which proved to be his only one at international level.
The two nations had established a rivalry in the 1966 World Cup quarter-final at Wembley, a bad-tempered game which saw Argentina's captain Antonio Rattín sent off. The ill-feeling was compounded by England manager Alf Ramsey describing their opponents as 'animals' in the aftermath of the encounter. They had met only twice since their infamous 1966 clash, drawing 2-2 at Wembley in 1974 when Kempes scored twice, and 1-1 in Buenos Aires three years later.
After this friendly, the 1982 Falklands War meant that the next meeting was not until June 1986. In the Mexico World Cup quarter-final, Maradona's 'hand of God' goal and his incredible individual effort helped Argentina on their way to becoming World Champions for a second time and confirmed his status as the greatest player of his era. His dribble was reminiscent of the devastating burst in the first half of this game, when he narrowly missed. Maradona's next match in England – and the only competitive fixture he played in the UK – came in March 1984 at Old Trafford. He was part of a Barcelona side swept away in a European Cup Winners' Cup quarter-final comeback as Manchester United overturned a 2-0 first-leg deficit to win 3-0. Maradona only made two further appearances in England – for Spurs alongside Ardiles in his 1986 testimonial, and once more at Wembley for the Football League Centenary fixture in 1987.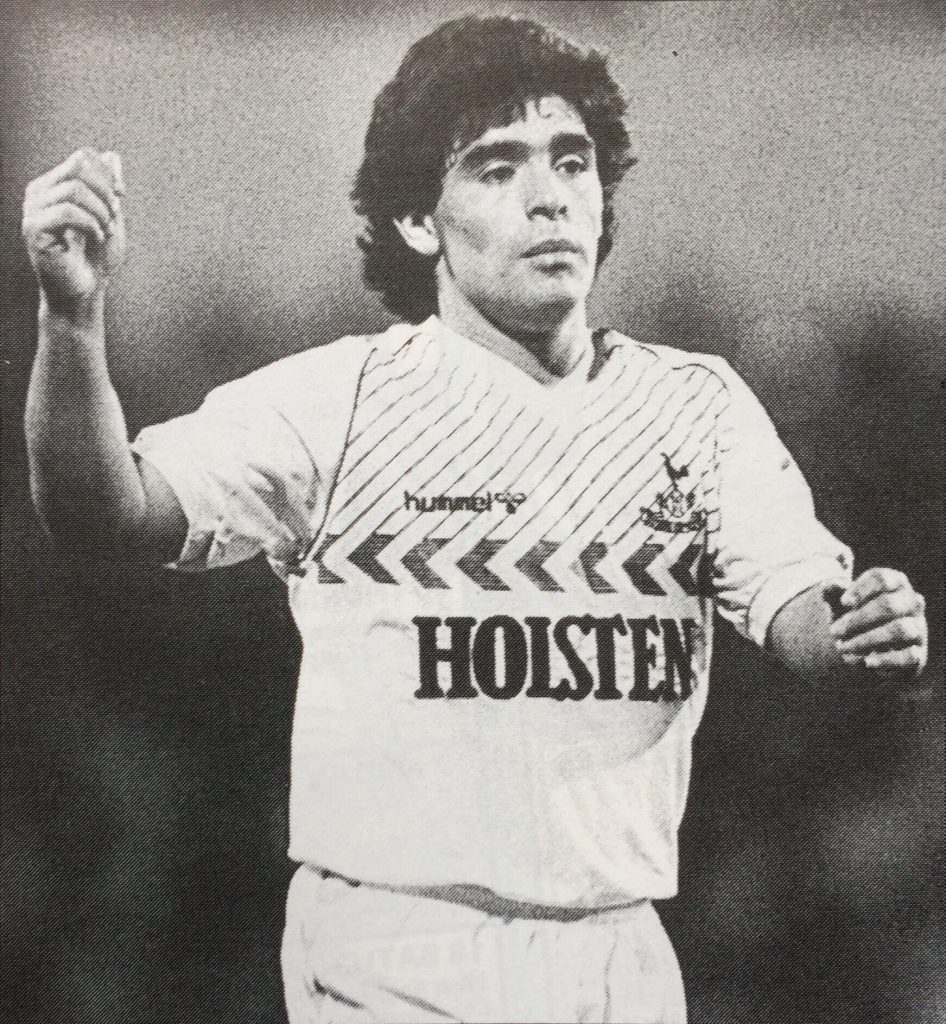 Match details for England – Argentina; Wembley Stadium, Tuesday 13 May 1980
England: 1 Ray Clemence, 2 Phil Neal (sub Trevor Cherry), 3 Kenny Sansom, 4 Phil Thompson, 5 Dave Watson, 6 Ray Wilkins, 7 Kevin Keegan, 8 Steve Coppell, 9 David Johnson (sub Garry Birtles), 10 Tony Woodcock, 11 Ray Kennedy (sub Trevor Brooking). Manager: Ron Greenwood. Scorers: Johnson 2, Keegan
Argentina: 1 Ubaldo Fillol, 2 José Van Tuyne, 3 Alberto Tarantini, 4 Jorge Olguín, 5 Américo Gallego, 6 Daniel Passarella, 7 Santiago Santamaría (sub Ramón Díaz), 8 Juan Barbas (sub Carlos Ischia), 9 Leopold Luque, 10 Diego Maradona, 11 José Daniel Valencia. Manager: César Luis Menotti. Scorer: Passarella (pen)
Attendance: 92,000
England's fortunes at international level is one of the topics in my book Before the Premier League: A History of the Football League's Last Decades.