Manchester City v Oldham Athletic, 1988
Manchester City today are multiple Premier League winners, a hugely successful global brand and very, very wealthy. It's hard to imagine them competing against their impoverished neighbours Oldham Athletic, currently languishing in the fifth tier of English football, the National League – let alone struggling to beat them. Yet a look at their head-to-head record suggests they were once evenly matched, and the Latics occasionally held the upper hand. In their last 16 meetings, dating back to 1985, Oldham have won 6, City 5, with 5 draws. The two were also connected by many players (and managers) who represented both clubs during the 1980s and 90s.
This meeting at Maine Road in August 1988 took place in the Second Division, with Oldham's Roger Palmer claiming centre stage. Manchester-born Palmer had been part of an exciting crop of young players given their chance by City manager Malcolm Allison in the late 70s. When Allison was replaced by John Bond, Palmer was surplus to requirements, and sold to Oldham for £70,000 in November 1980. He went on to become Oldham Athletic's all-time leading goalscorer, netting consistently for over a decade at Boundary Park, where he finished his career in 1994 with a total of 141 goals.
Palmer was only one of a number of players to move between the two clubs in that era, generally in the same direction. Also in the Oldham team for this fixture was defender Earl Barrett, a future England international who had been signed for a nominal fee from City. Paul Warhurst, later a Premier League player with Sheffield Wednesday, Blackburn and Bolton, was soon to make the same move. Others to represent both clubs between the late 1970s and early 90s included the Futcher twins, Paul and Ron; Darren Beckford, Mark Brennan, Kenny Clements, Tony Henry, Rick Holden, Richard Jobson, Ged Keegan, Paul Moulden, Mark Ward, Neil Pointon and Steve Redmond – who lined up for the home team in August 1988.
The Latics were successfully managed by Joe Royle for over a decade from the summer of 1982. The former England and Manchester City striker was assisted by his ex-Maine Road team-mate, Willie Donachie. Scottish international Donachie spent over a decade at Manchester City, and continued into his early 40s as player-coach at Oldham – he was an unused substitute for this game. Royle's predecessor at Boundary Park was Jimmy Frizzell, another Scot who had spent 22 years at Oldham as player and later manager. After his sacking in June 1982, he was assistant to Billy McNeill at Manchester City, before a spell in charge during the 1986-87 season.
Match details for Manchester City – Oldham Athletic; Maine Road, Football League Division Two, Monday 29 August 1988
Manchester City: 1 Andy Dibble, 2 Paul Lake, 3 Andy Hinchcliffe, 4 Brian Gayle, 5 Ian Brightwell, 6 Steve Redmond, 7 David White (sub Imre Varadi), 8 Wayne Biggins, 9 Trevor Morley, 10 Neil McNab, 11 Paul Simpson (sub Mark Seagraves). Manager: Mel Machin. Scorer: Lake
Oldham Athletic: 1 Andy Rhodes, 2 Earl Barrett, 3 Andy Barlow, 4 Mike Flynn, 5 Ian Marshall, 6 Mike Milligan, 7 Roger Palmer, 8 John Kelly, 9 Mike Cecere (sub Tony Philliskirk), 10 Frank Bunn, 11 Tommy Wright. Manager: Joe Royle. Scorers: Milligan, Palmer (3)
Attendance 22,594
Note: All three goalscorers – Lake, Milligan and Palmer – were born in Manchester.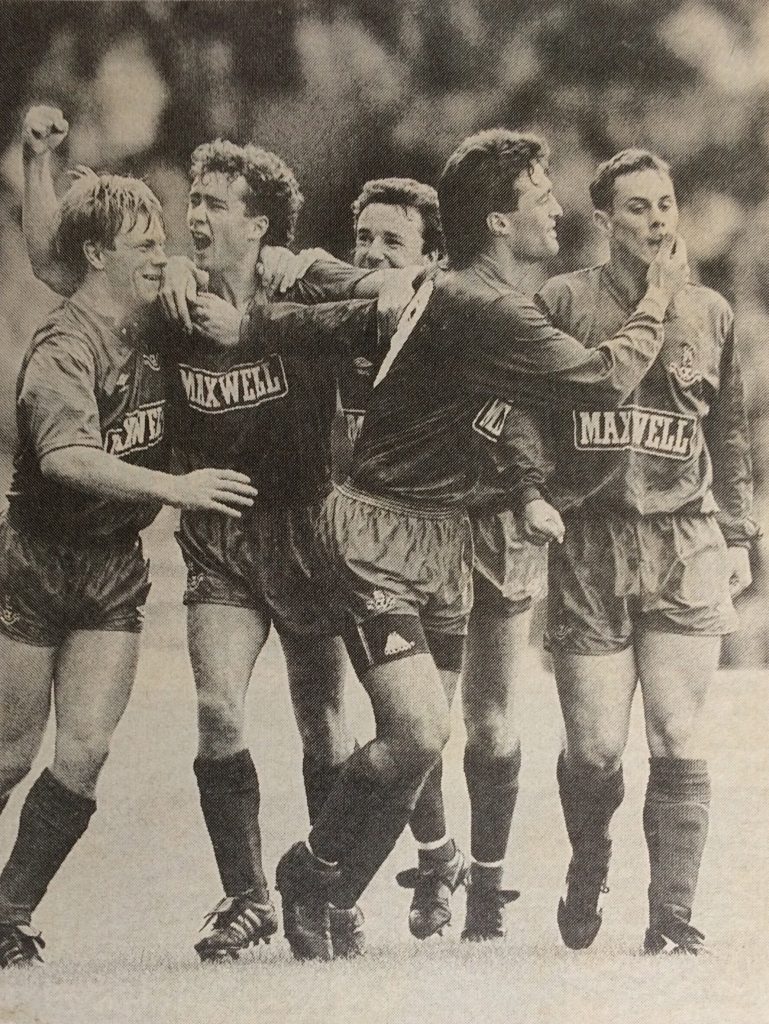 While City gained promotion under Mel Machin at the end of the 1988-89 season, Oldham's best years were about to begin, with impressive cup runs followed by the Second Division Championship in 1990-91. They spent three seasons in the top division and became founder members of the Premier League along the way. Royle, the manager who had taken Oldham Athletic back to the top flight after an absence of 68 years, left the club in 1994 to take over at Everton, where he won the 1995 FA Cup. He then became manager at Manchester City in 1998, before they slipped to the Third Division. The last league meeting between the two teams took place in March 1999, with Oldham again winning at Maine Road, 2-1. Their only competitive encounter in the twenty-first century was an FA Cup tie at Boundary Park in 2005, when then-third tier Oldham won a famous 1-0 victory over top-division City, with a goal from Scott Vernon.
Oldham were not the only neighbour who enjoyed playing Manchester City during their lean years. Stockport County, recently restored to the Football League, achieved some notable successes when the two clubs met in the late 90s and early 2000s. After their first-ever competitive victory over City at Edgeley Park in November 1997, they won a televised fixture at Maine Road two years later. The last meeting between the sides, also at Edgeley Park in March 2002, was won by the home side with two late John Hardiker goals. They have since headed in different directions.
Note: When I updated this post in the summer of 2022, the status of Oldham Athletic and Stockport County had just been reversed. The Latics dropped out of the Football League after 115 years (the first former Premier League club to fall so far), while Stockport were promoted as National League Champions. Manchester City clinched their fourth league title in five years under Pep Guardiola, and look likely to remain one of the dominant forces in English football for the foreseeable future.
The fluctuating fortunes of league clubs is one of the topics in my book Before the Premier League: A History of the Football League's Last Decades.