Orient v Chelsea, 1972 FA Cup
Orient hosted their illustrious London rivals Chelsea in 1972 hoping to add to a number of FA Cup upsets in the early 1970s. Among the spectacular results were Don Revie's mighty Leeds United humbled at Colchester in 1971, and Southern League Hereford's defeat of First Division Newcastle a year later – perhaps the most famous upset of all. The Cup Final was still English football's showpiece, and Chelsea had lifted the trophy in 1970. Their replay against Leeds United at Old Trafford attracted a television audience of over 28 million, second only to the 1966 World Cup Final in UK sports broadcasting history.
This Fifth Round tie took place at a muddy Brisbane Road on 26 February 1972, in front of a 30,329 crowd and the Match of the Day television cameras. Prior to this fixture, the two sides had not met for 15 years; they last played each other in the League way back in the 1928-29 season, and this was their first competitive meeting since a 1957 FA Cup clash.
Chelsea had established themselves as a power in English football shortly after they were formed in 1905 to play at the Stamford Bridge stadium bought by brothers Gus and Joseph Mears. They won their first League title in 1955 and were traditionally known as a strong cup team. They had recently reached the 1972 League Cup Final, to take place against Stoke City on the weekend following this tie. With stars such as Charlie Cooke, Alan Hudson and Peter Osgood, this was arguably Chelsea's finest side until the Premier League era. Under manager Dave Sexton – a former Orient player and manager – they finished this season in 7th place in a very competitive First Division.
In contrast, their opponents had a more humble history since entering the Football League in 1907 as Clapton Orient. After the Second World War they were known as Leyton Orient, then simply Orient between 1966 and 1987, when the 'Leyton' was restored. They enjoyed a single season of First Division football under former Manchester United player Johnny Carey in 1962-63, before slipping down the leagues until winning the Third Division in 1969-70. Jimmy Bloomfield, the manager who took them to that title, left for Leicester City in 1971, to be replaced by George Petchey.
This line-up included Phil Hoadley, once Crystal Palace's youngest-ever player before joining Orient in September 1971. Hoadley later became the first player to move under full freedom of contract when he left for Norwich City in August 1978, a tribunal setting the fee of £110,000. Also in the side were future First Division full-back Dennis Rofe (later of Chelsea) and a European Cup winner in Ian Bowyer, and the club ended the 1971-72 season 17th in the Second Division.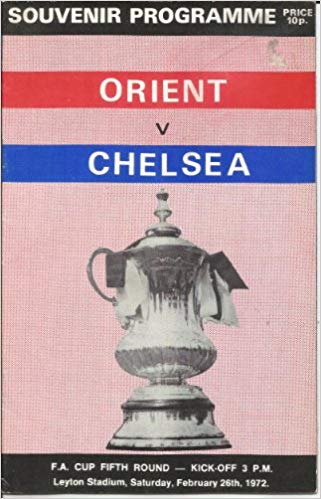 Match details for Orient – Chelsea; Brisbane Road, FA Cup Fifth Round, Saturday 26 February 1972:
Orient: 1 Ray Goddard, 2 Phil Hoadley, 3 Dennis Rofe, 4 Peter Bennett, 5 Paul Harris, 6 Peter Allen, 7 Barrie Fairbrother, 8 Barry Dyson, 9 Mickey Bullock, 10 Tom Walley, 11 Ian Bowyer (sub Terry Brisley). Manager: George Petchey. Scorers: Hoadley, Bullock, Fairbrother
Chelsea: 1 Peter Bonetti, 2 Paddy Mulligan, 3 Ron Harris, 4 John Hollins, 5 John Dempsey, 6 Dave Webb, 7 Charlie Cooke, 8 Steve Kember, 9 Peter Osgood, 10 Alan Hudson, 11 Peter Houseman. Manager: Dave Sexton. Scorers: Webb, Osgood.
Attendance: 30,329
Orient had another glimpse of FA Cup glory when they took on eventual league champions Derby County in the Third Round at Brisbane Road in January 1975. Again Match of the Day covered the game in anticipation of an upset, which was on the cards as Orient stormed into an early two-goal lead. However they were eventually pegged back before narrowly losing the replay, 2-1 at the Baseball Ground.
By the later 1970s, after several changes of manager and in debt due to the construction of their new East Stand, Chelsea were no longer the force of earlier in the decade. After relegation to the Second Division, they lost both League fixtures to Orient in 1975-76. In 1978, they were back in the top flight when they were again drawn to play Orient in the Fifth Round of the FA Cup. Only England goalkeeper Peter Bonetti and defender Ron Harris remained by now of the 1970 Cup winners.
Young midfielder Ray Wilkins was the star player in the Chelsea team that made the short journey across London to Brisbane Road. By now established in the Second Division with Bloomfield returned as manager, Orient were captained by 1972 scorer Hoadley. A goalless draw took the sides back to Stamford Bridge for a replay, where Peter Kitchen scored twice to secure another famous Orient win. Their run to the 1978 FA Cup semi-finals, where they were beaten 3-0 by Arsenal, once again at Stamford Bridge, remains the club's best-ever performance in the competition.
Orient-Chelsea 1978 programme images thanks to Miles McClagan: Flickr & twitter @TheSkyStrikers
The excitement of the FA Cup as a major knock-out competition is one of the topics in my book Before the Premier League: A History of the Football League's Last Decades.