Queens Park Rangers v Derby County, 1975
Queens Park Rangers welcomed champions Derby County to Loftus Road, with the home team in the midst of their most successful season. QPR's 1975-76 campaign ended agonisingly short of the title, remaining unbeaten at home all season and finishing a point behind Liverpool. QPR had won 5-1 at Derby in August with a Stan Bowles hat-trick, and these sides were the First Division's top two going into the game, both on 27 points after 20 games. Wins for Liverpool and Manchester United left four teams on 28 points at the end of this fixture, with QPR remaining as league leaders.
After a long unbeaten run from January 1976, it was ultimately a 3-2 defeat at Norwich in April that cost QPR the league title. Though they regained the lead at the top of the table when completing their fixtures with a home win over Leeds, Liverpool came from behind in their final game at Wolves ten days later to pip the Londoners to the Championship. At the end of 1975-76, QPR qualified for Europe for the first time as runners-up and were joined in the UEFA Cup by Derby in 4th place.
Derby also reached the FA Cup semi-finals, losing to Manchester United, and met Real Madrid in a European Cup Second Round tie in the autumn of 1975. Despite a spectacular 4-1 first leg win at the Baseball Ground with a Charlie George hat-trick, the Spanish champions overturned Derby's lead in the return leg. They were also involved in a league encounter with Leeds United the month before this fixture, which remains one of English football's most memorable clashes of the decade.
Managers Dave Sexton and Dave Mackay had assembled sides full of internationals. Of this QPR starting line-up, only Dave Webb and Mick Leach remained uncapped, with Gerry Francis captaining England at the time and Don Givens a key member of the Republic of Ireland squad. For Derby, only goalkeeper Colin Boulton and Henry Newton were not full internationals. Rod Thomas and Leighton James were Wales regulars, while Archie Gemmill went on to win 43 Scotland caps and was joined by Bruce Rioch and Don Masson in Scotland's 1978 World Cup squad. Gemmill had by then moved to Nottingham Forest, where he was re-united with former boss Brian Clough, and added another league title to the two he won at Derby.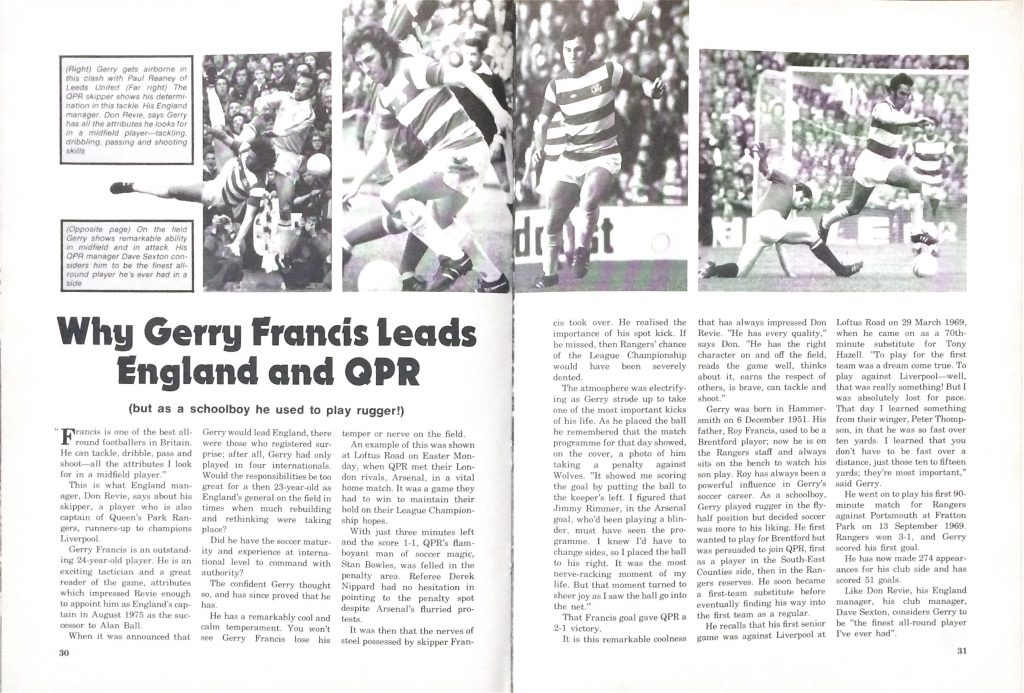 Derby's England defensive duo Roy McFarland and Colin Todd made the PFA First Division Team of the Year for 1975-76. They were joined by QPR's Masson, who later exchanged clubs with James in 1977. With Bowles missing from this fixture, 17-year-old Phil Nutt was named as QPR substitute and scored his only Football League goal after replacing Masson. Sadly, injury meant that his career was cut short. This was to be Francis Lee's last league season after representing Manchester City with distinction and playing for England at the 1970 World Cup.
Dave Sexton had previously enjoyed success at Chelsea, guiding them to an FA Cup win in 1970 and the European Cup Winners' Cup a year later. After his dismissal in October 1974, he soon took over at QPR and returned to his former club to sign John Hollins and Dave Webb, who formed a central defensive partnership alongside Frank McLintock, captain of Arsenal's 1971 Double winners. Sexton left Loftus Road for the manager's job at Manchester United at the end of 1976-77. Despite an FA Cup Final appearance in 1979 (losing 3-2 to Arsenal) and finishing as runners-up to Liverpool in the First Division the following season, he was sacked in April 1981. He had success coaching England under-21s in the early 1980s, and became the FA's first Technical Director. A disappointing spell at Coventry between 1981 and 83 proved to be Sexton's last role in club management.
Dave Mackay had a successful playing career, firstly at Hearts before moving to Spurs and winning the Double in 1961. Brian Clough signed him for Derby in 1968, where he helped to win the Second Division. When Clough resigned in October 1973, Mackay left his post at Nottingham Forest to take over as Derby manager. The 1974-75 League title was the pinnacle of his managerial career – he was sacked in November 1976. Mackay's status was recognised when he was one of the inaugural inductees to both the English Football Hall of Fame (2002) and the Scottish Football Hall of Fame (2004).
Match details for Queens Park Rangers – Derby County; Loftus Road, Football League Division One, Saturday 13 December 1975:
Queens Park Rangers: 1 Phil Parkes, 2 Dave Clement, 3 Ian Gillard, 4 John Hollins, 5 Frank McLintock, 6 Dave Webb, 7 Dave Thomas, 8 Gerry Francis, 9 Don Masson (sub Phil Nutt), 10 Mick Leach, 11 Don Givens. Manager: Dave Sexton. Scorer: Nutt
Derby County: 1 Colin Boulton, 2 Rod Thomas, 3 David Nish, 4 Bruce Rioch, 5 Roy McFarland, 6 Colin Todd, 7 Henry Newton, 8 Archie Gemmill, 9 Francis Lee, 10 Charlie George, 11 Leighton James. Manager: Dave Mackay. Scorer: Rioch
Attendance: 25,465