Spain World Cup 1982: Qualifying and Build-Up
Spain 1982 was the biggest World Cup to date, played between 13 June and 11 July. The expanded tournament of 24 nations was instigated by FIFA President, the Brazilian João Havelange, to include increased representation from Africa and Asia. Among the 52 games, 14 more than in Argentina four years earlier, semi-finals were restored for the first time since 1970. For the hosts, staging a World Cup was a chance to dispel doubts about the logistics and to present a new Spain only six years after the death of General Franco.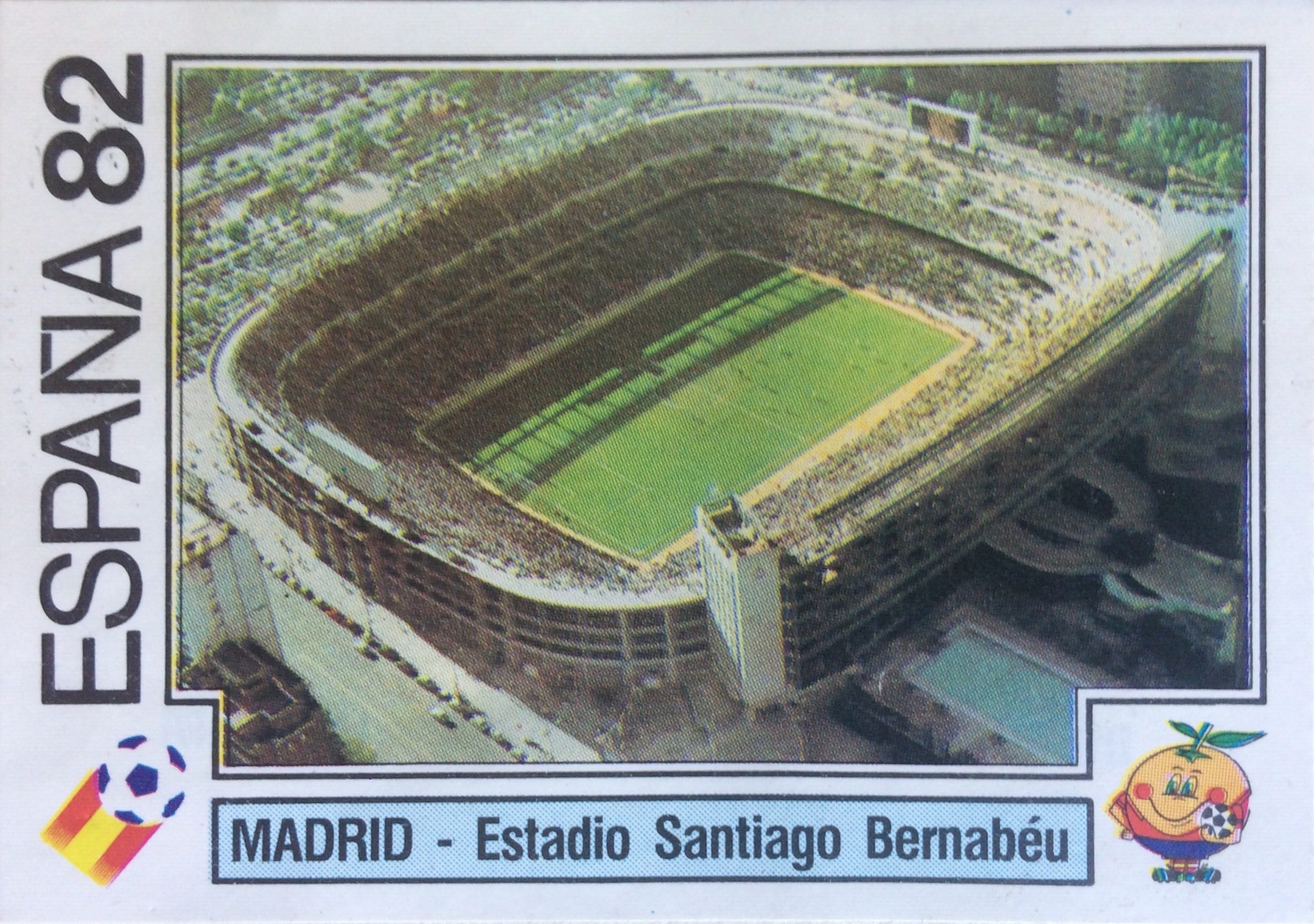 Criticism of a 'bloated' World Cup was amplified by the chaotic draw for the tournament in January 1982 (screened live on British TV), and fears about the organisation, spanning 17 stadiums across 14 Spanish cities. The schedule included inconsistent gaps between games, and a failure to co-ordinate the final group fixtures which later had serious repercussions for the integrity of the competition.
The expanded tournament welcomed debuts for Algeria, Cameroon, Honduras, Kuwait, and New Zealand, the last nation to qualify with a play-off win over China in Singapore. This meant that for the first time, all six FIFA continental confederations were represented in the finals, not to be repeated until 2006. Belgium, Czechoslovakia, El Salvador, England and the USSR returned for the first time since 1970. There was no place for the Netherlands, 1974 and 78's beaten finalists – or future Euro 84 semi-finalists Denmark and Portugal. Romania and Sweden also failed to make it to Spain 1982, the last tournament without a Scandinavian nation until 2014.
The biggest surprise in South America was Peru's qualification ahead of Uruguay, 1930 and 1950 World Cup winners, who had won the Gold Cup or 'Mundialito' by beating Brazil in January 1981. CONCACAF qualifying took the form of a mini-tournament held in November 1981 in Honduras, with the hosts emerging winners. Going to Spain alongside them were neighbours El Salvador, who pipped Mexico and Canada for the second place despite scoring only twice in their five games.
Brazil were heavily favoured, with Telê Santana in charge of a gifted side who had a successful tour of Europe the previous year under their belt. Holders Argentina still had César Luis Menotti at the helm and the bulk of their 1978 winners, plus the mercurial talent of Diego Maradona going into his first World Cup with a transfer to Barcelona to follow. European Champions West Germany remained strong contenders, having qualified with a 100% record – as did Poland (in a three-nation group). The only other unbeaten European qualifiers were the USSR. Hosts Spain were rated as outside challengers, while Italy under veteran manager Enzo Bearzot pinned their hopes on striker Paolo Rossi's return to international football after a two-year ban for his part in the 'Totonero' betting scandal.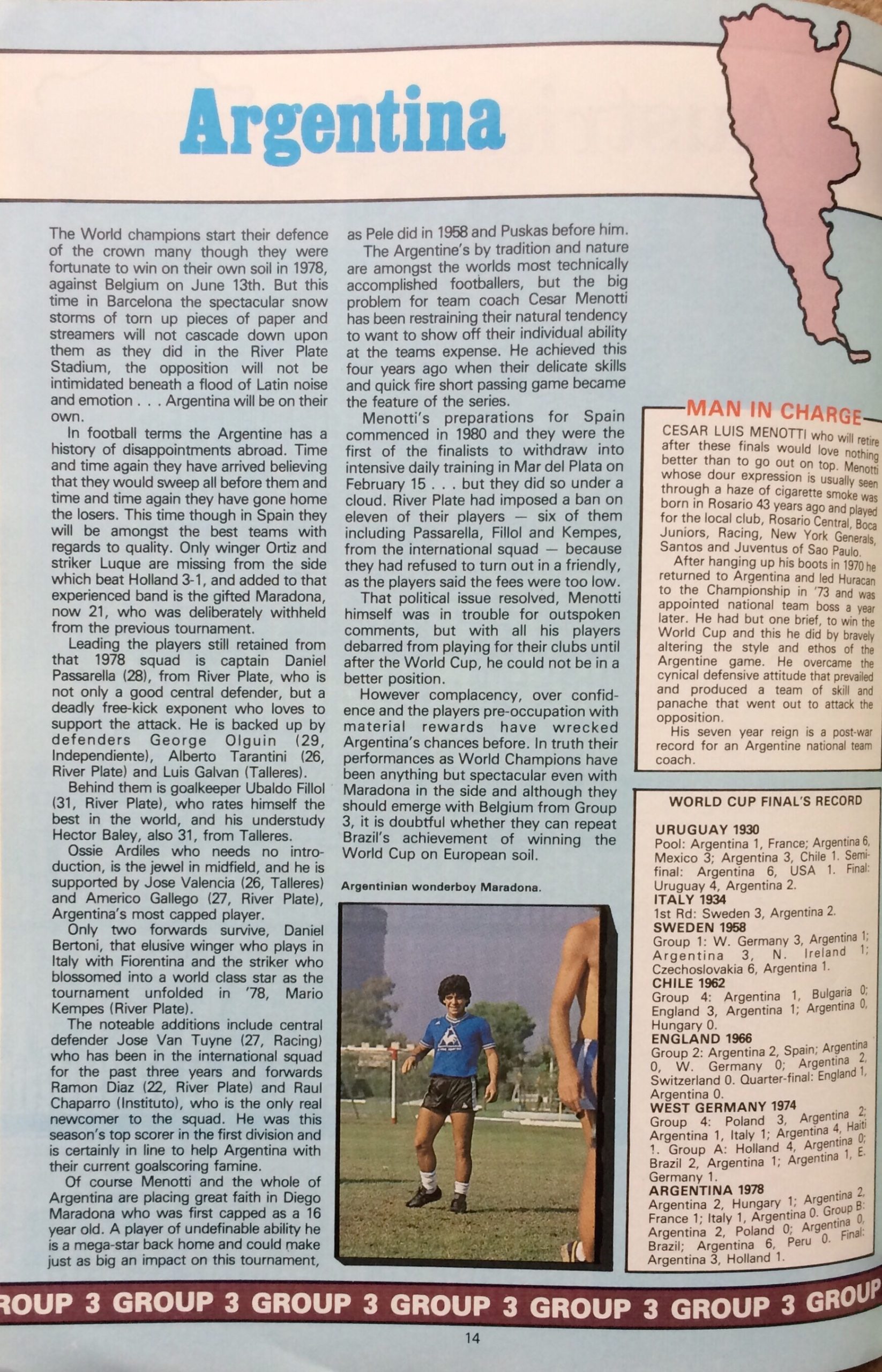 England had struggled in qualifying, losing in Romania, Switzerland and Norway before sealing their place with a 1-0 win over Hungary in November 1981. Manager Ron Greenwood had to be persuaded not to resign by his players during the torrid campaign. Scotland eased through to their third World Cup in a row, above Northern Ireland who qualified for the first time since 1958. With three home nations heading to Spain, the Republic of Ireland and Wales were close to joining them, denied only on goal difference by France and Czechoslovakia respectively.
World events threatened to disrupt the tournament, when the Falklands War broke out between Argentina and Britain in April 1982. There was a serious proposal to withdraw the home nations, which was eventually ruled out with an understanding that they would be kept apart from Argentina. The fears of hooliganism which followed English football in that era meant they were based in Bilbao, where the strong UK ties with the Basque country were expected to help give the visitors a sympathetic reception.
The 1982 England and Scotland squads were full of Football League Champions and European Cup winners, as Aston Villa had just won Europe's top club competition, the sixth straight win for English sides. The different era was also reflected in the number of home-based selections: Italy, Chile, Kuwait, Spain, New Zealand and USSR sent entire squads of players from domestic clubs. Several other nations had only a player or two based in a different country: West Germany (Stielike), Czechoslovakia (Panenka), England (Woodcock), France (Six), Honduras (Yearwood), Poland (Lato, Szarmach), Belgium (Custers, Van Der Elst), and Brazil (Falcão, Dirceu).
England's return to the world stage, together with the presence of Northern Ireland and Scotland, resulted in increased interest and anticipation of the tournament. The domestic football magazines provided facts and figures on all the participating nations and players, pull-out guides, posters and wallcharts – a rare and invaluable lifeline to the global game for fans starved of international coverage.
In the UK, there were now three official squad musical offerings to choose from among an international collection. Meanwhile the traditional Panini commemorative sticker album appeared in newsagents across Britain. Adidas produced the tournament's official football, the Tango España and Catalan artist Joan Miró the specially-commissioned poster. The largest World Cup so far was also going to be the most lucrative, and the mascot Naranjito (a 'little orange') was everywhere in the marketing campaign.
England's return to the World Cup stage is the subject of Gary Jordan's book Out of the Shadows – he was interviewed for the Soccer Nostalgia website.
Qualifying match programme scans courtesy of Miles McClagan: Flickr & twitter @TheSkyStrikers