The Netherlands supplied more players to the Football League between 1978 and the start of the Premier League in 1992 than any other country outside Britain and Ireland. From international stars to fleeting lower-division stays, a steady stream of Dutchmen tried their luck in England. Twice beaten World Cup finalists in the 1970s, the gifted 'total football' generation spearheaded by Johan Cruyff was the envy of Europe.
In the 1990s top internationals such as Dennis Bergkamp, Ruud Gullit and Marc Overmars arrived in the Premier League. In the first wave of transfers, the Dutch players moving to the Football League were often on the fringes of the national team during an early-to-mid-80s wilderness period when the Netherlands failed to qualify for major tournaments. Many of these imports were lower-profile than the later superstars, though several players from the great Dutch sides of the 1970s were close to joining First Division clubs.
Ruud Krol and Johan Neeskens were both linked with moves to Arsenal towards the end of their careers, but opted for the financial security of the NASL instead – Krol subsequently moving to Napoli and Cannes. Cruyff himself was an ambitious target for Leicester City when leaving the NASL to return to Europe in January 1981. The First Division strugglers were prepared to offer £4,000 a week, which would have made Cruyff the Football League's highest-paid player at the time, but he ultimately opted to spend the rest of the season at Spanish Second Division side Levante.
Another tantalising transfer that never took place in the early 80s was Gullit's – then a rising talent with Haarlem, both Arsenal and Ipswich declined to take a chance on the 'wild' youngster. After achieving global fame and success at PSV Eindhoven and AC Milan, Gullit eventually arrived in the Premier League with Chelsea in 1995.
Ipswich Town under Bobby Robson were one of the country's top teams and their signing of Arnold Mühren in the summer of 1978 paved the way for many players that followed. His manager insisted that "there was certainly nowhere in England I could find a left-sided midfield player with his ability at his price." The midfielder made such an impression that Robson returned to the Netherlands and the same club, FC Twente, in mid-season to sign Frans Thijssen.
This pair of elegant playmakers were undoubtedly the biggest successes of this 'first wave' of Dutch players, winning individual and team honours. Mühren was Ipswich's Player of the Year in 1978-79, followed by Thijssen the next season (and Romeo Zondervan in 1986-87). Thijssen was also voted the Football Writers' Association Footballer of the Year in 1981, the year Ipswich won the UEFA Cup and were pipped to the League title. He became only the second foreign player to win the award after Bert Trautmann in 1956, and the last until Jürgen Klinsmann in 1995. Few others could match the impact of the Ipswich duo on the Football League in the years leading up to 1992.
Jan Roskott, founder of the Dutch Soccer Site, has kindly given an overview of the movement of these players from a Dutch perspective and an expert analysis on them individually.
Jan: In general, the EPL is now regarded to be The Competition of football, on the planet. Back in the 1970s and 1980s, not so much. I remember top players from Holland (Rep, Kist) going to France, for instance, while Germany was also considered top-notch, as was Italy.
England was considered "kick and rush", "violent", "bad pitches" and "bad training quality". Stories of English players downing a pint before a match or even at half-time were going around, but I'm not sure if these stories were right.
There was – and is – a big romantic thing though, with playing in England. Old run-down stadiums, fans close to the pitch, community singing, all that really was attractive.
I think they paid well in England already, but nothing close to what is paid now.
I think for some players, being part of some of those classic clubs (Villa, Leeds, Ipswich, Sheffield) was too good to ignore.
Starting with Leendert 'Len' De Goey (anagram of Goldeneye) – Sheffield United (1979-80)
I never heard of him, I thought it was Ed de Goey :-). But apparently this guy had a decent spell at Sparta Rotterdam and was signed by Sheffield United, where he was brought in to help the club get promoted, but the first season was not a great success and he returned back to Go Ahead Eagles in Holland after one season.
Budde Jan Peter Maria 'Bud' Brocken – Birmingham City (1981-82)
Bud Brocken is a player I knew well. He was a winger, on the right. Started his career at Willem II in Tilburg and as Holland was struggling with right wingers, he got the nod in 1983 for Oranje. He ended up playing five caps for Holland.
He was a shy lad from the south. His season at Birmingham was not a success, not sure why, to be honest. He made headlines in Holland as he was capable of doing something not many players could do. John van't Schip seemed to have the patent and in today's game Hakim Ziyech is capable of it too: the banana cross, which basically is crossing the ball around the defender who is blocking you and curling it into the box. Schip didn't need to take on opponents. He simply crossed the ball past the player. Brocken could do this too and this got him the special role in Oranje and after Birmingham at FC Groningen where he had a good spell. With Groningen he played European football for instance, in a team with John de Wolf, Jan van Dijk and Edwin Olde Riekerink. They played epic games vs Inter Milan and Atletico Madrid in those days.
Brocken, called Bud because his dad was named Bud… His dad's real name was Jan, but there were so many Jannen in the family, they started to call him Bud and they also named Bud Bud (can you still follow?).
The problem with Bud, is that his banana cross or hip cross, has resulted in a screwed-up hip. He had three hip operations. He's a real estate agent today and fits in the list of Dutch players with odd names: Roelf Jan Tiktak. Warry van Wattum. Prince Polly. Oeki Hoekema (in English: Ooky Hookemah).
Brocken made the headlines after his career, telling the tale of how the Panasonic cycling team doctor was called in to help Willem II for their key game versus Ajax. Willem II almost got relegated. The cycling doctor gave the players some pills and said: do not take the whole pill, or you won't sleep for weeks. They took half a pill and managed to keep Willem II in the highest league.
I think most people didn't see a real international in Brocken and I don't think he'd make it at Feyenoord or Ajax. But his special skill, that cross, could well give him a decent career.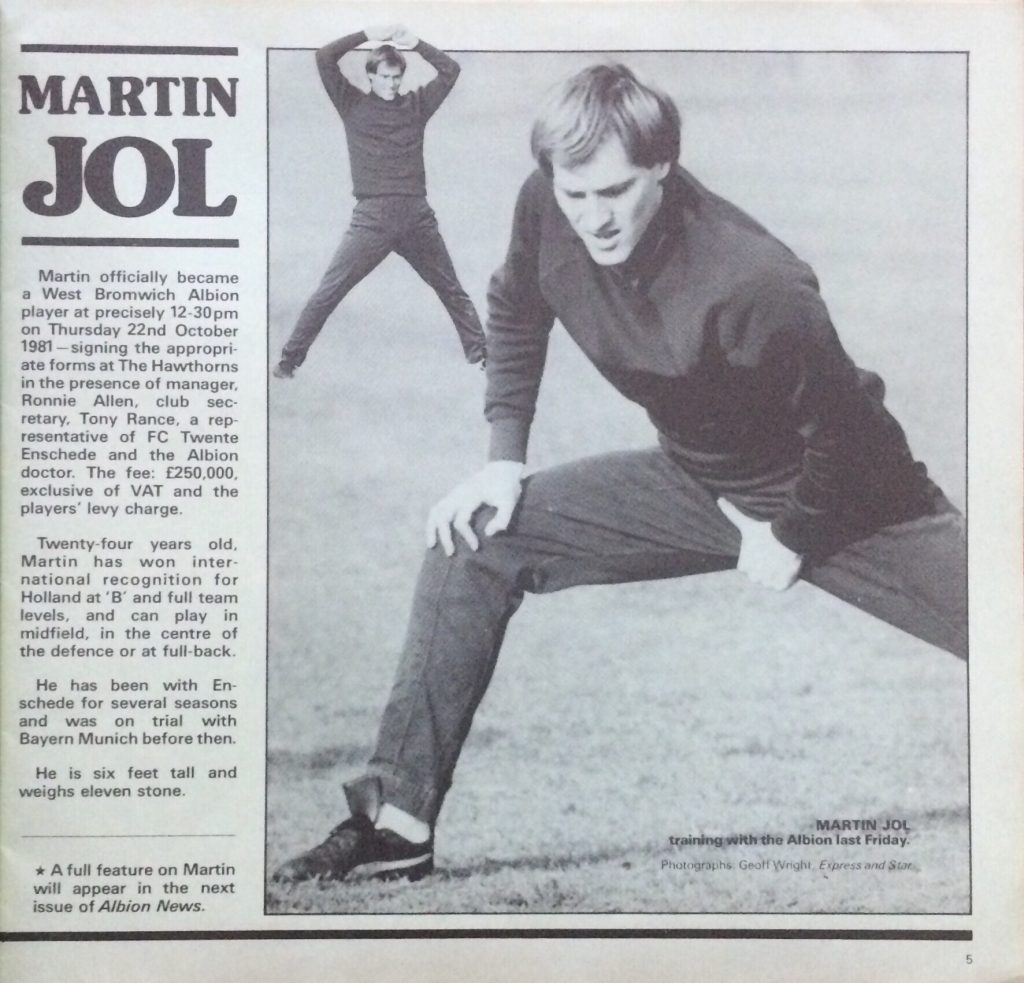 Maarten Cornelis 'Martin' Jol – West Bromwich Albion (1981-84) / Coventry City (1984-85)
Martin Jol was already a legendary player while still playing. His whole attitude, his facial expression and how he played: he was a beast. He had a rich career as a player. Born and bred in Den Haag, he started his career there and while it seemed a done deal he would go to Ajax, it was Bayern that swooped in for him. His season there was not a huge success. He had some issues with the coach and apparently he was homesick too. He played three seasons for Twente before going to West Brom where he was three seasons and then one season at Coventry. Somehow, he lost his homesickness in England. "I was always keen to go to Den Haag and go to the beach. When I was in England, it rained so much, I could never go anywhere. That reminded me of Holland actually, and somehow the homesickness disappeared". He returned to Den Haag to end his career there and he also had three caps for Holland.
In Holland, he wasn't rated as top-notch, more a 2nd tier player, but we could all see him do well in England as he had that duel power that you need in the UK. His coaching career gave him more headlines and kudos, as he was quite successful at RKC in Holland and Spurs in England. I think Pocchetino had a lot to thank Jol for…
Jol was a piece of work on the pitch. When young, at FC Den Haag, like his idol Cruyff, he would gesticulate and give instructions to his older team-mates. But the stocky Jol would go further and talk trash to his opponents. He'd say to Arie Haan: "You used to be a good player, but now I am playing against you I can see you're actually crap." He'd win the National Cup with Den Haag though. 
Apart from coaching, he was also known as a shrewd business man, as he started investing in real estate in Den Haag from an early age and was rumoured to own and rent out 70+ residential properties at some stage.
Feyenoord had plans to sign him as a coach, before he went to Spurs, but rumour has it that the Feyenoord chair vetoed that plan, on account of Jol "being too fat to be a good coach" hahaha. I think he's currently on the board of ADO Den Haag.
Rudolph Hendrik 'Rudi/Ruud' Kaiser – Coventry City (1981-82)
Ruud Kaiser was one of those talents that never made it big. He was supposed to be the new Cruyff. We had a couple of those. He was 17 when he made his debut at Ajax as a left winger, replacing Piet Keizer. He turned out to be a real journey man as he never made it big at Ajax, so he left for Antwerp in Belgium and later Coventry City and Nice in France. He only played 16 matches for Coventry. After his playing career he took up coaching and worked on so many levels for so many clubs. He was Technical Director at Lierse in Belgium, he worked as youth coach at Chelsea and for the Dutch federation as well. He is now coaching at amateur level and is prepping a "tell all" book about his career. He's an open and extroverted guy, good player but not good enough. His move to England was considered a bit like Anelka's moves would have been viewed. "Ah Ruud is moving again, this time to yet another country".
In those days, we would not see much of our players in England, except for the ones that really succeeded such as Thijssen and Muhren.
The arrival of foreign players to the Football League at the end of the 1970s is one of the topics discussed in my book Before the Premier League: A History of the Football League's Last Decades.
I am grateful to Shahan Petrossian of Soccer Nostalgia for help with research materials for this article.