Argentina: Foreign Players in the Football League
Argentina provided the impetus for the first wave of foreign imports to the Football League from 1978. Though the PFA's secretary Cliff Lloyd had warned, "I don't think we would stand for a big influx of Argentinians to this country", there was indeed a short-lived trend of English clubs tapping Argentine talent. Before the end of the 1970s Ossie Ardiles and Ricky Villa, Claudio Marangoni, Alberto Tarantini, Alex Sabella and Pedro Verde had all played in England.
The transfers of footballers from the South American country which had just hosted and won the World Cup was a major event in English football. Their arrival generated a huge amount of media coverage for months to come as the press and public came to terms with these spectacular signings. It was also a massive story in their homeland.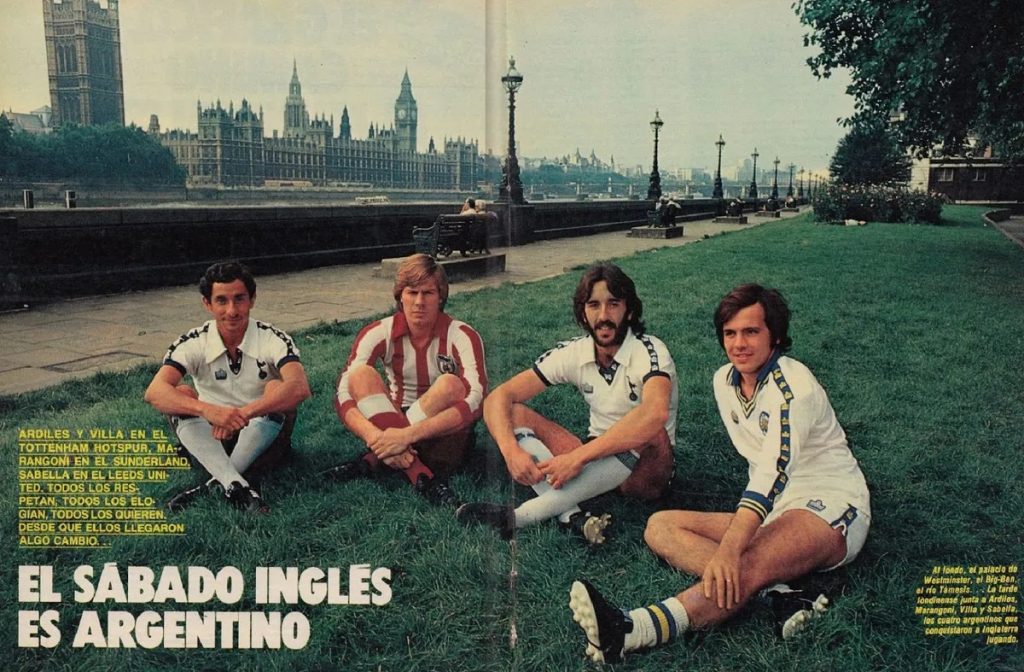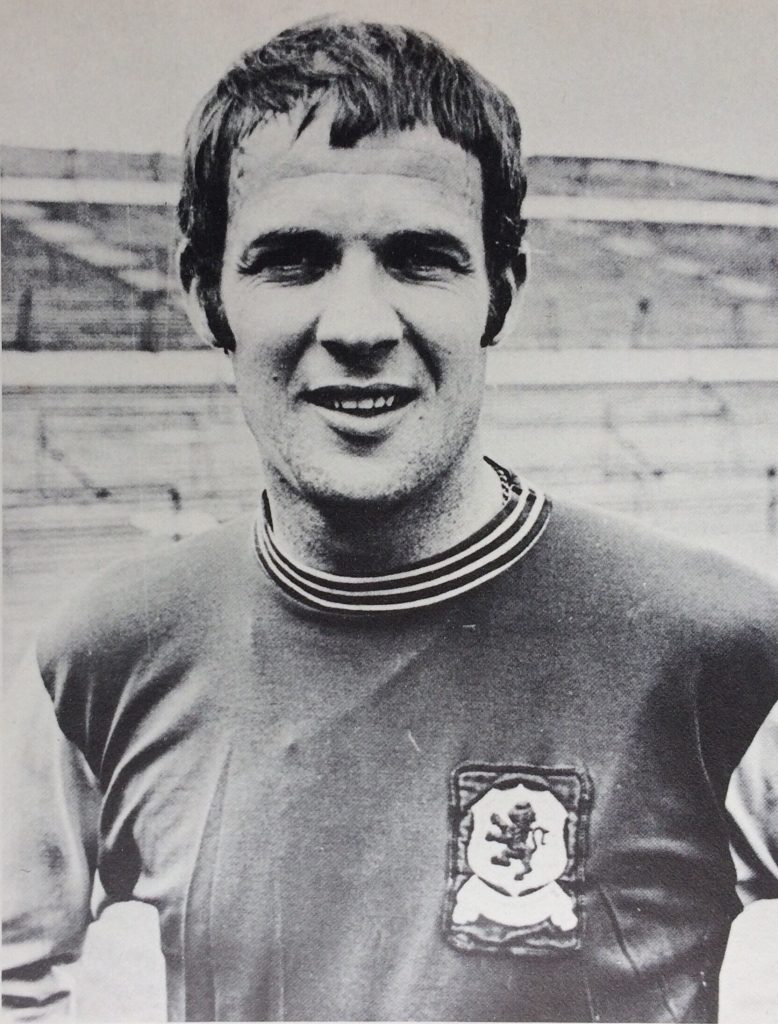 Oscar Arce [Fulloné] had been an Argentine trail-blazer at Aston Villa in the late 1960s with brother Hector, without either making a first-team appearance – he was later influential in the post-1978 transfers as a coach in English football. The next attempt to bring an Argentine to the Football League was Stoke City's high-profile approach to Carlos Babington in 1972. Stoke manager Tony Waddington believed he could be signed within the restrictions on foreign players at the time, due to Babington's English ancestry. When the transfer fell through, Babington ultimately opted to move to Germany and the midfielder then played for Argentina in the 1974 World Cup.
There had been a ban on a list of 40 of Argentina's top talents leaving the country ahead of the 1978 World Cup, which was lifted after their victory. With foreign players now able to move to the Football League, alongside the actual arrivals during 1978 and 1979 there was constant speculation about further imports of World Champions. Attempts were made to bring René Houseman to Middlesbrough in August 1978, followed by Derby's interest in Norberto Alonso and an unnamed club trying to sign Daniel Passarella. Argentinians Rubén Alcides Giordano and Horacio Palmieri played a trial game for Sunderland in 1979, where compatriot Arce was then coaching.
The most ambitious attempted signing was when Sheffield United manager Harry Haslam, instigator of the Ardiles/Villa deal, came close to bringing a young Diego Maradona to Bramall Lane. A fee of £150,000 was apparently agreed for the 17-year-old and Argentinos Juniors team-mate Carlos Fren, only for the deal to fall through when military officials made it known that an additional £150,000 would have to be paid to allow his release from Argentina. According to club historian John Garnett, "a bribe to the military police to get him out of the country was not something United were comfortable with."
There was further serious interest in Maradona from Arsenal in both 1979 and 1982, and even rumours that Leeds United (then in the Second Division) were trying to tempt him away from Napoli in the summer of 1987. Tottenham were also linked with Maradona at various times, and in fact he played in Ardiles' testimonial in May 1986. Another player to appear in a Spurs shirt was 1978 Golden Boot winner Mario Kempes, who was at the club for an unsuccessful pre-season trial in summer 1984.
Tottenham manager Keith Burkinshaw was delighted with his double signing of Ardiles and Villa in the summer of 1978, and had faith in both the players he brought from Argentina: "I'm sure they'll adapt to the demands of the English game." England manager Ron Greenwood felt "It is short-sighted to object to the arrival of someone like Ardiles. His presence can only benefit the English game, show at first hand that skill can triumph in our game."
Even as World Champions, many pundits were sceptical that they would cope with the physical nature of English football. After a crunching tackle on Ardiles in a League Cup game, Swansea's Tommy Smith warned him to "expect plenty of that treatment. We play it hard in England." Yet the pioneering Spurs pair would leave the most enduring impression of all the early arrivals from Argentina. While Villa scored on his debut, the contribution of Ardiles in particular was recognised almost immediately by both managers and players. His fellow professionals voted him into the PFA First Division Team of the Year at the end of this first season, and only the Falklands War interrupted his long and distinguished service in England as player and manager. Perhaps their greatest single legacy remains Villa's famous 1981 FA Cup-winning goal, at a time when the competition attracted worldwide attention.
The Spurs duo were soon followed by Sabella's surprise transfer to Sheffield United. A delighted Haslam declared that "to get a player of his ability is marvellous for me and the club." Sabella's move was commemorated by a friendly at Bramall Lane with his former club River Plate on 30 August 1978. A side including World Cup winners Fillol, Passarella, Alonso, Luque and Ortiz ran out 2-1 winners against their former team-mate. A year later Sabella was joined in Sheffield by former international Pedro Verde, before moving to Leeds in the summer of 1980. Marangoni signed for Sunderland in December 1979 (after Sabella had earlier rejected a transfer to Roker Park), and remained the last Argentine to move to England for over a decade.
By the twenty-first century, many celebrated Argentinian internationals flocked to the Premier League, including Sergio Agüero, Hernán Crespo, Ángel Di María, Gabriel Heinze, Javier Mascherano, Carlos Tevez and Juan Sebastián Verón – the nephew of Pedro Verde, Sheffield United's 1979 signing. English top division clubs have been managed by Ardiles, Marcelo Bielsa, Mauricio Pellegrino and Mauricio Pochettino. Argentina's players and managers are now routinely exported around the world, and it is difficult to remember the shock and excitement generated by the first transfers to England in the late 1970s – and the challenges those players faced.
There were common problems – firstly, the weather, mentioned by each of Marangoni, Sabella and Tarantini after returning to Argentina. Marangoni struggled with the style of play and a "difference of opinion" with manager Ken Knighton which often saw him played out of position. He admired Burkinshaw's "unconditional and unlimited support" of Ardiles and Villa at Tottenham, and like his compatriots, was pleasantly surprised by "how friendly the English were." Sabella too was full of praise for the "tremendous" fans but admitted he suffered in the "cold, dark winters". Even Tarantini, whose stay was shortest, felt the experience improved him as a player: "The game is a lot faster and tougher over there, and you've got to have guts to stand the pace."
Argentine journalist Nacho Dimari gives an insight into the contemporary reaction to the players who left the country for the Football League in the wake of their World Cup success: "[One of the] the first Argentine players to sign with an English team was Alejandro Sabella from River Plate to Sheffield United. At that time (July 1978), Sabella was at River but he didn't play often because in his position, there was Norberto Osvaldo Alonso, perhaps the most iconic player in River history. This means that he was sub, very often. It was a surprise, because back in the 70s Argentine players used to be transferred to Spain or France.
There was not much information regarding the English league, as it was with the Spanish and even French ones. Same when Claudio Marangoni arrived to Sunderland a year later. The exception came with the double pair of World Champions Ardiles and Villa. As being fresh World Champions, that was a plus for the press. So, everybody started to try to find out who were the Spurs, and also the English league." For Mr Dimari and Argentine football fans, it was the beginning of a voyage of discovery and a window into a different world across the Atlantic.
I also had the opportunity to ask author Klaus Gallo for his perspective on the connections between the two nations and these historic transfers. Dr Gallo is the author of Las Invasiones Argentinos: Nuestros futbolistas en Inglaterra, a Spanish-language study of the development of the relationship between Argentina and English football. He kindly agreed to answer the following questions:
What do you know of the brothers Hector and Oscar Fulloné Arce, who were at Aston Villa in the late 1960s without playing for the first team?
Not much really, only that Oscar was involved years later in Sabella's transfer to Sheffield United.
Stoke City tried to sign Carlos Babington in 1972, as he had English ancestry – was this widely reported in Argentina?
As far as I remember it was. Babington was a great player by then. Also recall the English newspapers comment on this during the 74 World Cup due to his impressive performance for Argentina, and the Stoke manager at that time was quoted as regretting not having purchased that player.
What was the background to the transfers to England in 1978? [I believe there was a ban on exporting players to help Menotti prepare for the World Cup]
That didn't last long. After the 78 World Cup that agreement was cancelled.
How were these transfers viewed in Argentina – was there surprise at players moving to England, rather than France, Italy or Spain?
It provoked quite a bit of uproar. They were the first Argentines destined to play in the English league so there was a high level of expectation over here.
Did the press cover the fortunes of Argentine players in the Football League?
Absolutely.
What was the story behind Sheffield United trying to sign Diego Maradona?
Apparently United didn't offer enough.
What do you know of Pedro Verde, who joined Alex Sabella at Sheffield United, the uncle of Juan Sebastián Verón?
He was quite a well-known right winger who started playing for Estudiantes in the early 70s just after they won 3 Copa Libertadores in a row. He later played in the Spanish league. They nicknamed him Peter Green at United…
While Ardiles (and to some extent Villa) succeeded in England, Marangoni, Sabella and Tarantini all struggled – why do you think this was?
In my opinion Villa was clearly a success at Spurs. Both him and Ardiles no doubt benefited from the fact that they had Glenn Hoddle playing alongside them in midfield. As for Sabella, in spite of the Blades being relegated in 79 he was elected as their best player by the fans and a year later went straight from division 3 to the top division when Leeds United bought him, so I don't really think he struggled that much.
As for Marangoni, it's a bit of a mystery why he failed at Sunderland, given that he was a fantastic player. Did well in his first season when they clinched promotion but apparently had a row with the manager, Knighton, and only played a few matches during the following season. Tarantini was a fine left-back but was seldom selected to play in that position. He was usually playing in central defense or defensive midfield. Had also the misfortune of playing for a team with quality players at Birmingham but most of whom were already over the hill. Trevor Francis was the only first-rate player of that team but he was injured for most of that season.
Apart from the Falklands War, why did it take so long for the next batch of Argentine players to arrive in England, in the late 1990s? [I think there was only Néstor Lorenzo, and then Mauricio Taricco, in 1994 at Ipswich]
Basically because during the following years, Argentines needed a special visa to enter Britain. Also due to the fact that European Community players were favoured, Taricco in fact had a European Union passport…
How has the Argentine perspective on English football changed over the years?
Obviously the massive introduction of foreign players to the English league in the last decades, has proved decisive to change previous perspectives and prejudices which prevailed for a long time here regarding their style of play. British football was essentially regarded as tremendously dynamic but excessively physical and not very technical. That view has changed.
The arrival of foreign players to the Football League at the end of the 1970s is one of the topics discussed in my book Before the Premier League: A History of the Football League's Last Decades.
Many thanks to Nacho Dimari and Klaus Gallo for their generous contributions. I am also grateful to the National Football Museum's Collections & Research Centre at Deepdale, Preston, and Shahan Petrossian of Soccer Nostalgia for help with research materials for this article.