Belgium v USSR, 1986 World Cup
Belgium v USSR was a seven-goal thriller in the Second Round of the 1986 World Cup, played at León's Nou Camp stadium, Mexico. The nations had met at the previous World Cup in the second group stage in a much more cautious encounter, edged 1-0 by the Soviets at Barcelona's Nou Camp in July 1982 thanks to Khoren Oganesyan's goal.
The two nations had progressed from 1986's opening group stage in contrasting fashion – the USSR topped their group, including an impressive 6-0 rout of Hungary; Belgium lost their opening game to hosts Mexico and only qualified due to a narrow 2-1 win over Iraq. Igor Belanov's hat-trick in this game contributed to his winning the 1986 European Footballer of the Year award; the striker had earned only four caps without scoring before the tournament and was a surprise starter. Among Belgium's goalscorers were the experienced Jan Ceulemans, midfielder Enzo Scifo (voted young player of the tournament), and striker Nico Claesen, who joined Tottenham later that year.
As the Soviets bowed out complaining about offside decisions, Belgium then beat Spain on penalties to reach the semi-finals for the first time, where they were unable to cope with a rampant Diego Maradona. They ended the tournament with a fourth place finish, their best World Cup performance until it was surpassed in 2018.
Both nations had finished second in their qualification groups – Belgium pipping their Dutch rivals in a play-off to reach Mexico while the USSR trailed behind an impressive Danish team at their peak under Sepp Piontek. While Belgium then failed to qualify for the 1988 European Championships in West Germany, the bulk of the 1986 Soviet side were part of the squad. The USSR reached the final where Belanov missed a penalty and Marco Van Basten's wonder goal sealed a 2-0 win for the Netherlands. Two years later, the 1990 World Cup was the last fling for the USSR as a national team, who disappointingly finished bottom of their group, before the dissolution of the Soviet Union.
The 1986 tie saw a meeting of veteran coaches Guy Thys and Valeriy Lobanovskyi. Thys had managed the Belgian national team since 1976, guiding them to the final of the 1980 European Championship and successive World Cups. They were one of Europe's most consistent nations in this period, with only Spain and West Germany likewise reaching the final stages of each major tournament from 1980 to 86. After stepping down in 1989, Thys returned for a final spell including the 1990 World Cup, where Belgium were knocked out by a last-minute goal from England's David Platt; his achievements at this Mexico World Cup saw him voted World Soccer magazine's Manager of the Year for 1986. He died in 2003.
The USSR team was built around Lobanovskyi's successful Dynamo Kiev side, who won both the Soviet League and European Cup Winners' Cup in 1986 – he managed Kiev and the national team simultaneously until 1990. Lobanovskyi was a legendary figure in Soviet football, famous for his meticulous, scientific approach; his innovative use of computer and video analysis led to the success which earned him worldwide acclaim. He had replaced Eduard Malofeyev on the eve of the tournament after a run of poor results, including a 1-0 defeat to England in Tbilisi which ended an impressive unbeaten home record in March 1986. This was his third spell in charge of the national team.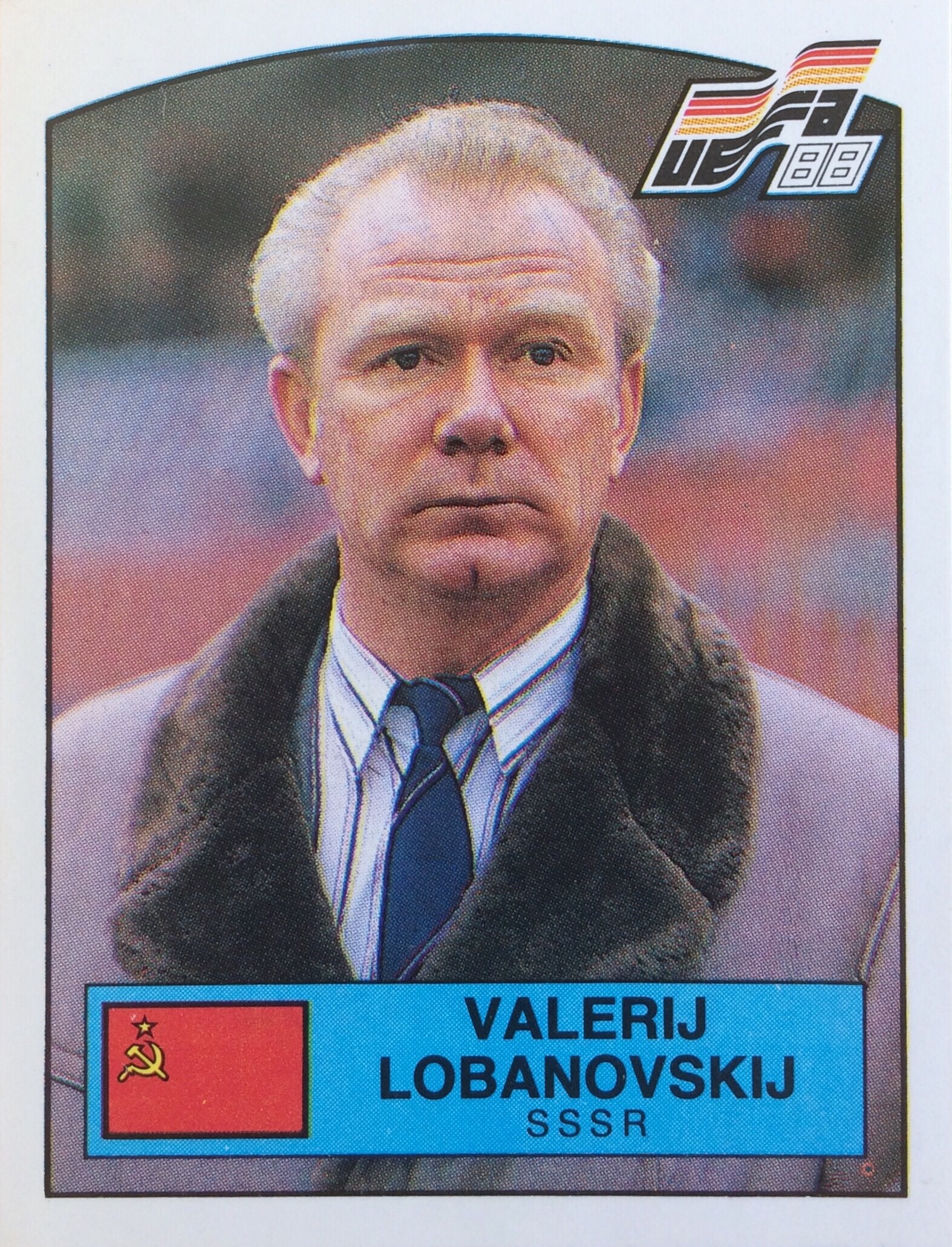 Lobanovskyi had made his reputation when he first managed Dynamo Kiev between 1973-82. He established them not only as the most powerful side in the Soviet Union, but as a force in Europe. He later returned to manage Dynamo once more from 1997 until his death in 2002, winning five consecutive Ukrainian league titles and reaching the 1999 Champions League semi-finals with a largely home-grown side featuring striker Andrey Shevchenko before his transfer to AC Milan.
Match Details for Belgium – USSR; Estadio Nou Camp, León; World Cup Second Round; Sunday 15 June 1986
Belgium: 1 Jean-Marie Pfaff, 2 Eric Gerets (sub 15 Leo van der Elst), 5 Michel Renquin, 13 Georges Grün (sub 14 Leo Clijsters), 22 Patrick Vervoort, 21 Stéphane Demol, 6 Franky Vercauteren, 8 Enzo Scifo, 11 Jan Ceulemans, 18 Daniel Veyt, 16 Nico Claesen. Manager: Guy Thys. Scorers: Scifo, Ceulemans, Demol, Claesen
USSR: 1 Rinat Dasaev, 2 Vladimir Bessonov, 5 Anatoly Demyanenko, 10 Oleg Kuznetsov, 21 Vasiliy Rats, 12 Andriy Bal, 7 Ivan Yaremchuk, 8 Pavel Yakovenko (sub 17 Vadim Yevtusjhenko), 9 Aleksandr Zavarov (sub 14 Sergei Rodionov), 20 Sergei Aleinikov, 19 Igor Belanov. Manager: Valeriy Lobanovskyi. Scorers: Belanov (3, 1 pen.)
Attendance: 32,277