Blackburn Rovers v Charlton Athletic, 1987 Full Members' Cup Final
The Full Members' Cup was launched in 1985 as a response to English clubs being banned from European competition after the Heysel Stadium tragedy. It ran until 1992 and was specifically for the top two divisions (the 'full members' of the Football League), though not all clubs chose to enter.
Despite its low profile the first edition had a memorable Wembley final, with Chelsea beating Manchester City 5-4. 1987 was the last year it was known simply as the Full Members' Cup, as it was then sponsored by Simod and Zenith Data Systems. Finalists Blackburn Rovers and Charlton Athletic were both returning to Wembley after FA Cup appearances in the distant past.
In 1985-86 a separate knock-out competition was created for the six teams denied European participation, the Super Cup, and only five First Division clubs took part in the Full Members' Cup. Four of the 'big five' clubs chose never to enter at all: Arsenal, Liverpool, Manchester United and Tottenham. 1986-87 attracted 30 entrants, up from 21 in its first year, and this time 14 top-flight clubs were involved. With the early rounds divided regionally, it was struggling Charlton who reached the final to face Second Division Blackburn. The London club had waited forty years to return to Wembley since beating Burnley to lift the FA Cup in 1947. Charlton were enduring a seven-year exile from their home ground, The Valley, which lasted from 1985 until 1992. At this point, they were playing at Crystal Palace's Selhurst Park.
After gaining promotion in 1986, Charlton's priority was First Division survival during a difficult period in their history. By finishing 19th, they took part in the new promotion/relegation play-offs. After beating Ipswich, they finally stayed up by edging past Leeds United with two goals from Peter Shirtliff in a replay at St Andrews after the two-legged final finished level. Lennie Lawrence was in charge from 1982 until 1991, not only achieving promotion under testing circumstances but keeping the club in the top flight for four seasons. His squad contained a number of experienced top-level players including Paul Miller, an FA Cup winner with Tottenham, and the promising midfielder Rob Lee who had come through the youth system at The Valley.
Blackburn finished 12th in the 1986-87 Second Division under Don Mackay, formerly in charge at Dundee and Coventry. For the six-time FA Cup winners, it was their first appearance at Wembley since losing the 1960 final to Wolves. Rovers supporters made up the bulk of the approximately 40,000 crowd. Goalscorer Colin Hendry had been signed earlier that month from Dundee, primarily as a striker who was later converted to a central defender. He was sold to Manchester City in 1989, but returned to Blackburn two years later as an integral part of the team which won promotion from the Second Division and became Premier League champions in 1994-95. Hendry won 51 Scotland caps after making his national team debut in 1993. Of this Blackburn team, Chris Price (who also later returned for a second spell), Simon Barker and Scott Sellars all went on to play in the top flight.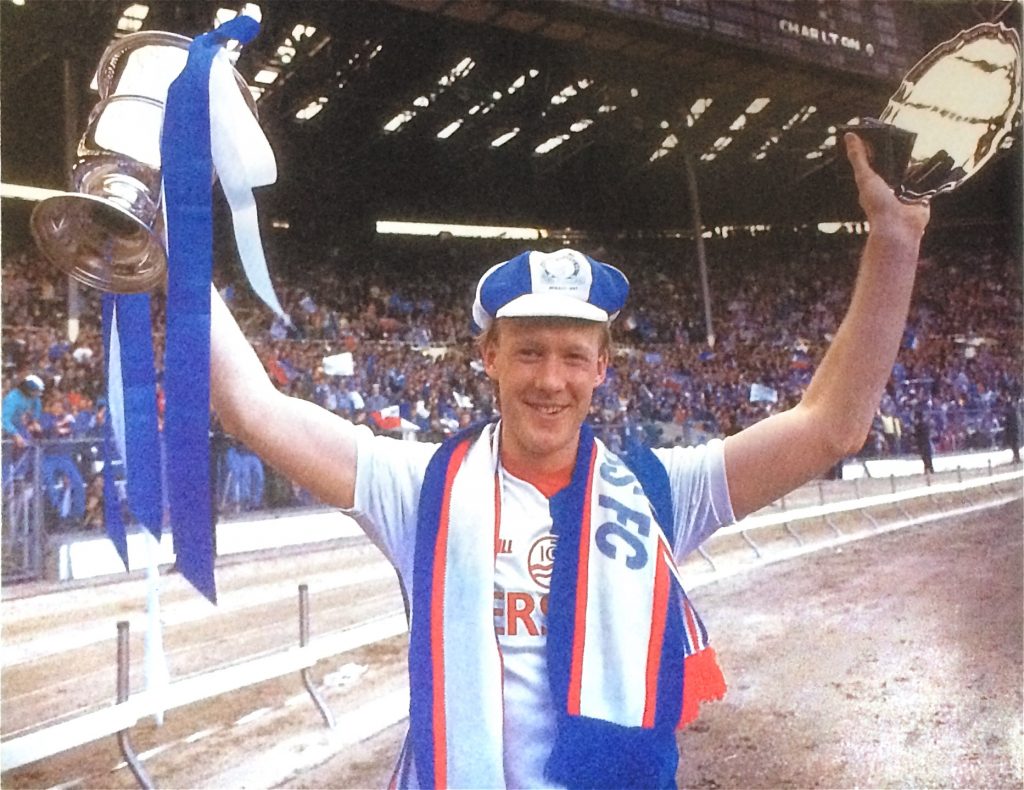 The competition survived until the coming of the Premier League in 1992, and the full return of English clubs to European competition. As well as Blackburn, there were rare Wembley wins for Reading and Crystal Palace, and two victories each for Chelsea and Nottingham Forest. When Forest won the last edition, beating Southampton 3-2 in March 1992, it proved to be Brian Clough's final trophy of his 28 years in charge of the club. Overall, crowds rarely rose above 10,000 in Full Members' Cup history. While not fondly remembered, it did provide some memorable finals and footnotes in English football history in the pre-Premier League era.
Match details for Blackburn Rovers – Charlton Athletic; Wembley Stadium, Full Members' Cup Final, Sunday 29 March 1987:
Blackburn Rovers: 1. Vince O'Keefe, 2. Chris Price, 3. Chris Sulley, 4. Simon Barker, 5. Glenn Keeley, 6. David Mail, 7. Ian Miller, 8. Alan Ainscow, 9. Colin Hendry, 10. Simon Garner, 11. Scott Sellars (Sub Mark Patterson). Manager: Don Mackay. Scorer: Hendry.
Charlton Athletic: 1. Bob Bolder, 2. John Humphrey, 3. Mark Reid, 4. Andy Peake, 5. Steve Thompson, 6. Paul Miller, 7. Ralph Milne, 8. Rob Lee, 9. Jim Melrose, 10. Colin Walsh, 11. George Shipley. Manager: Lennie Lawrence.
Attendance: 40,000