Jock Wallace and Pre-Season Training
Jock Wallace was appointed as Leicester City manager in June 1978, a surprising move shortly after winning his second treble with Rangers in Scotland. Leicester had been relegated from the First Division, and Wallace soon introduced his players to a new training regime.
Part One: Wanlip
The first section of the film shows the recently arrived Scottish manager taking a pre-season training session at his new club in the summer of 1978. Wallace and his assistant Ian MacFarlane put the Leicester City squad, including a young Gary Lineker, through a gruelling routine – repeatedly running up and down man-made sand hills at Wanlip (in completely un-coordinated training kit).
Wallace had pioneered this approach during his successful career in Scotland – at Berwick and Rangers – on the sand dunes at Gullane beach on the east coast, which became known as 'Murder Hill' and was used by several clubs for training. Drawing on his army background in Malaysia, he believed in getting his sides supremely fit and pushing them through the pain barrier in pre-season. Many of his players had mixed feelings about his methods, with ex-Rangers player Derek Johnstone recalling the training sessions as "absolutely brutal". On his return to Scotland with Motherwell, Wallace resumed the Gullane regime, with Brian McClair recounting players being physically sick on the beach.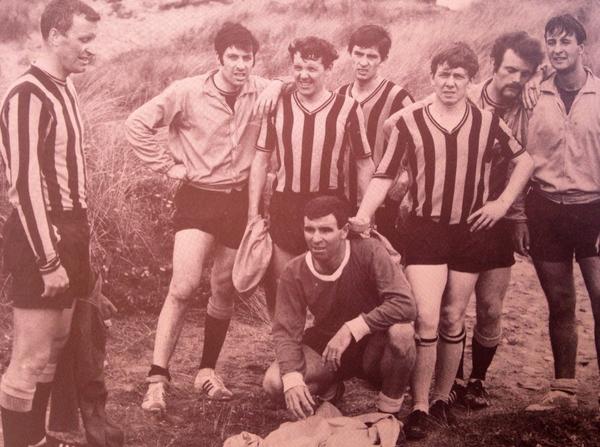 In Wallace's time at Leicester, he oversaw promotion to the First Division in 1980, only to suffer relegation the following year. During that season he made an ambitious but genuine attempt to bring Johan Cruyff to Filbert Street. In his fourth and final season at the club, 1981-82, they reached the FA Cup semi-finals. After just over a year back in Scotland with Motherwell, Wallace returned as Rangers manager once more. Despite two League Cup wins, he was unable to recapture former glories at Ibrox and was sacked in April 1986. His last managerial jobs were at Sevilla and Colchester, before his untimely death in 1996 at the age of 60.
Other vintage training videos illustrate basic facilities and an emphasis on stamina – unsurprisingly given the heavy pitches of the Football League – before the era of nutritionists, sports science and vast numbers of support staff. However ball work features prominently in 1938 footage of Leeds United training. 1962 documentary The Saturday Men follows West Brom through their weekly routine, including an opening training session. Silent Pathé film from 1969 shows a more traditional pre-season workout for Blackpool, under the watchful eye of manager Les Shannon.
Part Two: Belvoir Drive
The second half of the film goes back to early 1971, as Simon Smith of ATV meets Leicester City's assistant manager Malcolm Musgrove, who talks him through the side at their Belvoir Drive training ground, purchased in 1963. England goalkeeper Peter Shilton and future international full-backs Steve Whitworth and David Nish (sold in 1972 for a British record fee to Derby County, where he became a League title winner) all feature in the mid-season mud.
Former PFA Chairman Musgrove and manager Frank O'Farrell had been team-mates at West Ham, coming through the club's famous academy. After taking over as Leicester manager in December 1968, O'Farrell was unable to prevent relegation at the end of 1968-69, when they also reached the FA Cup Final. This team seen in training were promoted as Second Division champions at the end of the 1970-71 season, and won the 1971 Charity Shield by beating Champions Liverpool at Filbert Street. After guiding Leicester to the First Division, O'Farrell took over from Matt Busby at Manchester United in June 1971, taking Musgrove with him, but the pair lasted only 18 months at Old Trafford.
Finally in this clip, O'Farrell speaks to Smith about upcoming fixtures – his later career took the former Irish international to Cardiff and Torquay, where he had his first league management role in 1965. He also had more exotic stints in charge of the Iranian national team and in the United Arab Emirates, before his final spell as Torquay manager ended in July 1982.