Roots to the 92 Book Review & Interview with author Andy Leeder
Roots to the 92 charts five decades of travels to English football grounds. Before 'groundhopping' was even invented, Andy Leeder was groundhopping. Starting at his local side Southend United's Roots Hall, he eventually covered the country. Over the decades it became a quest to 'do the 92', but with clubs moving grounds and promotion/relegation from the Football League (starting in 1987), in the end he visited over 120 league grounds. Finally, in April 2016, Andy reached the landmark at Blackpool's Bloomfield Road. Not long after, he wrote and published a book, Roots to the 92 (self-published, 2016) as an account of his travels.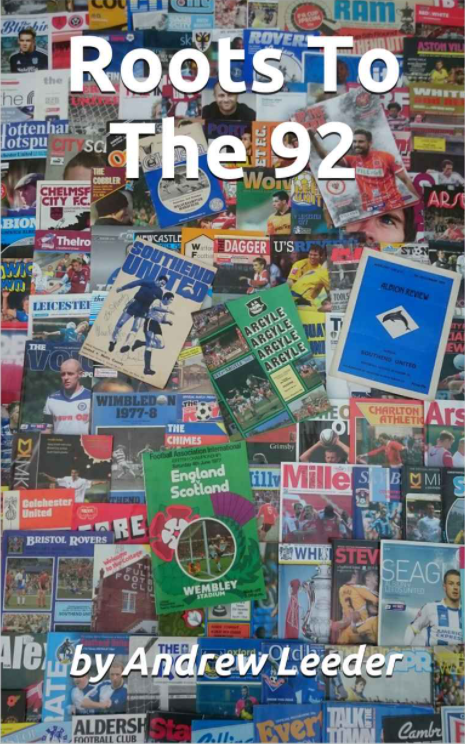 In his journeys up and down the country, Andy charts the transformation of grounds and the changing face of English football. The early years are evocative of football in the 1970s and 80s, with last-minute decisions to pay on the day, away fans huddled against the elements on open terraces, obstructed views from behind fences and often aggressive policing. From the 'lost stadiums' of the Goldstone Ground, the Baseball Ground and Layer Road, we see the gradual transformation into all-seater venues by the 90s, through to the current generation of new stadia at Middlesbrough, Cardiff and Sunderland in the 21st Century.
Interwoven with personal stories (and sometimes mishaps) along the way, it is an always entertaining snapshot of English sporting and social history. It is interesting to note the changing cost of football, food and public transport as well as the stadiums themselves. Having thoroughly enjoyed the book, I had the opportunity to ask Andy a few questions about his football watching, from the start of the 1970s to the present day.
Part One
Could you just introduce yourself and your football background?
I played a lot of street football as a youngster, I got interested around the time of the 1970 FA Cup Final. Dad got me a Chelsea kit which was quite interesting, because replica kits weren't a 'thing' but I had this nice shiny Chelsea kit and I was quite pleased with that. Quickly discovered that I wasn't much cop at football but loved playing it, we had mass games in the street and dad encouraged my interest by saying 'right, let's go to a match'. The only trouble was, he took me to see Southend for my first match, rather than someone a bit better like Chelsea or West Ham! We lived five miles from Southend and thirty miles from London, so Southend was the cheap, easy option. That's how I started off my football trip.
What are your main early memories from going to games in the 1970s – how different was the 'matchday experience'?
Certainly under my dad's coat-tails then, I was always quite protected and everything seemed so big – Roots Hall seemed cavernous and it always had that unique smell, I remember that stale Woodbine smell and the dirty burgers mixing in, and we usually seemed to play on Friday nights, it was a late night, which was definitely good in my book as a little 'un, and it always seemed exciting. When I first went – and I'm now 6 foot 5 – I couldn't see over the walls, and dad used to take us a milk crate in so I could stand up and see what was going on. It was all quite relaxed, there didn't seem to be any rules, really a unique atmosphere unlike anything else I'd ever been to, and helped me and dad to bond. We went with his mate from work and his son, who was in the same year at school as me, so we had a nice little clique. My dad worked at Ford's, he saw a lot of his mates there, a good atmosphere and you could mix with older people as well.
As for the matches, I know what my first game was [Southend-Notts County, March 1971] but I can't remember it – my first memory is later in '71, we had a big Cup tie against Aston Villa in the First Round. They had been relegated to the Third Division, I think they had a couple of years down there, but they were the big team and to get them at Roots Hall was something else. About 16-17,000 were there – coincidentally, November 2021 was the fiftieth anniversary of that game. The thing I remember about it was not only the action, but both sets of fans decided to have a pitch invasion shortly before kick-off, they ran on from both ends; there were a couple of coppers who just about made it to the middle, and they ran back again. Just that image of a tide, it didn't seem dangerous, and it's something that's stuck with me.
I have got some memories of watching the team, because that was a successful season in the end. We won that game 1-0, which was quite exciting, and we did have a promotion season. What has been fabulous has been meeting, and getting to know, many of the players that played that season, through my work with the ex-players' association. Dad didn't forget that he'd bought me a Chelsea kit, so he did take me to see Chelsea-Leeds in '71, which was a huge game, not long after the Cup Final. Going to Stamford Bridge was just a completely different experience, packed, full of angst, watching two teams kick lumps out of each other – and it was 0-0! Ian Hutchinson was always my hero, I loved his long throws, I had his picture on my bedroom wall.
The 70s themselves was mostly with my dad, and then towards the end I started going to games myself with one or two friends, a few away games. I remember those being a little bit 'interesting', I got on the Supporters' Club coach with a couple of friends, we went to Wimbledon who had just been promoted into the League, and instantly waiting for us outside the coach were a group of Wimbledon fans – they decided to chase us, but we ran fairly fast! I never experienced bad trouble close at hand, I saw plenty of it in grounds, you could sense an atmosphere in the 70s (and later in the 80s I saw it), there was a tension where you could have groups of fans going against each other.
At Southend you had this massive South Bank – it was only ever filled once, when we played Liverpool at the end of the 70s, we had 31,000 in Roots Hall and if you consider now, the capacity's only 11-12,000, it was just amazing. The South Bank's been developed now, it was this huge big Kop, 16,000 on there but all too often we were at League games with 4,000 there. The away fans used to go on the South Bank, huddled in a little group with a ring of coppers around them, and then pockets of Southend fans looking at them from the outside. It was bizarre, really. Fond memories of the 70s, certainly.
When did visiting different grounds turn into a definite quest to 'do the 92'?
I always have kept a record of games that I've been to, right from the start; these days I tend not to, but I always made sure I bought the programme, so I know I was there! I suppose in the course of collecting those, I used to tick off how many grounds I'd been to. I was always aware it'd be interesting one day to do it, but I never actually started thinking about going to games just to get the ground in until probably some time in the 80s. When I was at Plymouth – I went to Plymouth Uni 80-83 – on Saturdays when there wasn't much going on, I'd hop on the train thinking 'let's see how far we can get' with one or two friends. You could actually get as far as Manchester, see a game and get back. I found a whole group of people that did this, a lot of them came out of Cornwall, getting a train out of Penzance at 5.30 and many of them were season-ticket holders at West Brom, or Birmingham, or Man City even – they used to spend their whole life on the train, I think! I did take some trips to get a ground in, but it was more to go somewhere different.
One of my first away games in the 70s was at Derby, that was my first experience of going 'up north' and it just seemed a different world. I do remember we had our scarves trailing out the back of the car, and when we got to Derby, they smelt of smoke! It was a big industrial area, there was a lot of decay at the time but we just didn't see that in Essex, which I suppose was more of a thriving area and didn't have that heavy industry. It was a way of going to different places, quite interesting; I would never have gone to Oldham or some of these other outposts, Chesterfield – that was to get a new ground in and I went from Plymouth, we had a young lad called Danny Greaves [Jimmy's son] who was going to make his debut, He scored and we won 2-1, we thought we'd got the new Greavsie but that didn't work out, he played about 30 games and that was it!
Finally, it wasn't until about 2015 I thought 'right, I really would like to do the 92' – I kept getting close in the 80s, then a couple of clubs moved grounds, another would get relegated and I'd go back down again. I'd been around 80-ish [of the 92] for ages and my eldest son was up in Newcastle at the time, and he was coming back home so we hatched a plan to go to games together again and do the remaining grounds. We did about eight or nine in quick succession, from October 2015 to April 2016, to complete it.
What has been the effect of changes since Hillsborough and the Taylor Report – what have we gained, and what have we lost in terms of watching football?
I've read your book [Before the Premier League] and the interviews in there say very similar things to what I would say – we've lost the common touch, we've lost in terms of being able to relate to the players. The Premier League is so far removed from reality, it makes you feel against it, really, but it was always going to happen. I mentioned earlier feeling fairly safe in the 70s – in the 80s it wasn't, you were all too often in situations where there were problems in grounds, it was all around you, and crowds were falling. When we played Liverpool in '79 [at Southend in the FA Cup], there was a guy going round the West Stand with a loudspeaker, telling people to move back because you had 30,000 people in a ground which only usually had 5 or 6,000. People were rammed in – but that was the extent of the safety.
I saw Plymouth play at West Brom in the Fifth Round of the Cup in '84, 5,000 Argyle fans turned up without a ticket and we were all shoe-horned into this small corner of the ground – the rest of it was fairly sparsely populated but the away fans had to go in this section. That was the closest I ever got to people around me being hurt, I was generally OK. There were one or two other situations like that, I mean watching Southend it didn't get too crowded a lot of the time anyway.
Something was going to happen but they rushed into it, they didn't think it through and the move to all-seater was perhaps inevitable but you do lose the atmosphere. You have people sitting together who didn't really want to sit next to each other, but that's where their season ticket placed them. In some instances it worked, when I had a ticket in the family stand with my son, we got to know people around us quite nicely, which we wouldn't have done in the days of watching from the terrace. That's a positive, but you lost the groups of people that used to gather and create noise. For Southend, safety-consciousness and the way the fans had to flow into the ground meant the home end had to become the away end, because it was easier to control the away fans there. So they're in the North Bank, the spiritual home of the Southend fans, and the North Bank creates the best atmosphere in terms of the roof.
These changes had to be paid for, so the cost of getting in was always going to go up, although – it's not the question – I don't think it's the main reason costs have gone up. That's from opening up the game to foreign footballers and forcing up wages, which have just spiralled up and up since. So much influences what goes on in football – in the early 80s it was youngsters wearing Pringle jumpers and street gear, there wasn't a club colour to be seen. There's so much that goes to make up the atmosphere of a football ground – it has changed too much, but some of it is better. You can still have trouble in seats, it could just be better managed, much as it could if people were standing up. Seating does prevent over-crowding, which clearly had tragic consequences, not just at Hillsborough but in other situations.
Some of the grounds had to be improved – we do look at these things through rose-tinted glasses sometimes. I went to Somerton Park, where Newport played, the place was a slum, crumbling, falling to bits, and there were more grounds like that but we tend to think of them now with nostalgia. There's a famous picture of Halifax, The Shay, and a burger fan sitting on top of the terrace – and it was just a dump! But an interesting dump, whereas now you have Southampton looking like Middlesbrough, and the only thing that's different between 30 or 40 grounds is the colour of the seats. For someone that's interested in going to grounds because they're different, you lose something.
Part Two to follow.
Roots to the 92 on Amazon
Andy online: Twitter & Facebook @RootsToThe92 @SUEPAssoc (Southend United Ex-Players' Association)
Roots Hall photographs by David Shields of Stadium Photography