The Netherlands: Foreign Players in the Football League – Part Four
Another look at Dutch players in the Football League during the 1980s, with the expert help of Jan Roskott: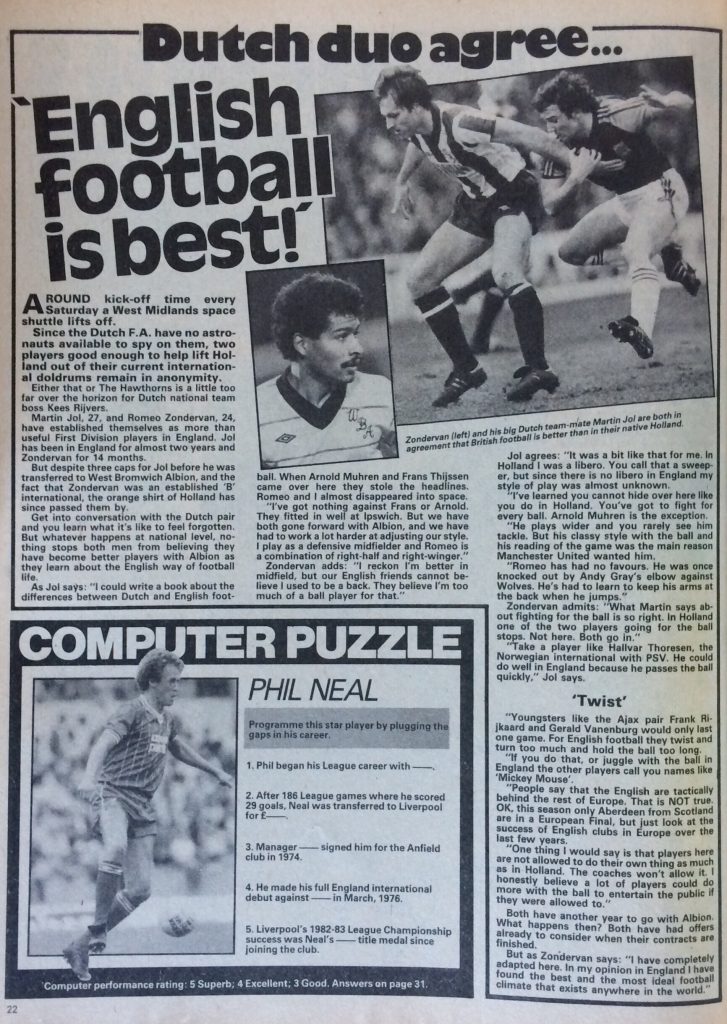 Johannes Franciscus 'Hans' van Breukelen – Nottingham Forest 1982-84
He was an up and coming keepers talent, very outspoken and Mr Positivo as he was called. He started his career at FC Utrecht where he was born and raised and it was clear that he would become a top goalie. The Dutch top clubs all had a good goalie at the time so when Forest came for him, he went. And he had a very good career in England, before PSV signed him to become their number 1. At the time, PSV had Pim Doesburg, a legend in his own right. Feyenoord had Joop Hiele and Ton van Engelen, both amazing keeper talents and Ajax had Piet Schrijvers, goalie for the Netherlands, like Joop Hiele.
His two years at Forest were a success and confirmation for PSV to bring him back. Van Breukelen would end up winning the European Cup and the Euros in 1988 with Oranje, stopping a spot kick in the finals.
He was a solid goalie but overall not very popular. His antics, his emotional behaviour, his political stance as a real union/socialist guy, it gave him an image of a troublemaker and holier than thou type. The typical football player (think Gascoigne or Keane) was not going to be happy with that behaviour and players like Lerby, Gullit, Koeman and Van der Gijp would tell him to 'Shut the F up' regularly. Goalies are all a bit mad, and this statement really applied to Hans.
He battled with (lazy) Romario at PSV and ended up getting fined for his vocal protests and when he ended up gifting Feyenoord a goal in a key match (the ball didn't bounce up from a little irregularity on the pitch) he became such a laughing stock that he even contemplated suicide (as he would say later).
He was pushed out by PSV as he wanted to take the role of technical director at the club. PSV picked Arnesen for the role and Van Breukelen wanted out. Ajax offered him the job as second goalie but he balked at that. He would start a business career and started speaking engagements but returned in football as the technical director at FC Utrecht, his first love. The board lost confidence in him and he decided to leave to do corporate training and public speaking.
He would also become a board member at PSV and joined forces with a sports consultancy buro which was able to infiltrate the Dutch FA with catastrophic results. Van Breukelen was named Technical Director of the KNVB and literally every dossier at hand was a screw up, with the appointment of two national team managers as the biggest failure (Henk ten Cate and Dick Advocaat). Van Breukelen would deny having giving the job to Ten Cate and basically said Ten Cate was a liar. What Van Breukelen didn't know, was that a Dutch sports journalist was in the car with Ten Cate when Van Breukelen gave him the job and he was ousted as a liar himself.
This was the end of him at the KNVB. He is back at the PSV board where he is seen as the man who pushed TD John de Jong out for not selling Cody Gakpo to Southampton last year.
Antonius Wilhelmus Matthias Theodore 'Toine/Tony' van Mierlo – Birmingham City 1981-82
Toine is the short version of Antoine, the French version of Anthony, so Tony was the logical name for him in England. Van Mierlo was a fast winger, from the south of Holland. Somehow in those days, the top clubs (Ajax Amsterdam and Feyenoord Rotterdam) were not overly happy signing players from the south as these allegedly lacked the personality and directness needed to be a pro player. Typical early examples were Willy Brokamp (Ajax) and Pierre Vermeulen (Feyenoord) who were seen as talented as Piet Keizer and Peter Ressel but were always a bit more introverted and humble.
He was developed at PSV but never made it big, until leaving for Willem II, also in Holland's south province of North Brabant (huh?) and he impressed on the left wing for them in the late 70s / early 80s. It got him three caps in Oranje, in a time when top talent was scarce (post-Cruyff, Neeskens, Van Hanegem). He left for Birmingham City where he played one season and left during the second season, scoring 4 goals in 44 games. He would return to Willem II for one season and left for Belgium where he played for another seven seasons.
After his playing career he would become chief scout for Willem II and technical director at Roda JC in Limburg.
Like van Wijk and others, he was seen as "just not good enough" for the Dutch top level and went prospecting for gold in England (and Belgium) where we hardly saw him, back in those days.
He was lightning quick and a good goalscorer, but didn't speak to the imagination like the likes of Keizer, Swart or Moulijn.
Dennis Johannes van Wijk – Norwich City 1982-86
He is the son of legendary Ajax youth coach Hassie van Wijk, who was instrumental in the 70s and 80s for Ajax. Dennis played as left back and was developed at Ajax but never made it into the first team and left for Norwich City in 1982. He would stay there for four seasons, winning the League Cup and second division championship. In that final he caused a penalty for Sunderland, but they missed and Norwich won. He would move to Club Brugge where he would win the league and the national cup. He made a return to Ajax in 1989 under Beenhakker only to leave after one season. He would also return to Club Brugge and end his playing career at Knokke. Dennis became a coach and was predominantly active in Belgium where he almost literally coached every club it seemed: Cercle Brugge, Oostende, Mons, Beerschot, OH Leuven, Mechelen and more. In the Netherlands he managed Willem II but left due to bad results.
As per usual, the Dutch coach was considered very blunt and direct in Belgium – as they all consider the Dutch too direct – but it became Van Wijk's identity. He was also always open and direct in his interviews. Van Wijk was a real pragmatic coach. When he was at Roeselaere in 2008, he only had 100,000 euros to sign players to keep the team up. He didn't rely on data but called his network. He was able to rent out seven players he didn't need, increasing his spending budget with another 50,000 euros. He found Sherjil MacDonald at West Bromwich and could sign him for 35,000 euros. Van Wijk had scouted this player for West Brom and knew exactly what he could bring. Ivan Perisic was signed for nothing! He was considered a difficult lad and most clubs were not convinced. Van Wijk had breakfast with him and decided he could mould him. The rest is history, as these two were important in keeping Roeselaere in the league.
In Holland, Van Wijk wasn't really rated as he never played for Ajax 1. We only knew him as the son of Hassie and a talented but somewhat sensitive player who was technically gifted but not good enough for Ajax. When he left for Norwich, we lost track as in those days, Norwich was not a team we'd see on Dutch telly. His stint at Willem II was not a success so he never really came on anyone's radar.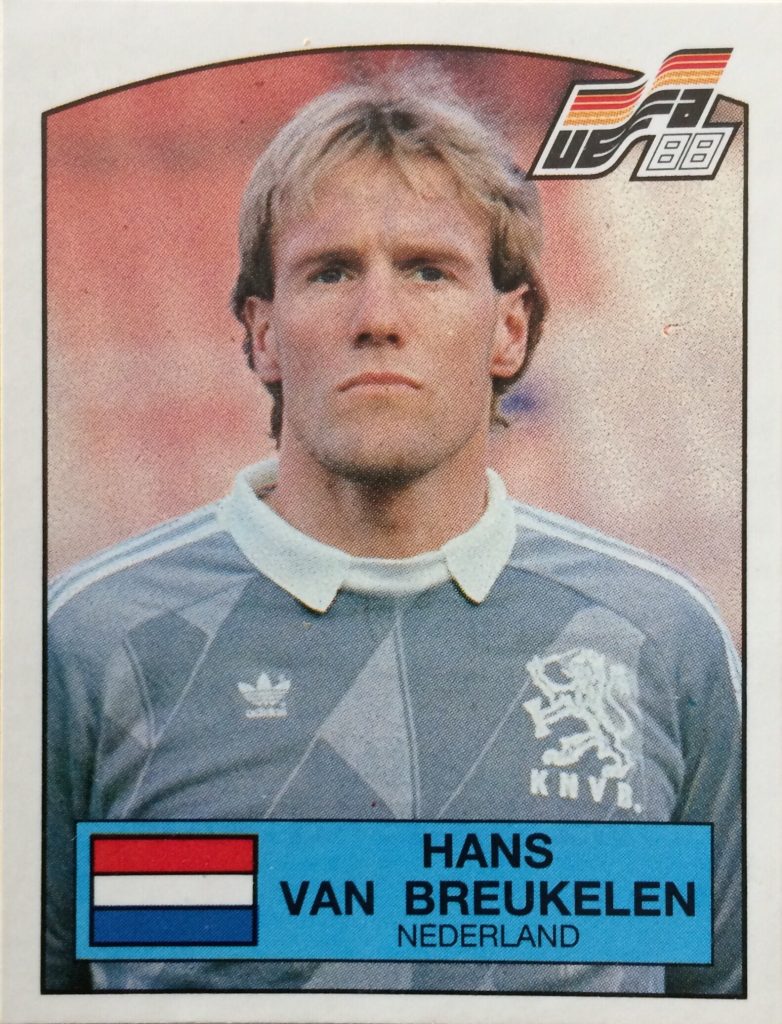 Romeo Eugene Zondervan – West Bromwich Albion 1982-84 / Ipswich Town 1984-92
He was in first instance remarkable due to his name. As you know, many Dutch people have "van" in front of their surname. Meaning "They are from"… Marco van Basten's family probably came from "Basten" (no idea where that is) or Van der Vaart, Van Nistelrooy, Van Bommel, Van Dijk, Van Bronckhorst etc. At times you meet someone who is named "Dijk" and when their names is put to paper, they usually add "zonder van". In English: "without van". So the name Romeo Zondervan is as if something else needs to be added. Romeo Van Basten zondervan, means Romeo Basten. But there is nothing added, so Zondervan is a funny name.
He is from Suriname origin and was a talented midfielder. All round player. He started his career at FC Den Haag, which used to be a sub top team in Holland. He moved to Twente after one season and was quite important there for them. He made the move from Twente, which had a top team back then, as they have now, and Romeo made a name first at West Brom – where he played with Martin Jol, also ex-Twente – and later at Ipswich. He'd play 274 games for the Tractor Boys, where he captained them for two seasons and got promoted to the EPL in 1992. He played his best football there. He was player of the year in 1987 for Ipswich.
In the autumn of his career he moved back to Holland to play for NAC Breda, where he retired after five (!) seasons.
He was seen as a success in Holland, as he played for Ipswich, a popular club in Holland and he did so for many a season (some Dutch players never played longer than one or two seasons in England). Romeo played 15 caps for the U21 Oranje team and one cap for the big Oranje, in a game vs Cyprus.
He would become a scout for Ipswich after his career and was also representing Collins John in his transfer to Fulham. He is also a qualified pilot. He was one of the more successful transfers from that period.
[Note: Romeo Zondervan made by far the most league appearances of any Dutch player in English football before the Premier League, clocking up 358 matches in ten years. Only in later years did Arjan de Zeeuw (443) and George Boateng (388) overtake his total.]
The arrival of foreign (including Dutch) players to the Football League from the end of the 1970s is one of the topics discussed in my book Before the Premier League: A History of the Football League's Last Decades.