Continuing an in-depth look at the Dutch players in the Football League between 1978 and 1992, with the help of Jan Roskott:
Fransiscus Leonardus Albertus 'Frans' Koenen – Newcastle United (1980-81)
All I know is that he moved to Newcastle from NEC Nijmegen on a two-year deal. He was a winger (currently football coach in amateurs) and he got injured badly, which ended his Newcastle career. He returned to the amateurs only to make it in pro football again later in his life. He played for Vitesse Arnhem among other clubs. I am not sure if and how the Dutch fans viewed this.
Johannes Hermanus Petrus 'Jan' Lohman – Watford (1981-86)
I don't remember him. He was a midfielder, played for Belgium side Lokeren and they sold him to Watford. He got promoted with Watford to the top league and played there for five seasons. He ended his career in Belgium. Apparently he was instrumental in Watford's promotion and scored the winner against Man United in an FA Cup match. In an interview he does speak of the popularity of English football in Holland and when Lokeren wanted to sell him, no Dutch club was able to pay his signing fee. Via Dutch defending legend Theo 'The Tank' Laseroms, who won the European Cup with Feyenoord, he got in touch with Watford.
Geert Meijer – Bristol City (1979-80)
I know him a bit better. Meijer was part of the infamous attack who played at FC Amsterdam, the second pro club in Amsterdam next to Ajax. They were a fighting team, always in the shadow of their rivals. A bit like Everton, probably. Nico Jansen was the striker, a Rambo type guy who would hospitalise goalies for fun. Gerard van der Lem was the right winger, Meijer the left winger. He got snatched up by Ajax where he played four seasons. He played with Bristol [City] for a year and returned to Holland to play for Sparta Rotterdam among other teams. As a coach, he'd coach amateur teams and assisted many coaches at Feyenoord (Arie Haan, Van Hanegem, Beenhakker). Meijer was a real dribbler, a typical left winger. Much criticised for being a bit complacent, like any left winger in those days… I don't think the Dutch were heavily impressed with this move or his tenure there.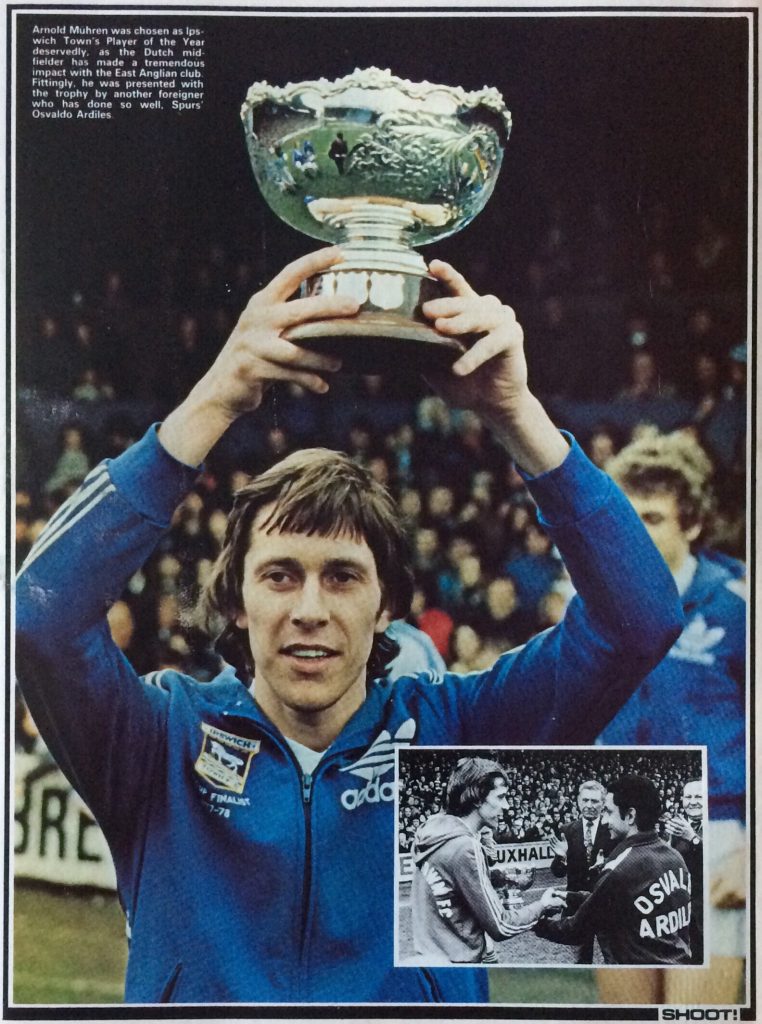 Arnoldus Johannes Hyacinthus 'Arnold' Mühren – Ipswich Town (1978-82) / Manchester United (1982-85)
He does not need much introduction. The younger brother of Ajax legend Gerrie. Born and raised in Volendam (Muhren is a typical Volendam name like Jonk and Veerman). There is currently a Robert Muhren as striker for Volendam, a Veerman (Joey) at PSV and Wim Jonk is currently coach at Volendam. It's the little Barcelona of Holland. Lots of highly technically skilled players for some reason (and vocalists and musicians too). Gerrie played for Ajax and Arnold was there too in the youth academy. Gerrie was made famous by keeping the ball up a number of times versus Real Madrid in the Bernabeu. Arnold actually played in that match as well. One of the few big games in an Ajax jersey.
Arnold couldn't get into the crowded Ajax 1 team and after a couple of seasons with FC Twente went to Ipswich. He's one of the few players to win all three European cups. Two with Ajax, one with Ipswich where he'd play four seasons before making the move to Man United. Him and Frans Thijssen – also ex-Twente – transformed the game at Ipswich and were influential in getting the English to play more of a continental, possession-based game. A gifted left foot and great vision. His most famous assist was a failed cross, setting up the Van Basten wonder goal versus the Soviet Union in the 1988 Euros. "I didn't hit that ball right and it ended up being my most famous pass". Arnold always was modest. Didn't act like a football star (Memphis Depay?) but was able to influence the game.
People wondered if the elegant artist could adapt to English football. He jokingly said later that English football adapted to him. In a way, I guess he was right. He signed for Man United as he really wanted the chance to play for a big club. After three years at Man U, Ajax actually wanted him back, where new coach Cruyff realised he needed experience to pair with his young talents. That got Muhren a spot in the Euros squad of Michels and the rest is history. Muhren is part of that group of players – Di Stefano, Best, Giggs, Weah, Rush, Cantona – who never played at the World Cup. Muhren was part of two massive Ajax generations: he was there when Cruyff, Neeskens, Krol and Rep invaded Europe and he was there when the generation of Van Basten, Rijkaard and Van't Schip did the same…
Muhren and Thijssen made us proud. They were players for Twente and not considered top in The Netherlands (they didn't play for Ajax, PSV or Feyenoord) but once they were in England, they really put the Dutch game on the map there. The expectations weren't high when they went, but once they were there a lot of Dutch fans became Ipswich Town fans.
Hendrikus Mattheus 'Heine/Heini' Otto – Middlesbrough (1981-85)
Interesting story about him. I don't know the exact names and dates, but he drove to the airport with goalie Jan Jongbloed who was selected for Oranje. Heini was going to drop him off. When the coach (Knobel) saw Otto, he said: You're a left-footed player, yes? Otto said: Yes. The coach said: park your car and go inside. I need an extra left-footed player because Van Hanegem can't come. You're an Oranje international now. It was for a friendly at Yugoslavia. Otto even made his debut as a sub. His only cap. 
He played midfield but could also play in attack and score goals. He was born in the centre of Amsterdam and his father was a gold merchant. He worked in the gold business and in a whisky distillery before becoming a pro player for FC Amsterdam. He'd move to Twente as well and went from Twente to Middlesbrough. He ended his career at FC Den Haag and would become a youth coach at Ajax.
Otto got the contract at Middlesbrough after playing some test games. He would stay there for four seasons and scored 24 goals in 166 matches. He scored on his debut vs Spurs and is considered a fan favourite of these bleak days for the club. The Dutch didn't follow the players too well, the ones in Italy or England but Otto's exploits did get into the papers, as he was a pioneer in England like Muhren and Thijssen. He is the only player in Holland to have scored two own goals in one match (versus Feyenoord).
The arrival of foreign (including Dutch) players to the Football League at the end of the 1970s is one of the topics discussed in my book Before the Premier League: A History of the Football League's Last Decades.