Everton v Liverpool, 1986 Charity Shield
The 1986 Charity Shield fixture captured Merseyside rivals Everton and Liverpool at the peak of their 1980s domestic dominance. At least one of the two appeared in nine of the ten Charity Shields during the decade (the only exception being Aston Villa-Spurs in 1981). Both clubs made regular Wembley appearances and met in the final stages of cup competitions throughout the 80s, winning seven consecutive league titles between them until the sequence was broken by Arsenal in 1989.
While Bob Paisley, Joe Fagan and then Kenny Dalglish had all built on the foundations laid by Bill Shankly at Anfield in the 1960s and 70s, Howard Kendall revived the fortunes of the Goodison Park club. A member of Everton's last title-winning team of 1970, Kendall took over as manager in 1981 after a decade without a trophy, and followed an FA Cup win in 1984 with League Championships in 1984-85 and 1986-87, plus the 1985 European Cup Winners' Cup. They had also won the previous two Charity Shields, beating Liverpool in 1984 and Manchester United the following year. However the ban imposed on English clubs after the Heysel Stadium tragedy of 1985 prevented them from testing themselves in the European Cup, and the club only returned to European competition in 1996.
The 1985-86 season ended with Liverpool, under newly appointed player-manager Kenny Dalglish, re-claiming the league title from Everton by two points. They also clinched a historic double at the expense of their rivals, as the FA Cup Final in May 1986 saw Gary Lineker open the scoring before a second-half come-back inspired by two goals from Ian Rush earned a 3-1 win for Liverpool. Both clubs had reluctantly agreed the transfers of their star strikers to European clubs. Lineker left Everton for Barcelona in a £2.75 million move, after his single prolific season at Goodison Park was followed by becoming top scorer at the Mexico World Cup. Liverpool had sanctioned the record £3.2 sale of Rush to Juventus, but negotiated an agreement for him to remain at Anfield for a final season before moving to Italy the following summer.
Everton were missing key players in Neville Southall, Gary Stevens, Pat Van Den Hauwe, Peter Reid and Paul Bracewell, who was out with injury for the whole season. Kendall did not buy a replacement for Lineker, and his spending was modest ahead of the season's curtain-raiser. As a result, several squad players featured at Wembley, including new signings 33-year-old Paul Power from Manchester City, Kevin Langley from Wigan and young winger Neil Adams from Stoke. The club's main summer signing, Dave Watson, didn't arrive until the eve of the new season when Howard Kendall spent £900,000 to bring the England defender from Norwich. Watson spent the next 15 years at Everton until his retirement in 2001.
Liverpool added only Barry Venison to their double-winning squad, bought from Sunderland for £200,000 and making his debut at Wembley. When Bruce Grobbelaar was forced off with a stomach injury early in the second half, reserve keeper Mike Hooper came on for his debut, a year after signing from Wrexham. Grobbelaar had been ever-present for five seasons. Several players from both sides had been on duty for their countries at the Mexico World Cup ahead of the long domestic campaign.
The clubs were to meet a further five times in the 1986-87 season, including League Cup and Super Cup ties. In the two-legged final of the Super Cup, a short-lived competition introduced as a substitute for European competition, Rush added five goals to his impressive tally in Merseyside derbies. Including the Charity Shield, he netted nine goals this season alone against Everton, and ended with a career total of 25 in the fixture. Despite Rush's scoring form, which brought him 40 goals in all competitions, Liverpool lost the title to their rivals. The league championship returned to Goodison Park for the last time to date, with Liverpool finishing as runners-up and trailing Everton by nine points. Their next Wembley meeting was in the sad circumstances of the 1989 FA Cup Final, shortly after the Hillsborough disaster, won 3-2 by Liverpool – and they have not met there since.
Match details for Everton – Liverpool; Wembley, Charity Shield Saturday 16 August 1986:
Everton: 1. Bobby Mimms, 2. Alan Harper, 3. Paul Power, 4. Kevin Ratcliffe, 5. Ian Marshall, 6. Kevin Langley, 7. Trevor Steven, 8. Adrian Heath, 9. Graeme Sharp, 10. Kevin Richardson, 11. Kevin Sheedy (sub Neil Adams; sub Paul Wilkinson). Manager: Howard Kendall. Scorer: Heath
Liverpool: 1. Bruce Grobbelaar (sub Mike Hooper), 2. Barry Venison, 3. Jim Beglin, 4. Mark Lawrenson, 5. Ronnie Whelan, 6. Alan Hansen, 7. Steve McMahon, 8. Craig Johnston, 9. Ian Rush, 10. Jan Molby, 11. Kevin MacDonald (sub Kenny Dalglish). Manager: Kenny Dalglish. Scorer: Rush
Attendance: 88,231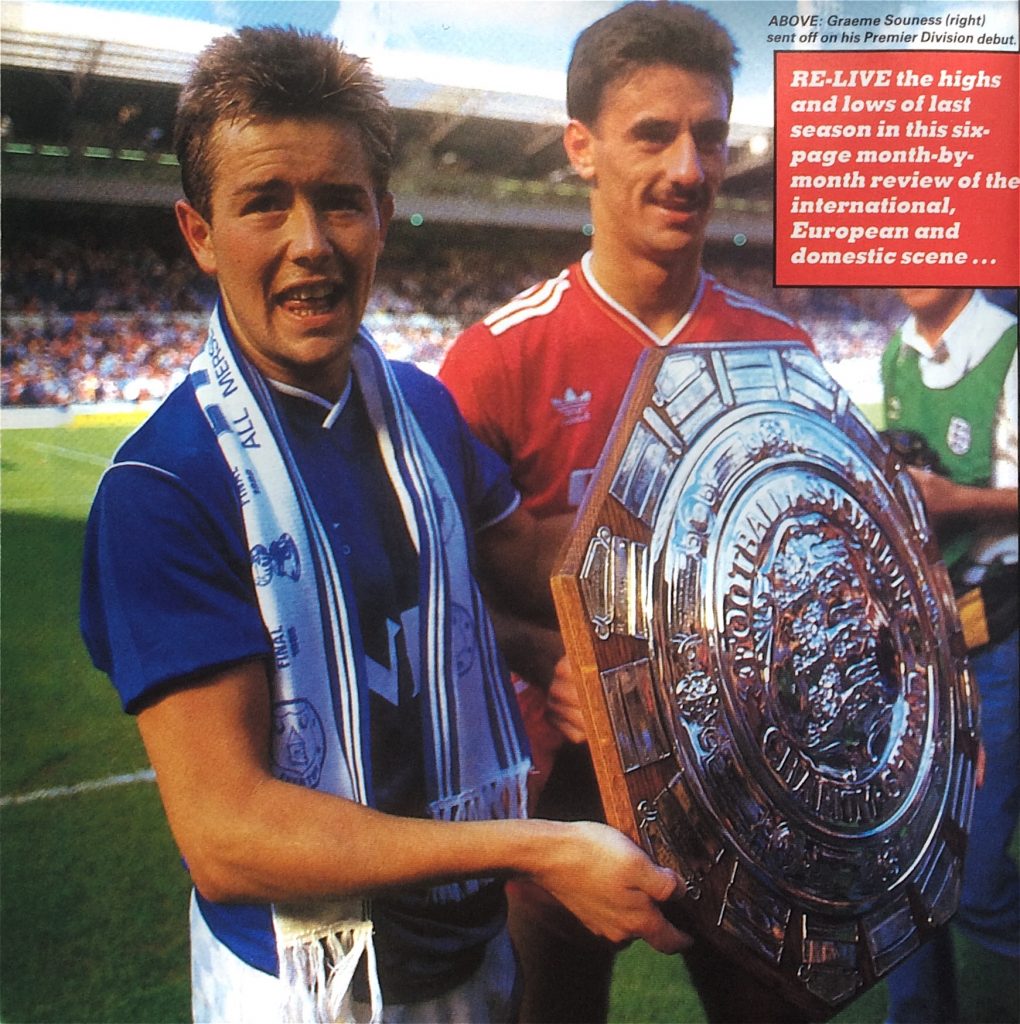 First contested in 1908, the Charity Shield was the traditional 'curtain-raiser' to the English league season. Until 1912 the match was played between the champions of the Football League and the Southern League. After various changes of format, from 1930 onwards it settled to a standard fixture between the Football League champions and FA Cup winners, usually played at the home ground of the league title holders.
By the end of the 1960s, the Charity Shield was losing its appeal – for three consecutive years in the early 1970s both the League Champions and FA Cup winners declined to take part (it was won by Leicester, Manchester City and Burnley). Its fortunes were revived by the move to Wembley in 1974; Brian Clough's first game in charge of Leeds for an explosive clash with Bill Shankly's Liverpool. That match saw Billy Bremner and Kevin Keegan sent off and was settled on penalties for the first time. Before and after that, the competition was shared in the event of a draw, until 1993 when penalties were re-introduced. 1991 was the last time the Charity Shield was shared, after a goalless draw between Arsenal and Tottenham. The fixture is now known as the Community Shield.