Leeds United v Everton, 1970
August 1970 brought an early-season meeting between Leeds United and Everton, England's top two teams in the previous season. Champions Everton had claimed their seventh league title in 1969-70, finishing nine points clear of runners-up Leeds. Each club had provided four players to the England squad for that summer's World Cup in Mexico: Jack Charlton, Allan Clarke, Terry Cooper and Norman Hunter from Leeds; Everton sent Alan Ball, Brian Labone, Keith Newton and Tommy Wright.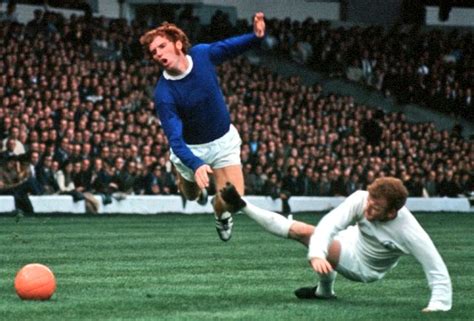 Leeds had claimed their first title in 1969, but in addition to finishing second in the First Division the following year, lost the FA Cup Final to Chelsea after a replay and reached the semi-finals of the European Cup. Leeds began the season determined to go one better in the league; this result came in the middle of five successive wins, in which these two were the only goals they conceded. However they ended 1970-71 as runners-up once again, agonisingly missing out to Arsenal by one point in the last game of the season. They found some consolation by winning the Inter-City Fairs Cup for the second time, defeating Italian giants Juventus on away goals in the two-legged final.
Meanwhile Everton began the season by winning the Charity Shield with a 2-1 win over Chelsea at Stamford Bridge earlier in August. They failed to defend their 1969-70 title, finishing a disappointing 14th. After winning the European Cup's first-ever penalty shoot-out against Borussia Mönchengladbach, Everton exited the competition in the quarter-finals, knocked out by Panathinaikos on away goals. This was the club's last attempt at Europe's top club prize until a Champions League qualifying defeat to Villarreal in 2005; although they were to win the league title twice more in the 1980s, English clubs were then banned from European competition.
The clubs' successful veteran managers Harry Catterick and Don Revie had both been in charge since 1961; Catterick was to leave Everton in 1973, while Revie took the England manager's job a year later. Since Everton's success in the 1980s and Leeds winning the last First Division title in 1991-92, the clubs have been unable to recapture their status of the 1960s and early 70s, winning only one major trophy between them in 25 years. They will meet in the top flight again in 2020, with Leeds returning to the Premier League after an absence of 16 years as winners of the Championship.
The two sides featured several future managers among the international stars on view – Billy Bremner, Allan Clarke and Eddie Gray all went on to manage Leeds in the 1980s. 1966 World Cup winner Jack Charlton retired in 1973 after a club record 773 appearances and managed Middlesbrough, Sheffield Wednesday and Newcastle before his successful spell in charge of the Republic of Ireland. Howard Kendall and Joe Royle were both later trophy-winning Everton managers; Kendall was succeeded in 1987 by Colin Harvey, who missed this game. It was Leeds captain Bremner, Footballer of the Year in 1969-70, who led the home team's fightback in this prestigious fixture which attracted a crowd of 46,718 to Elland Road.
Match details for Leeds United – Everton; Elland Road, Football League Division One, Saturday 22 August 1970:
Leeds United: 1 Gary Sprake, 2 Paul Madeley, 3 Terry Cooper, 4 Billy Bremner, 5 Jack Charlton, 6 Norman Hunter, 7 Peter Lorimer, 8 Allan Clarke, 9 Mick Jones, 10 Johnny Giles, 11 Eddie Gray. Manager: Don Revie. Scorers: Giles, Bremner 2
Everton: 1 Gordon West, 2 Tommy Wright, 3 Keith Newton, 4 Howard Kendall, 5 Brian Labone, 6 Sandy Brown, 7 Jimmy Husband, 8 Alan Ball, 9 Joe Royle, 10 John Hurst, 11 Johnny Morrissey. Manager: Harry Catterick. Scorers: Brown, Husband
Attendance: 46,718