The Netherlands: Foreign Players in the Football League – Part Five
The supply of players from the Netherlands to England began to slow towards the end of the 1980s. With financial problems, hooliganism and the European ban on English clubs after Heysel in 1985, the Football League became a less attractive destination. Few Dutch internationals moved to the First Division. Hans Kraay Jr. had one of the earliest low-profile stints in England when he spent a couple of seasons with Brighton in the mid-80s, earning cult status. At the end of the decade and into the early 1990s, there was still a strong connection between the Netherlands and English football but Dutch arrivals often played below the top division.
To round off our series on this era, Jan Roskott looks at some of the lesser-known names and notable contributions of this last generation of imports before the Premier League:
Raymond Atteveld – Everton (1989-92) / West Ham United (loan, 1992) / Bristol City (1992-93)
Amsterdam-born Raymond came up through the academy in Haarlem, where he made a name for himself as a tough tackling midfielder, with street smarts.
He was the first player from Holland to play for Everton. He didn't set Goodison on fire and moved on loan to West Ham where he only played one match. The Everton supporter probably best remembers him for taking his kit off on the pitch at the end of the season and throwing his kit into the crowd.
After West Ham he even played for Bristol [City] for a spell and after this he resurfaced in Belgium. He returned to play for Roda JC in Holland, Vitesse, FC Groningen and ADO Den Haag.
Atteveld had a bit of a temper and ended up collecting a large number of yellows and reds. He was a player in the same vein as Nigel de Jong (not as good): tough and focused on only one thing: winning. His team-mates loved having him in the team, the opponents hated playing against him.
He's currently working as assistant coach in Ukraine. The journeyman had stints in several countries: Israel, Cyprus and in The Netherlands as well.
Danny Hoekman – Manchester City (1991-92) / Southampton (loan, 1992)
Every now and then a left or right winger emerges and you just know by watching them move: they're going to be big! I saw the likes of Bryan Roy, Arjen Robben, Robin van Persie and Marc Overmars make their debuts, and you just knew. Danny Hoekman was one of those guys. Super skilled, quick, great dribbler and the looks of a rockstar, with the long hair and the baby face. The left-footed player came through the ranks for NEC Nijmegen.
Hoekman was a bit of a rebel, who at times decided to be his own judge and jury. He was suspended at Roda JC (he went there after NEC) for hitting his coach. In a match versus Feyenoord, Hoekman played defender Troost completely dizzy and when the Feyenoord icon taunted Hoekman, the little dribbler gave the tall defender a smack, resulting in yet another suspension. West Ham United wanted to pay big money for him but he decided to stay in Holland. At VVV, in 1987, he was heavily injured as a result of a very bad tackle by the FC Utrecht goalkeeper, a bit like Van Dijk's injury by Pickford. Hoekman was out of the game for a long time and his speed and confidence will have had quite a blow.
A photo of the tackle on Danny Hoekman
He would make it to England as Man City signed him but he never played a lot for them. A loan spell at Southampton also didn't result in much fireworks and he returned to Holland where he'd end his career at NEC where he was part of their team of the century, as voted by the fans. He played for Young Oranje and the Dutch Olympic team and went through the youth teams with the likes of Gerald Vanenburg and Marco van Basten. Due to his injury, he never fulfilled his promise. A Dutch civil court – after 14 years of court proceedings – rewarded him with damages to the tune of 12 million euros. After his playing career, he became a coaching journeyman with gigs in Finland, Holland, Abu Dhabi, Qatar, Germany, Belgium and Saudi Arabia. He became an international scout and lives in Spain now.
Nicholaas 'Nico' Jalink – Port Vale (1991-92)
Jalink was a prolific box to box midfielder, who spent the majority of his career in The Netherlands. Starting in Rotterdam with Excelsior, he'd play for AZ Alkmaar, Fortuna Sittard, RKC Waalwijk and – mostly – Sparta Rotterdam. Feyenoord wanted him but he decided for an adventure to England. He had one season at Port Vale in England, where he played 28 matches and scored only one goal. He had a test week at Man City after that season but decided to return to Holland. He was always seen as a player who could make a step up, to the top, but he never did. Jalink was a player who would normally not register but he'd be so important for any team. If a team like Feyenoord or PSV would have picked him up he would probably have settled in at that level and do his thing. He used to coach for Sparta's youth system and was head coach of the DOTO amateurs. He owns and runs a discotheque in the town of Brielle.
Hans Kraay Jr. – Brighton & Hove Albion (1983-85)
He deserves a book (there is one already). Hans Kraay Jr is the son of Hans Kraay… you guessed it… Sr. Senior was a legendary Dutch defender. Tough as nails and a terrific header of the ball. He was part of the successful Feyenoord team in the 1960s and played for the Dutch national team. Hans Junior was a talented youngster at Feyenoord but simply not talented enough. While his dad would go on and become the coach of all three top clubs in Holland (PSV being the club where he had most success), Hans Junior had to make do with roles at relegation clubs. But first he moved with his dad to AZ, where his dad would be the head coach.
He never played for AZ and decided to move to Canada to play for the Edmonton Drillers. He returned to play for Excelsior Rotterdam and left for the States to play for San Jose. He would return for Haarlem and NAC Breda, to return to the Edmonton Eagles and from there he went to Brighton and Hove Albion. He played there for two seasons and when he returned to Holland he had a string of short spells at lower-level clubs, like Eindhoven, De Graafschap, Dordrecht, Telstar and Den Bosch.
Where his dad was tough but also high quality, Hans Junior was basically only tough. He had the face of a pop star but the mentality of a killer and still has the record of most yellow/red cards in the Eredivisie. He also has the record of most games suspended in a row (23 matches) for hitting a referee. Where his dad was also a dead serious man, son Hans took after his mum, extroverted and clownish where he could be. After his active playing career – he quit at 38 – he became a TV personality and even had a hit pop record. His first TV work was to be the clownesque presenter of silly quiz shows, but he made it into a respected sports reporter, as he currently is one of the key guys at ESPN The Netherlands. He was also a fairly successful head coach of the top-level amateurs in Holland with Lienden. Party boy Hans was married four times and modelled his life on his hero George Best. Interestingly, his dad Hans Senior – God rest his soul – was appalled regularly by the vulgar humour and violent tackles of his son.
While all Hans Junior wanted, was some acknowledgement from his legendary dad.
As a TV presenter, he had truly hilarious interviews with national team coach Louis van Gaal, who despised Kraay and couldn't let him finish an interview in a normal way. And even though he had several spells in the Americas and England, Kraay's English is incredibly bad and highly comical.
[Video: Hans Kraay Jr shown the 'Fastest yellow in the history of Dutch football']
Kenneth John 'Ken' Monkou – Chelsea (1989-92) / Southampton (1992-1999) / Huddersfield Town (1999-2000)
Part-time male model Ken Monkou came through the amateurs in The Hague and was picked up by Feyenoord Rotterdam, where he played for three seasons. The lanky, elegant centre back was a modern defender, with length, and speed and always looking for the footballing solution. He was actually a bit "un-Feyenoord-like" as at that time the Rotterdam club was in disarray, financially and technically, and bigger clubs were keen to swoop in and lure him away. He was one of the first Feyenoord players to move to England where he played two spells for Chelsea and seven years at Southampton.
Chelsea scouted him when Monkou played a friendly match against Chelsea manager Bobby Campbell's son and impressed. He was voted club player of the year in his first season, a first for a black player at the Bridge. Chelsea had some racist elements amongst its followers and Monkou was initially booed by the home fans. He fought against relegation with Southampton but managed to stay in the EPL during his stay, even scoring a last-minute winner against Norwich to remain up in the League. He would finish his career in 2003 at Chelsea again, under Ranieri, but the day before the game he was supposed to feature in, he got injured. Robert Huth took his place and Ken never played football again. Not many people realise this.
Back in Holland after his career, he had a Dutch pancake restaurant and was involved as a pundit with Chelsea TV.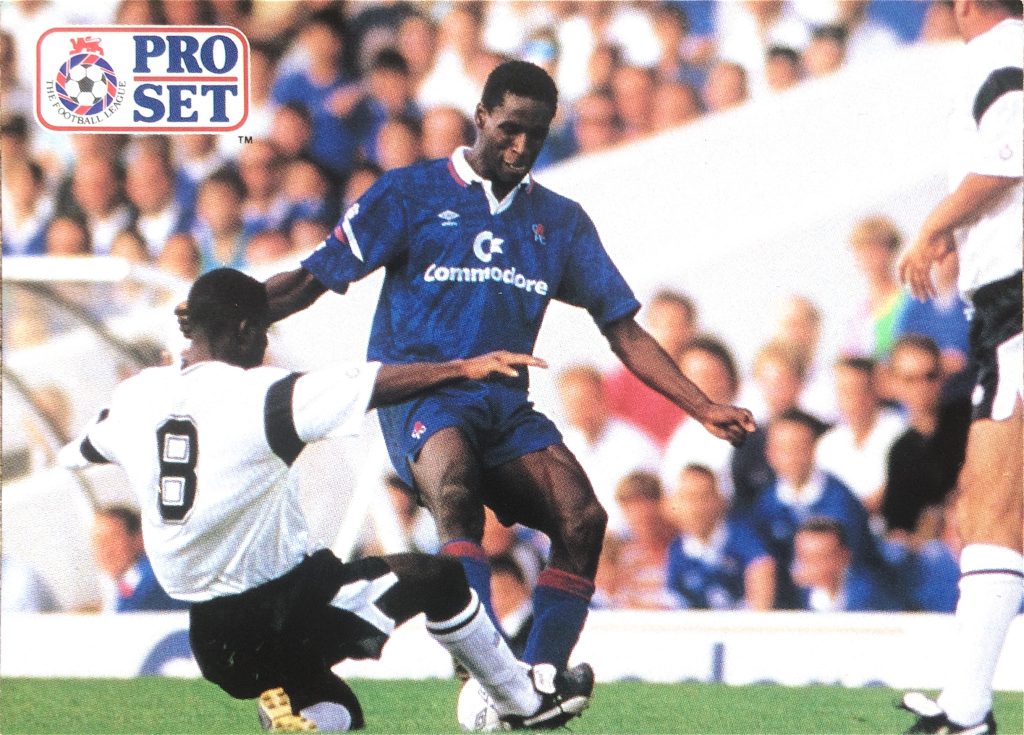 Michel Vonk – Manchester City (1992-95) / Oldham Athletic (1995-96) / Sheffield United (1996-98)
Michel is the son of Theo Vonk, a buff defender from the golden 70s, who played 300+ games for AZ Alkmaar (back then AZ '67). Theo Vonk was also the successful coach of Sparta Rotterdam in the 1980s, coaching them to the subtop (again) of The Netherlands and he was there when Sparta had some success in Europe too. He coached in Spain and Germany as well. His last coaching job was at Gibraltar.
Michel Vonk was a defender like his dad and he went through the AZ youth system before he was transferred to Man City where he'd play three seasons in the early 90s. Peter Reid brought him in and he played 91 league games, scoring 4 goals. After criticising then-manager Brian Horton, he was suspended and fined. Alan Ball sold him to Oldham and he moved on to Sheffield United afterwards but couldn't impress due to a series of injuries. He moved back to Holland to play for MVV Maastricht, but more injuries forced him to retire. He was youth coach at PSV and assistant coach at Sparta, where he later would be head coach for one season.
Famous anecdote with Vonk involved… In a Manchester derby, Vonk was up to head a ball away in a direct duel with Cantona. Cantona fouled Vonk and the ref whistled. Apparently, Roy Keane went nuts and started yelling at the ref, "how can you make such a stupid mistake!" and the ref allegedly said "no no Roy, I'm whistling in your benefit, it's a penalty…". Apparently the refs were scared of Roy Keane…
[Note: With Hans Segers, Vonk was the first Dutchman to appear in the Premier League's opening fixtures – his goal for Manchester City against Oldham Athletic on 29 August 1992 made him the first Dutch goalscorer in the competition's history.]
Ulrich Wilson – Ipswich Town (loan, 1987-88)
A product of the Ajax academy. Left-back who had a loan spell with Willem II before signing for Twente. He was put out on loan to Ipswich where he only played six matches before returning to Holland, where he went to play for FC Groningen. Here he had his best spell, playing around 150 matches for the club, at a time when Groningen threatened the top three and played European football with icons like Jos Roossien, Jan van Dijk, Edwin Olde Riekerink and John de Wolf. He ended his career at second level, at Emmen and later Volendam.
He was a typical Ajax back, good on the ball and keen to attack.
I don't know too much about him other than that he was a very decent player and after retiring I believe he had some trouble with the law but I am not 100% on this.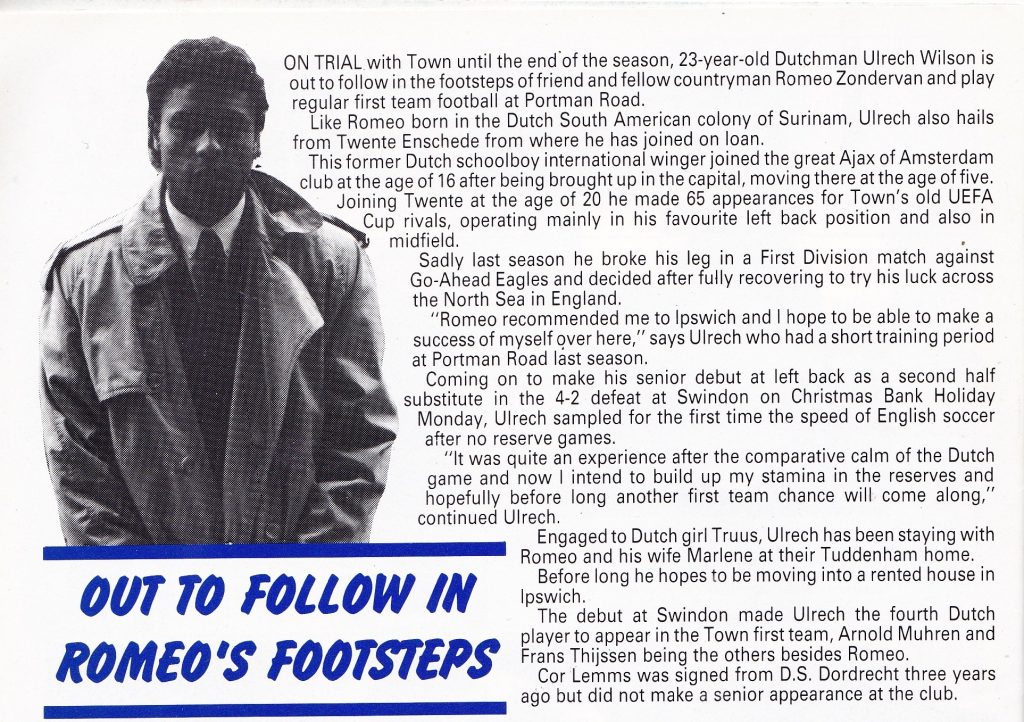 Note: The group of Dutchmen playing in England during the 1970s, 80s and early 90s is completed by a handful of names. Goalkeeper Nico Schroeder had the distinction of becoming the first foreign player in the Football League after the UK entered the Common Market in 1973. Signing for Swansea City as a non-contract player in the summer of 1976, he made a single League appearance at Stockport. Cor Lems was close to joining Ipswich Town's list of Dutch players, having a trial in the summer of 1982 and taken on loan the following season – only to return to the Netherlands without making a first-team appearance.
Another player seen only once, Pierre Essers made little impression after joining Walsall in 1991. Robin van der Laan by contrast spent a successful decade in England with Port Vale, Derby, and Barnsley, reaching the Premier League along the way. Eric van Rossum's was a fleeting loan spell at Plymouth in early 1992, while Etienne Verveer spent three years at Millwall from 1991 before playing for Bradford on loan.
The arrival of foreign players (including many from the Netherlands) to the Football League at the end of the 1980s and early 1990s is one of the topics discussed in my book Before the Premier League: A History of the Football League's Last Decades.