Portsmouth v Southampton, 1987
Portsmouth hosted Southampton at Fratton Park in August 1987 in the first-ever meeting of the two clubs in the top division of English football. The former Southern League rivals had first met in the Football League in September 1920 as members of the newly-formed Third Division.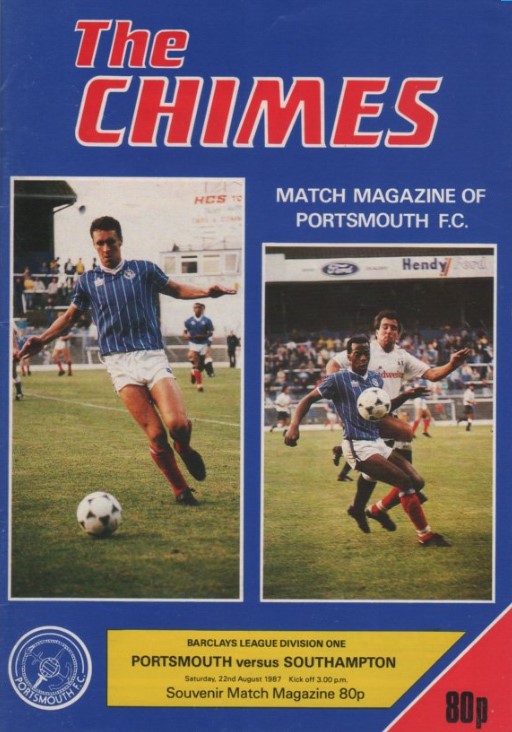 Promoted in May 1987, Pompey were returning to the First Division after nearly 30 years. They had been relegated in 1959 only a decade after winning back-to-back league titles in 1948-49 and 1949-50, and were a Fourth Division team at the turn of the 1980s. Southampton were by then competing at the top level since promotion to the First Division in 1978, becoming a force under Lawrie McMenemy. This was the first league meeting of the South Coast neighbours since a Second Division fixture, also at Fratton Park, in April 1976. They had last met in the FA Cup in January 1984 on the same ground, when Steve Moran scored a last-minute winner for the Saints.
The respective managers were former team-mates at Southampton, Alan Ball and Chris Nicholl. Ball was one of English football's biggest names, a 1966 World Cup winner and League Champion at Everton before a British record transfer of £220,000 to Arsenal in 1971. Five years later he moved to Southampton, where he enjoyed two playing spells up to 1982. He took over as Portsmouth manager in May 1984, where he stayed until his sacking in January 1989. Ball was Southampton manager during 1994 and 1995, leaving for Manchester City and then returning to Portsmouth in February 1998. That proved to be his final managerial role, lasting until the end of 1999. Alan Ball died in 2007, aged 61.
Nicholl had joined Southampton as a player from Aston Villa in 1977 and was a key member of the side which established the Saints in the First Division. He represented Northern Ireland in their surprising 1982 World Cup campaign before retiring in 1984. Nicholl had the difficult task of taking over from McMenemy on his departure for Sunderland in the summer of 1985. He remained manager at The Dell until May 1991, achieving a highest league position of 7th in 1989-90.
Pompey fielded a number of experienced top-tier players including the late former England centre-forward Paul Mariner as an emergency central defender and Kenny Swain, a league and European Cup winner at Aston Villa. Ex-Crystal Palace duo Billy Gilbert and Vince Hilaire, together with Noel Blake and Kevin Dillon, all had experience at the highest level. Portsmouth were looking to Mick Quinn, prolific in the lower divisions, for goals. Ball had brought in two strikers – former Saint Ian Baird and Terry Connor – to support Quinn. His other summer signings were Barry Horne (later to move to Southampton), and further seasoned First Division players in Mike Fillery, Malcolm Shotton, Ian Stewart and Clive Whitehead, a member of the Bristol City side which returned to the top flight after a long absence in 1976.
Southampton had also been active in the transfer market, having to replace England duo Peter Shilton and Mark Wright who were both sold to Derby. They were replaced by veteran keeper John Burridge, who would share the no. 1 shirt with young Tim Flowers, and Oldham Athletic's Kevin Moore. Former England international left-back Derek Statham arrived after a long career at West Brom and a failed medical with Liverpool the previous season. Southampton also had an experienced core, with Graham Baker, Kevin Bond, Jimmy Case and Glenn Cockerill already in the squad.
Southampton's promising young players introduced by Nicholl included Matthew Le Tissier plus the Wallace brothers, with Ray and Rod now emerging alongside Danny. Andy Townsend, signed by McMenemy from Weymouth two years earlier, was establishing himself in midfield. Up front, Colin Clarke had proved his worth after a £500,000 move from Bournemouth with 20 First Division goals in the previous season. The Northern Ireland international later ended his career at Portsmouth. Young striker Alan Shearer would break into the first team before the end of the season, announcing himself with a hat-trick on his full debut against Arsenal in April 1988.
Match details for Portsmouth – Southampton; Fratton Park, Football League Division One, Saturday 22 August 1987:
Portsmouth: 1. Alan Knight, 2. Kenny Swain, 3. Paul Hardyman, 4. Clive Whitehead, 5. Paul Mariner, 6. Billy Gilbert, 7. Mike Fillery (sub. Kevin Dillon), 8. Mick Kennedy, 9. Ian Baird, 10. Micky Quinn (sub. Lee Sandford), 11. Vince Hilaire. Manager: Alan Ball. Scorers: Hilaire, Whitehead.
Southampton: 1. Tim Flowers, 2. Gerry Forrest, 3. Derek Statham, 4. Jimmy Case, 5. Kevin Moore, 6. Kevin Bond, 7. Andy Townsend, 8. Glenn Cockerill, 9. Colin Clarke, 10. Gordon Hobson, 11. Graham Baker. Manager: Chris Nicholl. Scorer: Clarke 2.
Attendance: 20,161
Note: this was the first season where two substitutes were allowed for Football League games.
Portsmouth won the return fixture at The Dell on 3 January, 1988 – a crowd of 17,000 saw goals from Horne and Connor secure a rare away win for the visitors. However they were still relegated at the end of the season, deep in debt and not to return to top-flight football until 2003. Struggling for goals, penalty taker Dillon was their top league scorer with 9, followed by Quinn on 8. Mick Kennedy was sold to Bradford and Baird had returned to Leeds before the season was out. Meanwhile Clarke continued his scoring form with 16 First Division goals as Southampton finished safely in 12th place.
The crowds for both derby fixtures in 1987-88 reflected the ongoing recession in English football, with its finances, general appeal and attendances reduced in the midst of the European ban imposed in the wake of 1985's Heysel tragedy. It was a completely different era of increased audiences (in stadiums and especially on television), transfer fees and wages by the time of the clubs' next league meeting over 15 years later, in December 2003. That Premier League fixture was played at St Mary's Stadium, where Southampton had moved from their historic home of The Dell in 2001.
Both clubs suffered in the 21st century. Portsmouth's return to the top level for seven seasons – including an FA Cup win in 2008 – was followed by another fall to the lowest division after financial meltdown. They are currently in the third tier. Southampton finally lost their long-standing top-flight status in 2005 and dropped two divisions before successive promotions returned them to the Premier League in 2012.
The state of the Football League in the 1980s is one of the topics in my book Before the Premier League: A History of the Football League's Last Decades.