The 1982 World Cup finals
The 1982 World Cup tournament kicked off on 13 June at the Nou Camp, Barcelona. After all the months of anticipation and extensive build-up, Argentina met Belgium following the opening ceremony.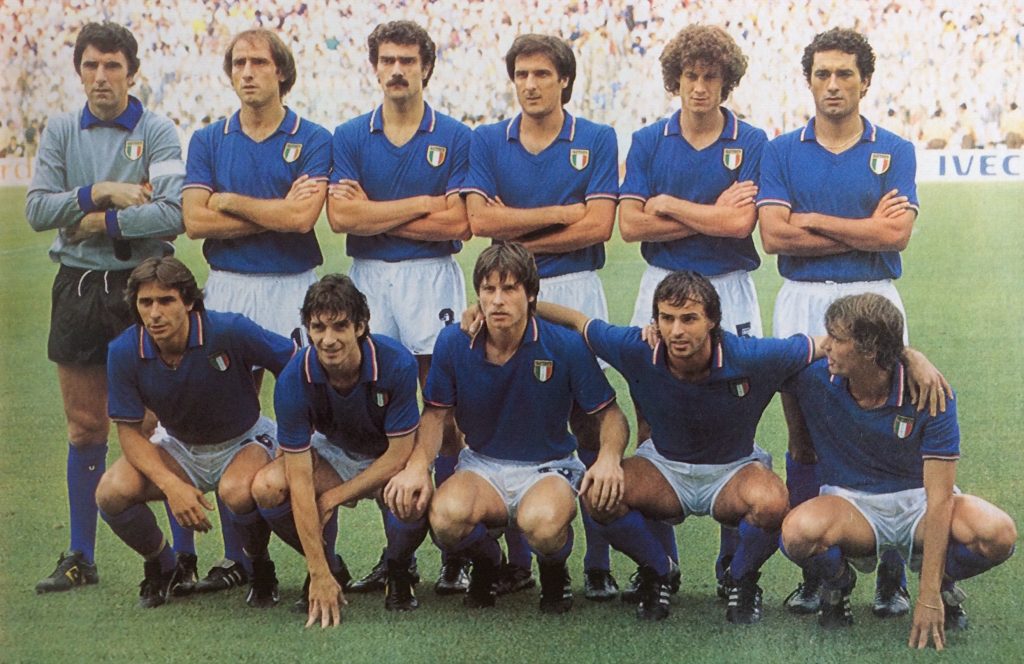 First Group Stage
[Group 3] Erwin Vandenbergh's surprise winner for the Belgians was the first goal in an opening match for 20 years as the holders were beaten. Argentina and their new star Diego Maradona recovered to qualify behind Belgium. In the same group, Hungary's 10-1 record crushing of the poorly-prepared minnows El Salvador suggested an unbalanced competition. László Kiss scored the first (and to date only) World Cup hat-trick by a substitute, also the fastest in finals history in only seven minutes as the Hungarians became the first side to reach double figures in tournament history. El Salvador was in the midst of civil war, sent only 20 players to Spain and had to borrow footballs from their opponents ahead of their opening game. The Central Americans however restored some pride in their remaining group games, only conceding three more goals. Playmaker Jorge 'Magico' González earned a move to Cádiz in Spain and the admiration of Maradona.
[Group 2] Fears that the World Cup's 'minnows' might prove an embarrassment were allayed within the first week by Algeria. Their spectacular 2-1 upset over European Champions West Germany was the first World Cup win for an African country against a European opponent. German manager Jupp Derwall had tempted fate by telling a press conference, "If we lose this one, I'll be on the next plane home." The failure to play the last group games simultaneously came back to haunt Algeria and cast a dark cloud over the whole tournament. The North Africans beat Chile 3-2 and looked to have progressed, ahead of Austria and West Germany's meeting the next day in Gijón. To the horror of the crowd, commentators and a worldwide audience, the Germans' 1-0 win at walking pace allowed both countries to escape the group. The 'convenient' result caused the match to be dubbed 'the disgrace of Gijón' and forced FIFA to ensure that all final group games kicked off simultaneously in future.
[Group 5] El Salvador's Central American neighbours Honduras performed creditably, holding Spain in their opening game and then Northern Ireland before a narrow defeat to Yugoslavia. The hosts struggled to cope with the pressure of the home crowds and played poorly but benefitted from refereeing decisions in all three games – penalties in the first two, and then the harsh sending-off of Northern Ireland's Mal Donaghy. The Irish had battled to two hard-fought draws before their memorable meeting with Spain in Valencia, where Gerry Armstrong's goal secured a famous and deserved 1-0 win. Both countries went through with Yugoslavia under-performing. Meanwhile Northern Ireland's Norman Whiteside made history, becoming the youngest player at a World Cup finals, previously Pelé's record.
[Group 1] The second African qualifiers Cameroon surprised many as they remained unbeaten in a low-scoring group containing Italy and Poland. The first four matches produced only two goals, and five of the group's six games were drawn. One more goal in any game would have taken Cameroon through at the Italians' expense. Goalkeeper Thomas N'Kono was their star performer and another to move to Spain afterwards, where he spent the rest of the decade with Barcelona's Espanyol. Paolo Rossi failed to score and manager Enzo Bearzot was heavily criticised for Italy's First Round performance, after they scraped through on goal difference with three uninspiring draws. The group's only real entertainment came in Poland's 5-1 thrashing of a disappointing Peru, with all the goals scored in the second half.
[Group 4] England began their first World Cup finals fixture for 12 years against France – after such a long wait, Bryan Robson scored after only 27 seconds in a 3-1 win. The goal was initially credited by some sources as the fastest in World Cup history, but two earlier strikes are recorded. England's fast start wasn't sustained with successively less fluent 2-0 and 1-0 wins over Czechoslovakia and Kuwait, though it remains the only time to date that they have won all three group games at a major tournament. France recovered to progress at the expense of a poor Czechoslovakia side who only registered two Panenka penalties. Rank outsiders Kuwait were competitive, and mainly remembered for a unique incident.
Group 4 saw one of the most notorious spectacles in World Cup history, when Kuwait's Sheikh Fahad Al-Sabah entered the pitch to protest against a French goal. The Kuwaitis had stopped on hearing a whistle – which came from the crowd rather than the referee. After the Sheikh's intervention, his players left the field before the Soviet referee Stupar disallowed the goal. France won 4-1 on their way to going through behind England. Sheikh Fahad was later killed at the start of the first Gulf War in 1990.
[Group 6] Favourites Brazil under Telê Santana struggled for 75 minutes against the Soviet Union in their opener in Seville, before two spectacular late goals set them on their way to topping the group with a 100% record and ten goals scored. Éder, Falcão, Júnior, Sócrates and Zico showed all their skills and captured the hearts of fans around the world. In a tough group, Scotland were to be frustrated at the last, a 2-2 draw with the USSR allowing the Soviets to go through on goal difference. They had briefly led against Brazil with the famous strike from David Narey which Jimmy Hill described as a 'toe-poke'. New Zealand predictably suffered three defeats, conceding 12 goals in the process.
Second Group Stage
[C] One of the World Cup's infamous 'groups of death' brought together former, current and future World Champions in Argentina, Brazil and Italy. The draw had seeded Argentina and Italy to top their groups and meet at the Nou Camp in this round. However that stadium was half-empty for the Group A clashes between Belgium, Poland and the USSR. Meanwhile Barcelona's second stadium, Sarrià, was filled to its 44,000 capacity for each game. The packed stands and proximity to the pitch helped to create an unforgettable atmosphere to accompany the on-field drama of this group.
With the formidable Claudio Gentile stifling Maradona, Italy finally won, 2-1 against Argentina. Brazil stepped up with another superb attacking display to then knock the holders out, 3-1. A frustrated Maradona was sent off at the end of the game, and would have to wait four years to show his true abilities on the biggest stage of world football. That set the scene for one of the finest contests of this, or any, World Cup between Brazil and Italy. A draw would have been enough for Brazil, but this was the day Paolo Rossi finally came to life with the hat-trick which took Italy through. With the Brazilians out, all four semi-finalists were European nations. While the Italians deserved their win on the day, the tournament lost some of its magic with the departure of a great side.
[B] England's group with Spain and West Germany was as dull as Brazil v Italy had been brilliant. The only goals came in the Germans' win over Spain, meaning England exited unbeaten after two goalless draws. Hampered by the injuries which restricted Brooking and Keegan to only the last 27 minutes against Spain, Ron Greenwood and coach Don Howe paid for an overly cautious approach. Perhaps Glenn Hoddle (largely left on the bench) and Aston Villa's European Cup-winning winger Tony Morley (left at home) could have provided the missing creativity.
[D] Northern Ireland's adventure came to an end as France found their form in a group which was seemingly set up to maximise Spain's chances of progressing. As it was, Austria exited first after losing to France and a draw with the Irish. Needing to win their last game, a Martin O'Neill goal was wrongly disallowed for offside before the French eased to a 4-1 win and qualification for the semi-finals. Topping their group and unbeaten until that final game, Northern Ireland had surpassed all expectations.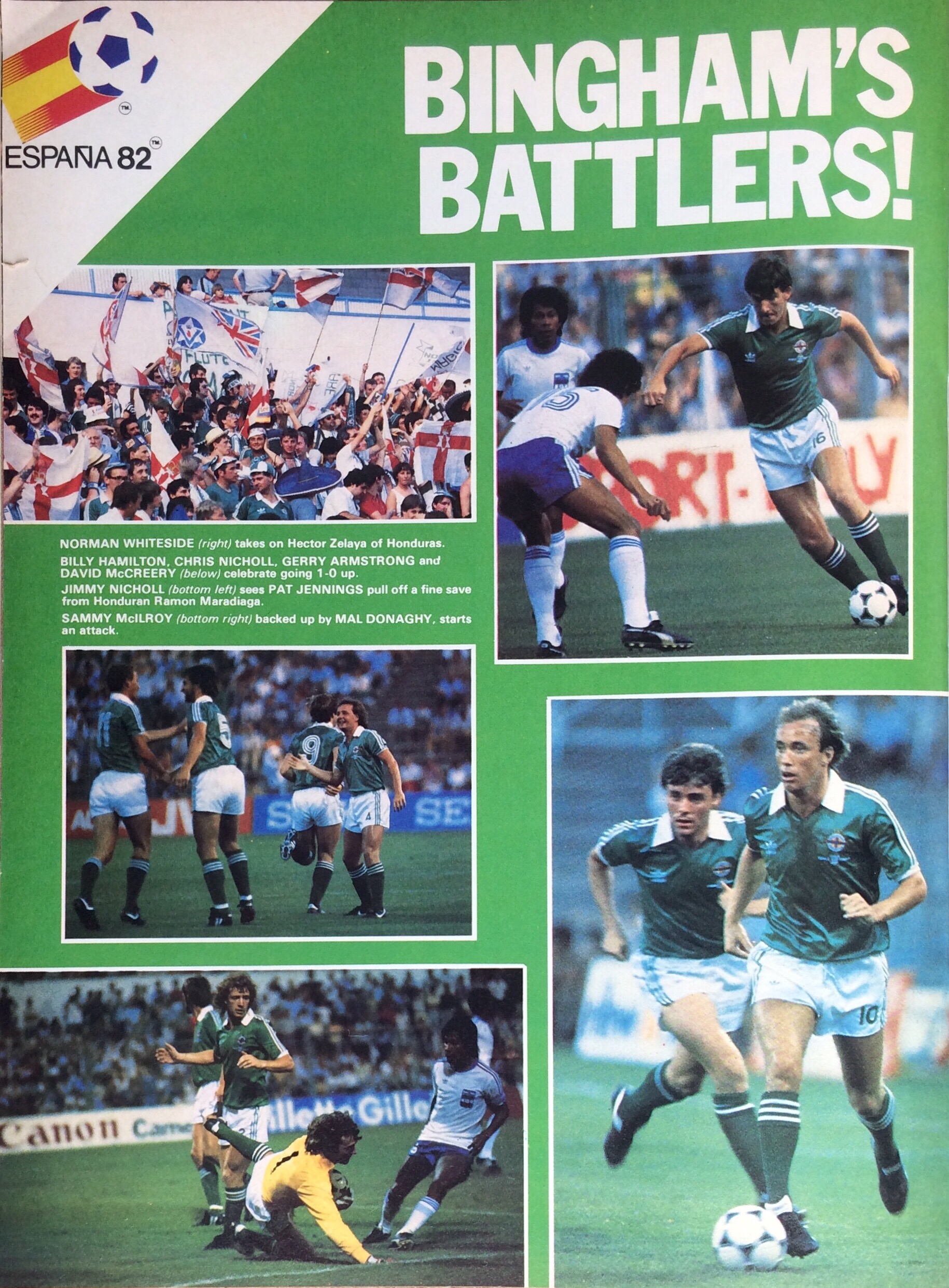 [A] Poland included 1974 stalwarts Grzegorz Lato, Andrzej Szarmach and captain Władysław Żmuda, but their inspiration was Zbigniew Boniek (soon to move to Juventus). Boniek, Żmuda and goalkeeper Mlynarczyk were among a group of players restored to the squad after their suspensions were cut short ahead of the finals. The Nou Camp was far from full for these second-stage fixtures. Poland eventually matched their 1974 third-placed finish, conceding only a single goal up to the semi-finals. Unfortunately Boniek collected his second booking in the second group-stage goalless draw with the USSR, having previously scored a fine hat-trick against Belgium which ultimately took the Poles through. With four goals amongst his impressive performances, the suspended Boniek was badly missed in the semi-final. Without him Poland were no match for the Italians, two more goals from Rossi settling the nations' second meeting of the tournament.
The real drama was to unfold in the second semi-final, played the same evening of 8 July in the heat of Seville. After a pulsating 90 minutes ended 1-1, France took a 3-1 lead in the first period of extra-time with Giresse, Platini and Tigana displaying all their craft and guile in midfield. The German comeback was overshadowed by goalkeeper Harald Schumacher's vicious second-half foul on Patrick Battiston, who was stretchered off while the offender went unpunished by Dutch referee Corver. Already unpopular after the scandalous group match with Austria, any support from neutrals vanished after this injustice. An unforgettable night ended with the World Cup's first penalty shoot-out going the way of West Germany.
The final saw a cagy first half in which Antonio Cabrini missed a penalty for Italy, but after Rossi bundled in his sixth goal to secure the Golden Boot, the Italians took charge. Marco Tardelli provided one of the enduring images of 1982 in Spain with his wild-eyed celebration of the second goal, Altobelli added a third, and Paul Breitner's second goal in a World Cup Final (he scored in 1974) was only a consolation. Italy drew level with Brazil on three tournament victories, 40-year-old captain Zoff became the oldest World Cup winner, and Bearzot's faith in Rossi was fully vindicated.
Zoff had been in the Italy squad defeated by Brazil in the 1970 Final, while two players appeared in both 1970 and 1982 – Belgium's 37 year-old Wilfried van Moer and Peru's Teófilo Cubillas (veteran team-mate Héctor Chumpitaz retired ahead of the 1982 finals). Chile's Elías Figueroa had made his first World Cup appearances in England in 1966.
El Salvador's Mauricio 'Pipo' Rodríguez, another to play in Mexico 1970, was the youngest coach in Spain at 36. In contrast, Peru's 71-year-old manager Tim was the oldest and had represented Brazil as far back as the 1938 World Cup. He was the third Brazilian coach alongside Santana and Carlos Alberto Parreira, in charge of Kuwait. This was Parreira's first World Cup – he eventually managed five different nations at the finals, including guiding Brazil to their long-awaited triumph in 1994. However the functional style of the USA '94 victors was unfavourably compared to the dazzling memories of their losing 1982 counterparts.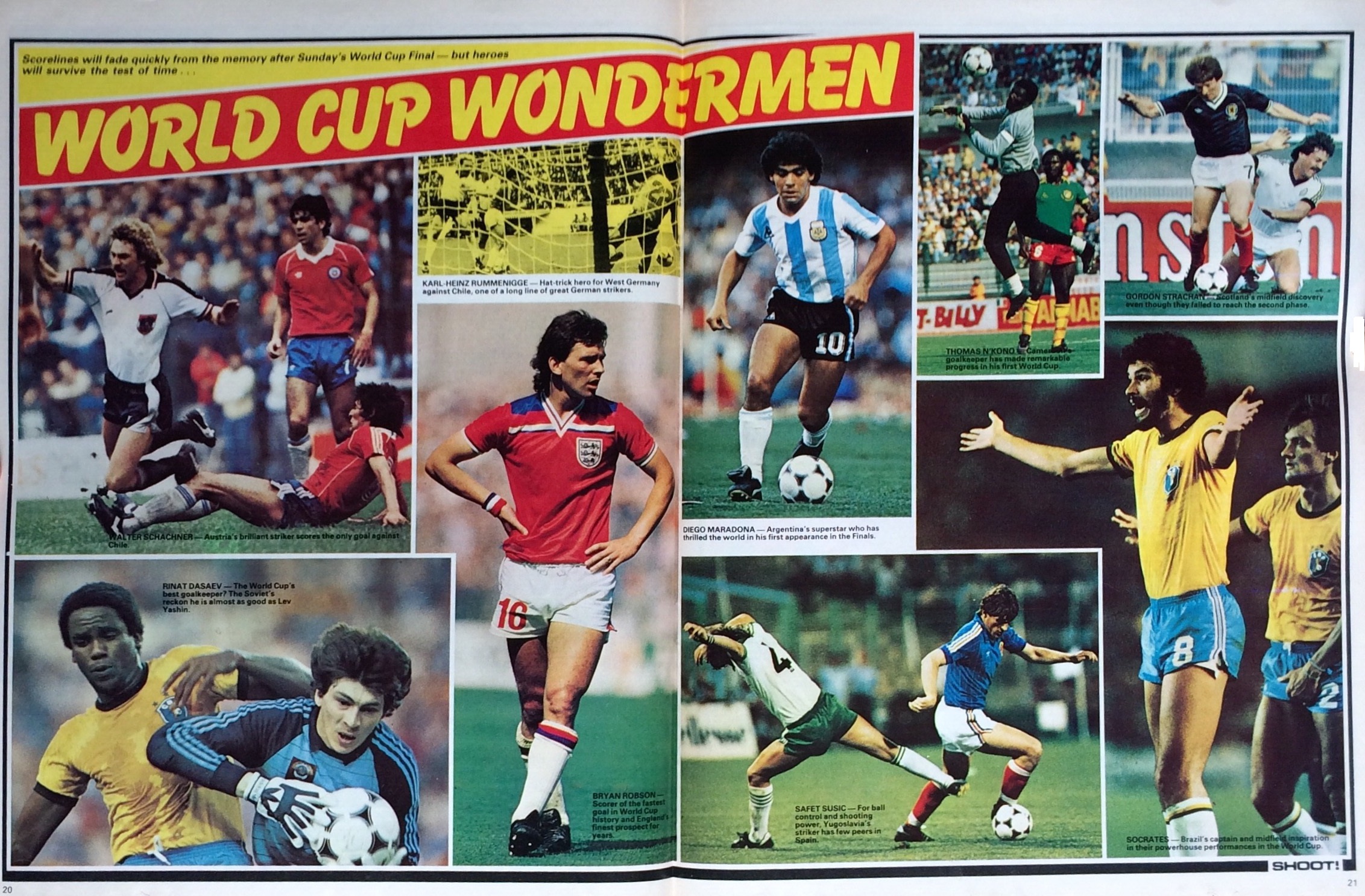 UK domestic broadcasters BBC and ITV sent extensive teams to Spain and invited a range of pundits to their studios for in-depth coverage – familiar faces such as Brian Clough and Jimmy Hill were joined by players past and present including John Bond, Mick Channon, Garth Crooks and Lou Macari. Despite the presence of three home nations and general UK enthusiasm for World Cup football, there were significant gaps in the televised coverage of the finals. The opening game (and ceremony) was not shown owing to the Falklands War, and many of the initial group stage games were ignored.
It may be that football on TV was just not seen as the market it is today – especially when it involved 'smaller' nations – and strangely the BBC ended up showing only 13 full live games (compared to 18 in both 1974 and 1978). John Motson commentated on his first World Cup final, while Martin Tyler did likewise for rivals ITV. The 1982 FIFA World Cup Official Film G'olé! appeared shortly after the tournament, narrated by Sean Connery and with a Rick Wakeman soundtrack. Worldwide, the finals attracted a television audience of over four billion and in Spain, attendances topped two million at an average of 38,000 per match.
Despite the 'disgrace of Gijón', logistical issues and a potentially awkward second group stage, the 1982 World Cup was a success. It contained memorable games, superb goals and upsets as the 'emerging nations' of Cameroon, Honduras and especially Algeria justified the extra places on offer. The drama of Schumacher, the German comeback and first penalty shoot-out in the France-West Germany semi-final has rarely been matched, the second of two classic games after Brazil and Italy's epic encounter.
Spain 1982 saw a cast of players at or near their prime including Boniek, Conti, Dasaev, Falcão, Giresse, Littbarski, Platini, Robson, Rossi, Rummenigge, Sócrates and Zico. These players dominated the various 'team of the tournament' selections and Rossi inevitably won the Golden Ball and Boot (best player and top scorer). There were more goals per game than any World Cup since Mexico 1970 at 2.81, a ratio not bettered since. France were the top scorers with 16, although the Brazilians had managed 15 in two games less. Of the seven goalless draws, Poland were involved in three and England two. Italy gathered the most bookings (11), while five players were sent off, two of them from Argentina in the second group stage. The first penalty of the tournament was converted by López Ufarte for the hosts in their opener against Honduras, and the last was missed by Cabrini in the Final.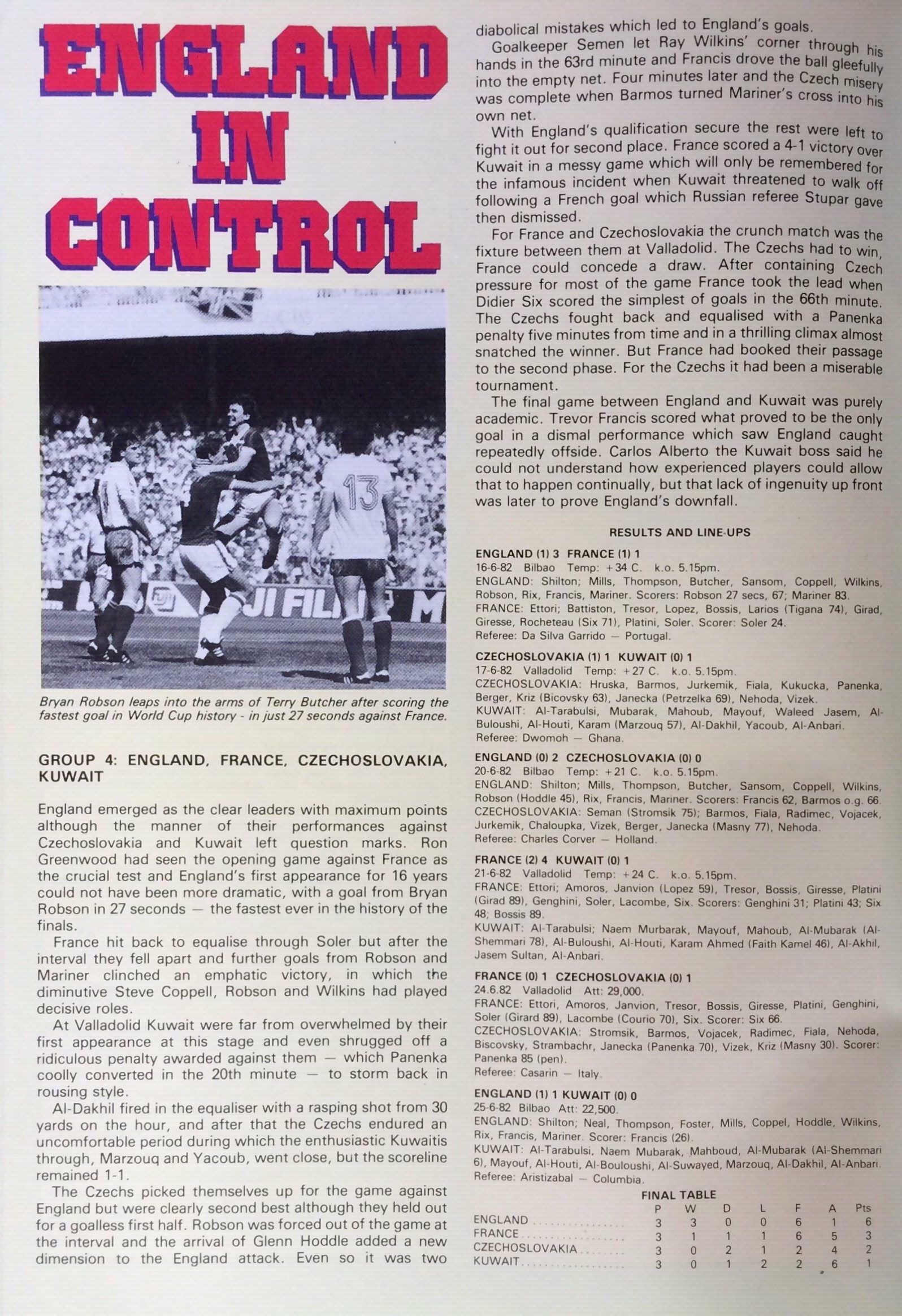 Spain 1982 provided my first and formative World Cup memories. Shahan Petrossian and I put together an edition of our Soccer Nostalgia Talk podcast for the 40th anniversary of the 1982 World Cup. Guests from across the world shared their personal memories of the tournament in this two-part special: One and Two.
Another in-depth look at the 1982 World Cup can be found on the impressive World Cup Rambling podcast.