Wrexham v Anderlecht, 1976 Cup Winners' Cup
Wrexham Association Football Club was founded 1864 as Wales' first professional club – making them the third oldest professional club in the world. They have played at the Racecourse Ground ever since, the venue for Wales' first international match in 1877. Elected to the Football League in 1921, Wrexham first experienced European football in the 1972 European Cup Winners' Cup, under manager John Neal.
The Welsh Cup winners suffered a narrow Second Round defeat to Yugoslavia's Hajduk Split, edged out on away goals. While remaining bitter about that result ("I've no doubt in my mind… we were cheated"), Neal felt that exposure to high-level continental competition benefitted his young players in particular: "Those kids at Wrexham grew up overnight. I had 17-year-olds on the bench in places like Split and Anderlecht and some of them got into the game. They came back to Wrexham like giants."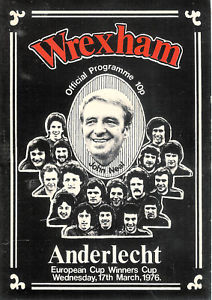 Wrexham's second foray into the Cup Winners' Cup in 1975-76 saw them reach the quarter-finals, coming close to equalling the best performance by a Welsh club in European competition. Their opponents were Anderlecht of Belgium, at the time a rising force in European football. They benefitted from the Dutch influence of manager Hans Croon and World Cup stars Arie Haan and Robbie Rensenbrink alongside a strong spine of Belgian internationals in Hugo Broos, Gilbert van Binst, Ludo Coeck and a young Frankie Vercauteren. The gulf between the two clubs was reflected in their league positions – in a season where Wrexham finished 6th in the Third Division, Anderlecht were 2nd behind Club Brugge in the Belgian League. However, in March 1976 Wrexham welcomed Anderlecht to the Racecourse Ground for the second leg in front of nearly 20,000 after a narrow 1-0 defeat in Brussels.
Anderlecht eventually won the 1976 European Cup Winners' Cup final in May, beating West Ham 4-2 at the Heysel Stadium, Brussels, with two goals each for Rensenbrink and future Hammer François van der Elst. Runners-up the following year, they lifted the trophy again in 1978 and won the UEFA Cup in 1982-83, the culmination of their greatest period in European competition. Super Cup wins over Bayern Munich in 1976 and Liverpool two years later confirmed Anderlecht's international standing. Both they and rivals Club Brugge were regular contenders for Europe's top trophies in that era and into the later 1980s. While Anderlecht have remained one of Belgium's strongest clubs, winning numerous league titles, they have never managed to recapture their success in Europe.
Arguably the most notable of Wrexham's European scalps was yet to come, an away goals victory over Portuguese giants Porto in 1984. While they never reached another quarter-final, they maintained a more than respectable record – especially at home. In eight European Cup Winners' Cup campaigns between 1972 and their last in 1995, over 14 ties Wrexham only lost twice at the Racecourse Ground, to Roma in 1984 and Manchester United in 1990.
John Neal was in charge at the Racecourse Ground from 1968 until leaving for Middlesbrough in May 1977; he later managed Chelsea, where he won promotion to the First Division in 1983-84. Wrexham enjoyed their best league seasons after Neal's departure under Arfon Griffiths, a long-serving player who was on duty in this tie. The Third Division Championship in 1977-78 was followed by a four-season stay in the Second Division, during which they achieved their highest league position of 15th in 1978-79. Sadly they were relegated from the Football League in 2007-08, and have yet to regain their former status.
Images of the match programme and tickets from both legs courtesy of Wrexham AFC Archive
Match details for Wrexham – Anderlecht; Racecourse Ground, European Cup Winners' Cup Quarter-Final Second Leg, Wednesday 17 March 1976:
Wrexham: 1 Brian Lloyd, 2 Mickey Evans, 3 David Fogg, 4 Gareth Davis, 5 Eddie May, 6 Graham Whittle, 7 Brian Tinnion, 8 Mel Sutton, 9 Stuart Lee, 10 Billy Ashcroft, 11 Arfon Griffiths. Manager: John Neal. Scorer: Lee
Anderlecht: 1 Jan Ruiter, 2 Michel Lomme, 3 Erwin Vandendaele, 4 Hugo Broos, 5 Jean Dockx, 6 François van der Elst, 7 Arie Haan, 8 Ludo Coeck, 9 Peter Ressel, 10 Gilbert van Binst, 11 Robbie Rensenbrink. Manager: Hans Croon. Scorer: Rensenbrink.
Attendance: 19,668
The fortunes of British clubs in European competition is one of the topics in my book Before the Premier League: A History of the Football League's Last Decades.